Pricing For WhatsApp Business API Based On Conversation
How Does The New Pricing Model Work?
The new WhatsApp Business API conversations will fall into two categories that will be priced differently:
User-initiated Conversation- Where users reach out to the business regarding support and general queries.

Business-initiated Conversation- Where business will deliver Notifications or messages.
Note: These conversations are measured in 24-hour increments, or "sessions", that start whenever the first message from a business is delivered.The first message can be initiated by the business (business-initiated) or a business reply within 24 hours of a user message (user-initiated).
Important points to remember :
WhatsApp will charge only once per 24-hour session of messaging between a business and a customer(There will be no extra charges for sending any template messages once a new session starts)

The charges will be different, depending on who initiated the conversation. (the business or the end-user).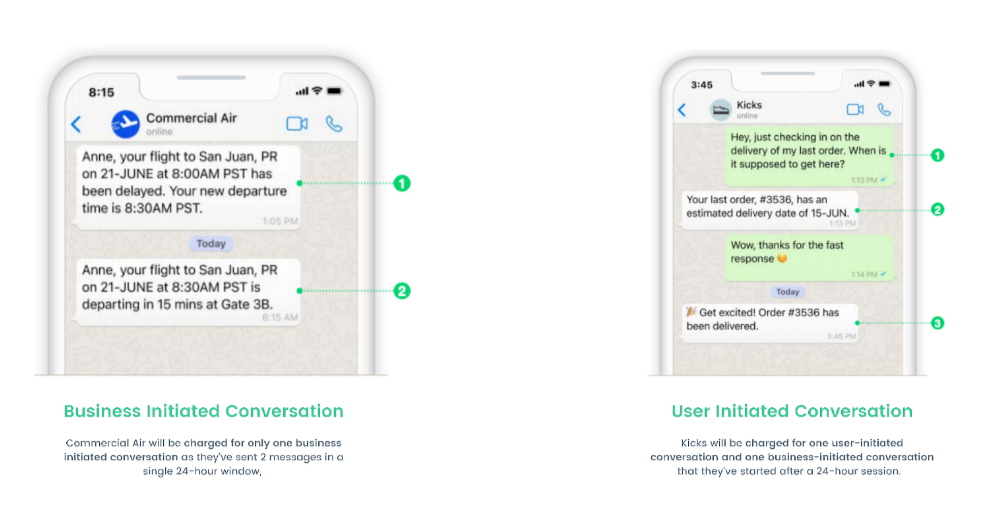 Free Tier Conversations
The first 1,000 conversations each month will be free, so your business can start to build experiences your customers will love before having to pay. Each phone number gets 1,000 free tier conversations. Free tier conversations can be business-initiated or user-initiated.
How Will This Impact Your Business?
Businesses Sending Frequent Notifications: If you are sending multiple messages or Broadcasting messages on WhatsApp within a 24-hour period, you will now pay for a single conversation per user for starting the conversation.
Businesses Sending Infrequent Notifications: If you are sending messages over multiple 24-hour periods, you will now pay for each conversation based on business-initiated conversation pricing.
Customer Support On WhatsApp: If you are responding to incoming user-initiated messages, then you will be charged for user-initiated conversation-based charges.
Should we welcome WhatsApp's new Conversation-based Pricing model?
It is very clear that Facebook now wants businesses to establish good & fast communication on WhatsApp so that users don't get unexpected notifications & promotional messages on WhatsApp.With this move, every new conversation will be charged by WhatsApp hence it'll reduce the number of less relevant conversations. That'll surely maintain the trust of people on WhatsApp.
Here's another way to save costs with the current WhatsApp API pricing model: Ads that click to WhatsApp or Facebook Page CTA buttons, the first conversation from that entry point is free of charge.
Conversation fee
Charges will be calculated based on the end user's phone number.
Cost per Conversation in USD
Country

Business-Initiated Rate (USD)

User-Initiated Rate

(USD)

Argentina

0.06312

0.03792

Brazil

0.06

0.036

Chile

0.09084

0.05448

Colombia

0.012

0.0072

Egypt

0.12876

0.07728

France

0.17184

0.10308

Germany

0.1638

0.09828

India

0.00792

0.0048

Indonesia

0.03792

0.0228

Israel

0.036

0.0216

Italy

0.07716

0.04632

Malaysia

0.08784

0.0264

Mexico

0.04188

0.0126

Netherlands

0.1782

0.10692

Nigeria

0.06192

0.0372

Pakistan

0.05676

0.01704

Peru

0.07176

0.02148

Russia

0.07956

0.04776

Saudi Arabia

0.039

0.0234

South Africa

0.0336

0.02016

Spain

0.0738

0.04428

Turkey

0.012

0.0036

United Arab Emirates

0.03792

0.0228

United Kingdom

0.07764

0.04656

North America

0.01764

0.01056

Rest of Africa

0.14496

0.04356

Rest of Asia Pacific

0.0894

0.02688

Rest of Central & Eastern Europe

0.1002

0.03

Rest of Latin America

0.08472

0.05076

Rest of Middle East

0.08724

0.02616

Rest of Western Europe

0.15888

0.04764

Other

0.05796

0.0174