One-time Notification
From 4th March 2020, Facebook updated the One-time Notification feature that allows Fanpage to ask users to send a follow-up message after interacting with Fanpage exceeding 24 hours.
To use this feature, Fanpage needs to register permissions with Facebook by accessing your Fanpage >> Page settings >> Advanced messaging >> One-time notification >> Request.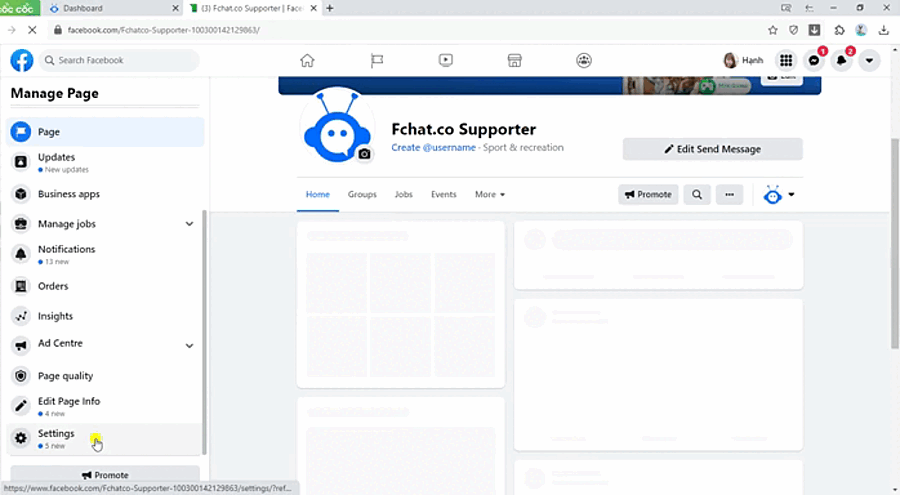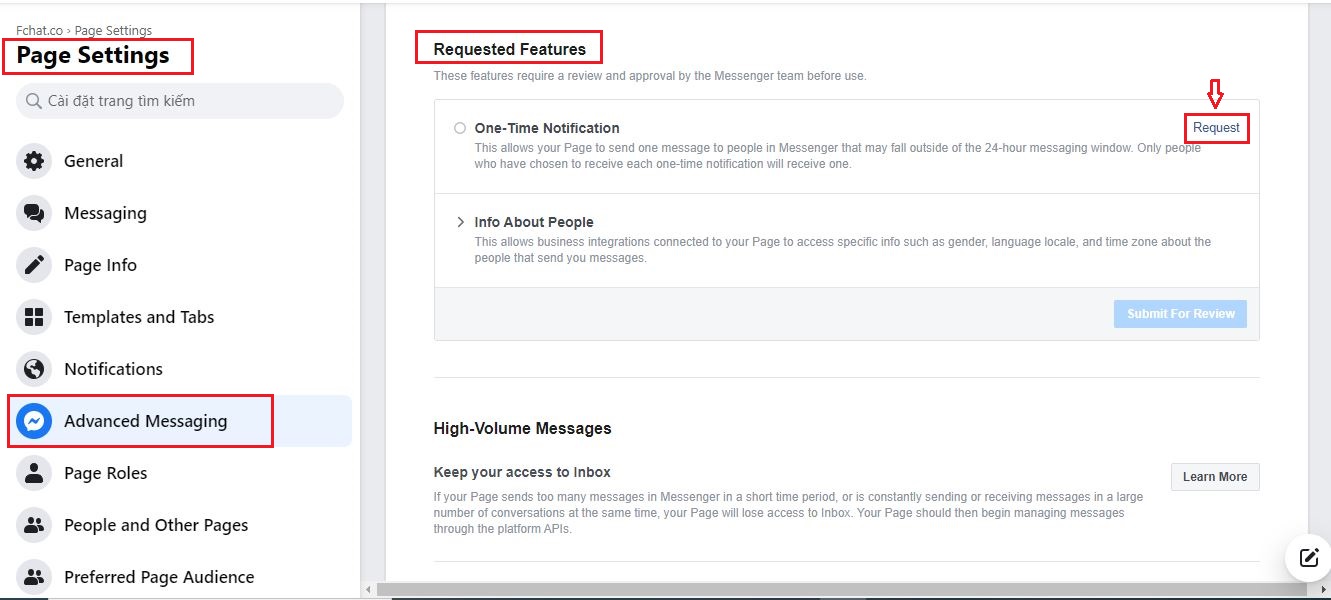 A Popup displays a notice of Facebook's One-time Notification feature terms of use you click the Confirm button to agree to the beta terms that will be granted access to the feature.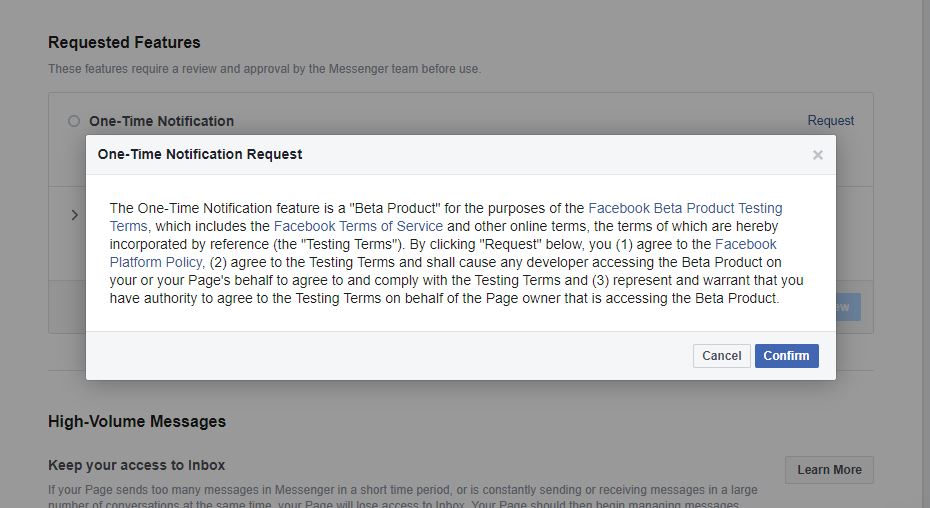 After Facebook grants permission to your page, One-time notifications will have a blue tick as shown below:

Apply this feature in Fchat, in the Message Block, select One-time Notification. The message will include a "Notify me" button.
Only the notification content can be edited, the "Notify me" button in Facebook's default. The notification content is limited to 65 characters.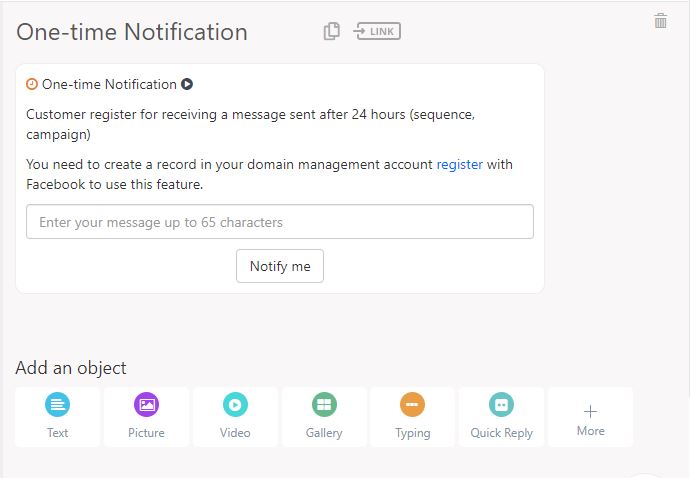 Creating compelling message content to get customers to click the 'Notify me' button. Then this message will be sent to a customer who interacts with Fanpage exceeding 24 hours without using a Facebook tag. When the customer clicks 'Notify me', the customer has subscribed to receive a message from your Fanpage.
After sending a message containing a One-time Notification to the customer, the customer will receive the following message: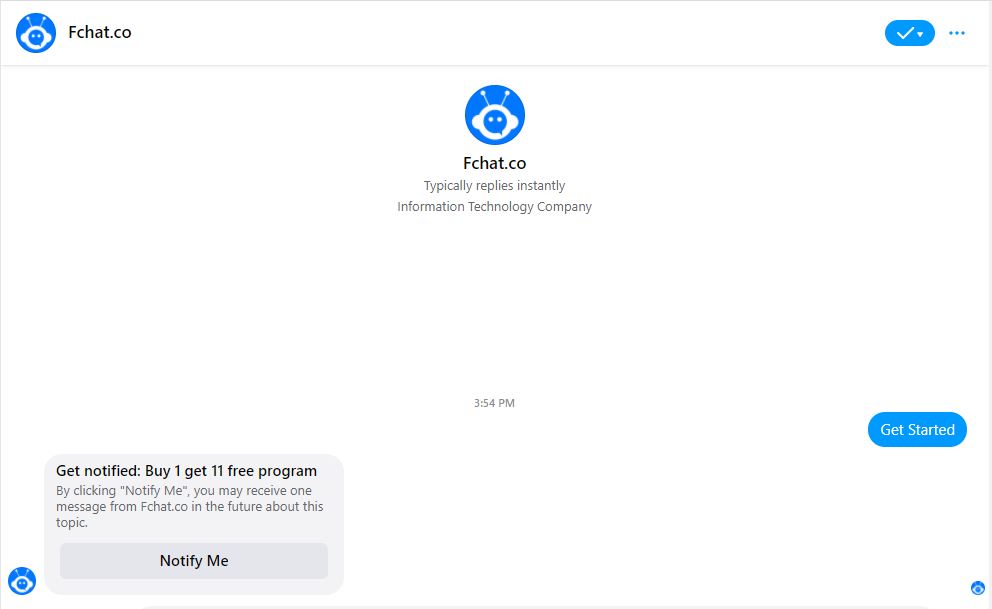 Note:
- The notification content must not contain confusing content, easily causing customers to report spam. Make sure the content is a reminder and follows community standards. Do not promise customers to pay for them to sign up for messages.
- Pages receiving a lot of negative user feedback or reported to have confusing, misleading content will lose access to Notifications once.
Do not send passwords, user login information, personal information (such as a name or email address that can be used to contact a person or determine who they are), or other sensitive information (such as health, financial, payment, or other categories of information identified as sensitive under applicable law)
- Limited number of One-Time Notification requests
- Notifications can only be used once and will expire within a year.
Wishing you success!