Are you looking for the best chatbot software for your site?
Chatbots allow you to free up time by automatically answering common customer questions. They can also be used to generate leads, improve user experience, and make more sales. In this article, we have handpicked the best chatbots website software for your business to improve customer experience and boost conversions.
What is a chatbot website?
Chatbot Website or chatbox is a computer program that simulates conversations with people over the Internet. Today, it is known as a marketing automation software capable of communicating over the Internet. Simply put, a chatbot website acts as an assistant robot that communicates with humans through messages. It is a "virtual friend", a tool to assist business owners in customer interaction and consultation.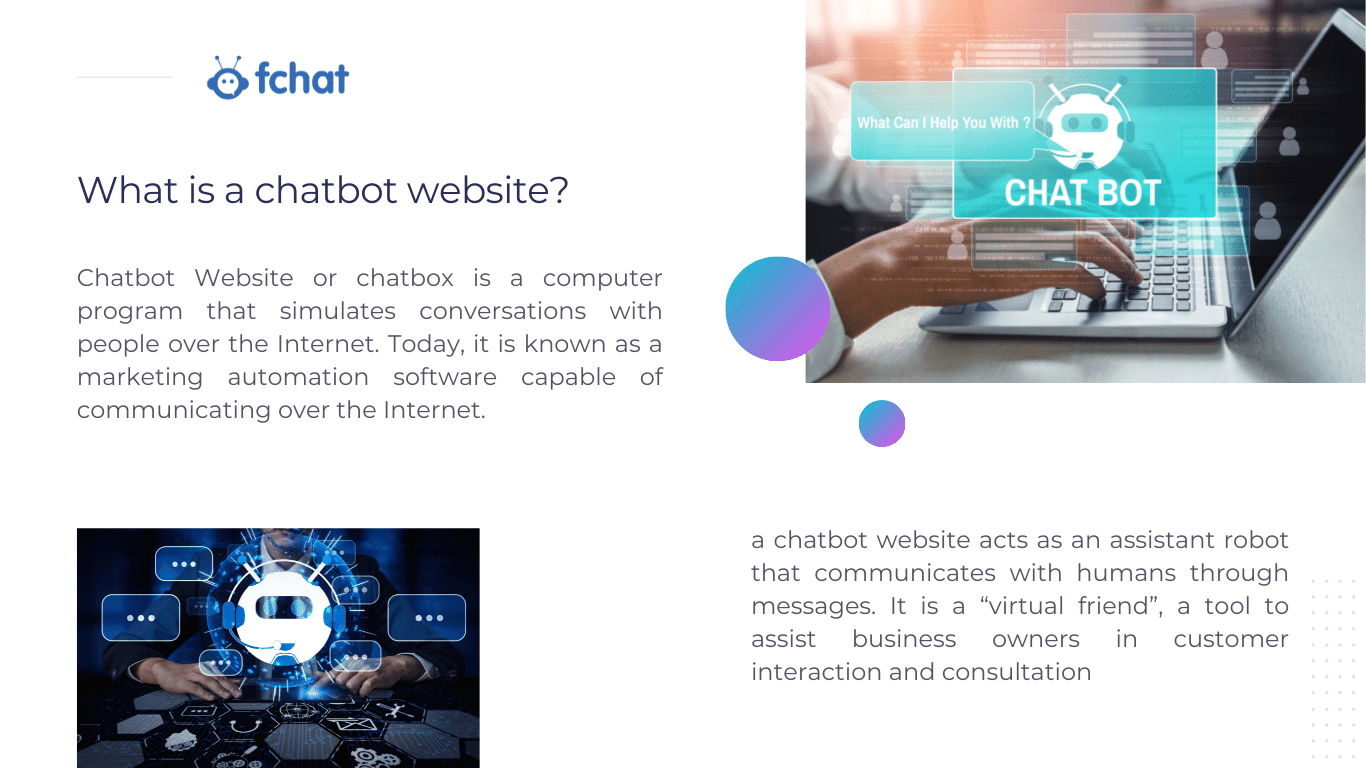 Read more:
How to create chatbot website for your business
Using LiveChat is also the perfect choice to install a chatbox for your website. This software isn't free, but in return, it is optimized and integrated with a lot of utilities such as conversation analysis, website statistics, understanding the problems customers are facing,... Thus it helps increase competitiveness, convert potential customers, reduce labour costs,...
Fchat Chatbot is one of the chatbots that are integrated with the Livechat tool to help you manage comments and inboxes on one window from many channels such as Facebook, Instagram, Website, E-commerce page,... You can try it for free right here: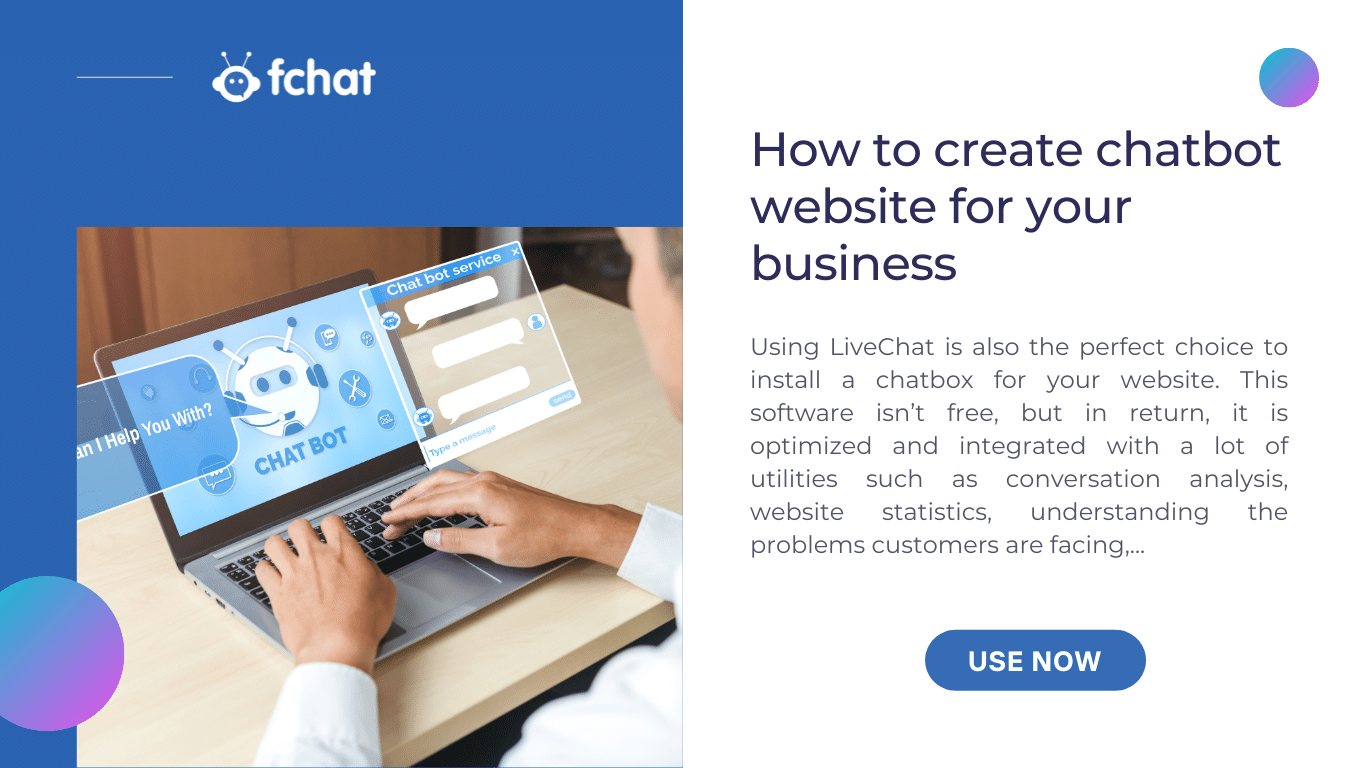 TOP 5 best chatbot website for your business
Fchat.co
Fchat.co allows you to easily make chatbots using their drag and drop chatbot builder. You don't need to do any coding or have any special technical skills.
It even comes with chatbot website integration that you can use as a starting point to quickly get your Chatbot website up and running. These templates include different scenarios like selling products, customer service, recruitment, bookings, and more.
Fchat.co integrates with your WordPress website and can be used along with top live chat software as well as other popular apps that you may be using to grow your business.
Fchat.co is also a great chatbot for Facebook messenger powered by the same AI-driven software. This gives you a powerful tool to retarget customers on Facebook, collect data, and spend money wisely on Facebook ads.
Chatbot website integration within our own businesses is a big priority for us currently. Fchat.co is a great tool for us because it lets us seamlessly forward users to our live support teams where needed.
Pricing: The minimum order is three months. Buy more Page from 2.2USD - 2.5USD per page, which includes 10.000 Customers and 2.000Orders / mo.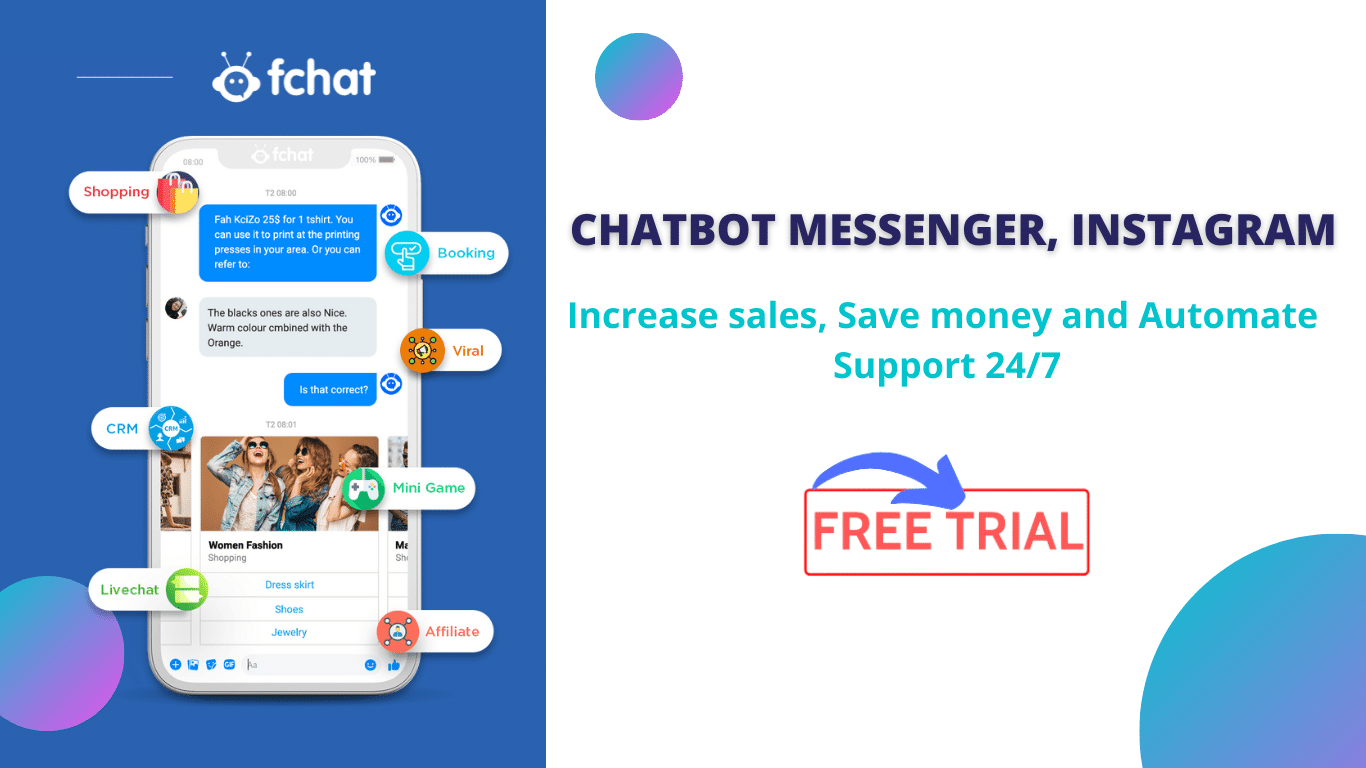 >>> More Article:
Best Free Chatbot to Boost your Business
How to Make a Chatbot for a Website in under 30 Minutes
HubSpot
HubSpot is a powerful CRM and suite of marketing tools that includes live chat and a smart chatbot website integration.
The live chat design is completely customizable, so you can match your website's colors and branding. You can also easily create automated chatbot responses and workflows without having to know any code.
The chat also integrates with HubSpot's powerful CRM features so you can follow up with all your leads.
Besides their AI chatbot, HubSpot also offers powerful marketing tools like segmentation, cart abandonment emails, email templates, and in-depth analytics data.
Pricing: HubSpot's live chat and chatbot builder are included in their Sales Hub plan. You can get started with HubSpot chatbots for free, but you'll need to upgrade to a paid plan starting at $45/month to access all their other features.
Many chat
ManyChat is a Facebook messenger chatbot builder. With more than 1.3 Billion people using Facebook Messenger, it allows you to have a wider reach and more powerful retargeting options on the Facebook platform.
In simpler words, it helps you make sales, decrease cart abandonment, capture leads, and more by using Facebook Messenger.
It comes with a simple drag and drop interface which makes it super easy to set up a chatbot for your Facebook page. You can automatically welcome new users, point them to products, schedule messages, respond to specific keywords, and much more.
Pricing: ManyChat has a free plan that you can use to get started. This includes basic quick-start templates, 2 drip sequences, and up to 10 tags for audience segmentation. The premium plan has unlimited drip sequences and tags, plus split testing, buy buttons, and more.
Chatfuel
Chatfuel is a powerful chatbot platform for Messenger, Facebook, and Instagram. You don't need any coding knowledge or previous experience to use it.
Lots of different companies use Chatfuel, including large brands like Adidas, T-Mobile, LEGO, TechCrunch, and more.
You can use your bot to increase sales, to qualify leads, or to provide answers to frequently asked questions. This lets you save a lot of time for your customer service team.
There is plenty of documentation on the Chatfuel website to help you build a bot easily. This includes advice on how to make sure you follow Facebook's rules for using a Messenger bot.
Pricing: Chatfuel costs from $15/month, with no user limit. There's also a free plan that offers a fully-featured bot and up to 50 users.
Freshchat
Freshchat allows you to build chatbots for WhatsApp, Messenger, Apple Business Chat, mobile, and web.
It is powered by Freddy, their artificial intelligence algorithm. It is designed to detect intent and engage with the customer, rather than simply being intended to free up the time of your live chat agents.
Using their machine learning technology, Freshchat can even provide you with a list of customer and prospect questions that need precise or better answers.
Pricing: You will need Freshchat's 'Forest' plan for enterprises to use their chatbot. This isn't cheap, at $69 per user per month when billed monthly.

We hope this article helped you learn about the best chatbot website software for your Business. You might also want to take a look at our guides to the best live chat software and best business phone services for small businesses.