Chatbot is a professional salesperson who will serve customers according to what you have instructed. With a free chatbot, you will easily greet users as soon as they approach, answer questions, introduce products and even close orders. Free chatbot software makes customer interaction quick and easy, and their ability to stay online 24/7 helps to sell and take care of customers in the most thoughtful way. So what are Best Free Chatbot Platforms to Boost your Business? Follow the article below to learn about free online chatbot and some free chatbot software tools.
What Is A Free Chatbot?
A chatbot is a software application used to conduct conversations with people via text or text-to-speech instead of direct contact with a live human agent. Chatbot platforms typically require continuous tuning and testing to convincingly simulate how a human behaves as a conversational partner.
Luckily, free chatbot software is now developed to have plenty of free chatbot API for small businesses and startups. Those are the ones we will discuss in this article, so if you're a startup or a small business owner/manager and want to use the technology without paying a premium, you're in the right place.
>>> Learn More:
What Is Chatbot? Why Are Chatbots Important?
How Do You Get A Free Chatbot For Facebook?
Best Free Chatbot Platforms for Businesses
Fchat.co

Chatfuel

Botsify

ManyChat

Flow XO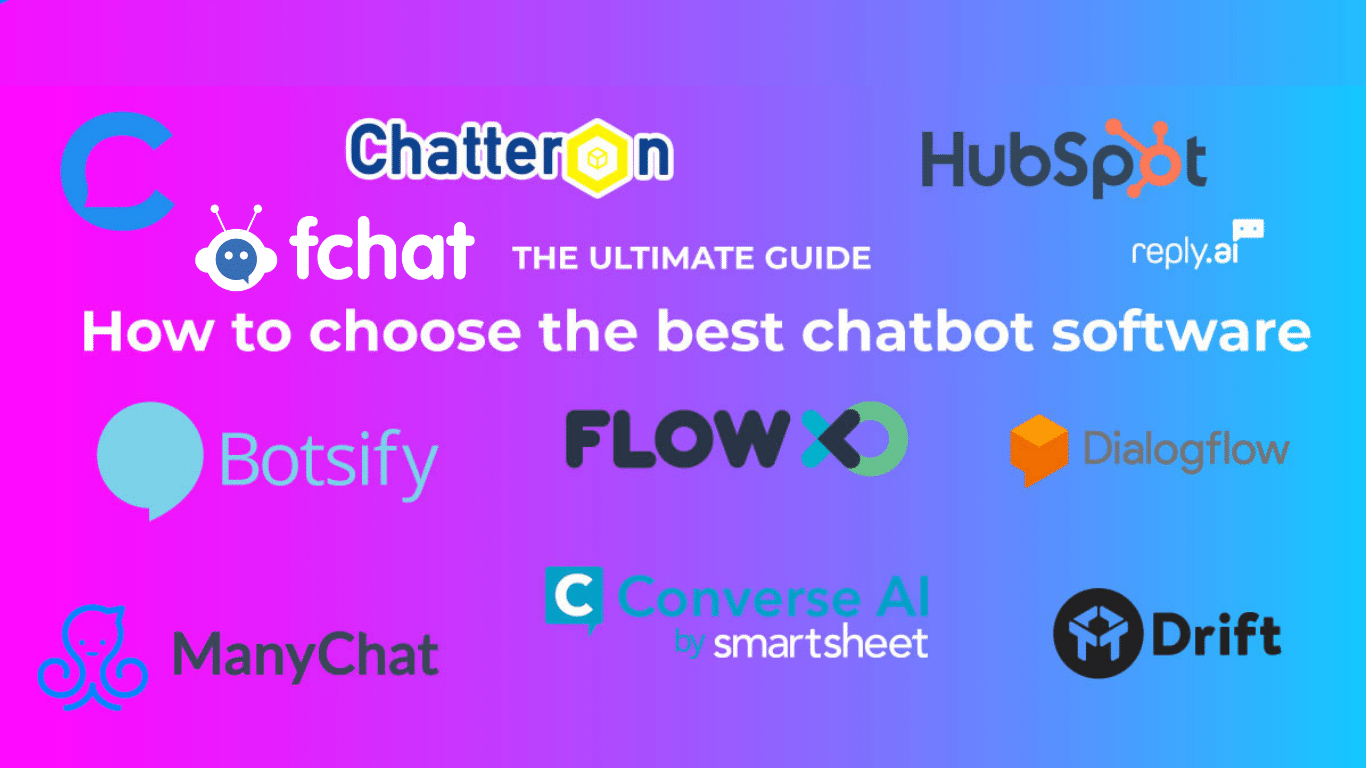 Fchat.co
Fchat.co describes its free chatbot as "the most intuitive no-code chatbot builder." You can create and design chatbots suitable for your company through a user-friendly interface. Fchat.co has the templates you need for the best free chatbot software experience for you and the users whether you want to sell your products or generate leads. But, of course, you can't provide a fantastic customer experience without interacting with your customers through popular messaging apps. This free chatbot is also designed to integrate with other tools to provide the best business solution for you.
Fchat.co features:
Store up to 10,000 users for a lifetime of a free chatbot design package.

Easily connect chatbot to websites, Facebook fanpage. The number of integrated fanpages is unlimited.

Set up chatbot scripts with flexible scenarios such as greeting script, timer script, autoresponder script, campaign launch script, ...

Perfect live chat feature: Live chat with customers from many sources on the same operating window, manage comments, chat history, customer support group chats.

Respond by keyword, natural language, friendly interface, easy to use.

Chatbot anti-customer-poaching, automatically hide comments, customer information on fanpage.

Free chatbot software that integrates mini CRM, automatically stores customer information, supports grouping and tagging.

The feature of automatically dividing rights, assigning sales staff to best take care of customers.

Ability to create discount codes, support the launch of viral campaigns, remarketing campaigns, customer appreciation campaigns by sending bulk messages to specific target groups.

The reporting statistics feature makes it easy to track business performance.

Appointment booking feature, appointment reminder, showing professionalism in the customer reception process.
What do you get for free?
Small businesses will be able to use Fchat.co free and use all of the essential features, but if you want more than 10,000 subscribers or more advanced features, you will need to get a paid version. Paid subscriptions for the Fchat.co starting at $9.99/month.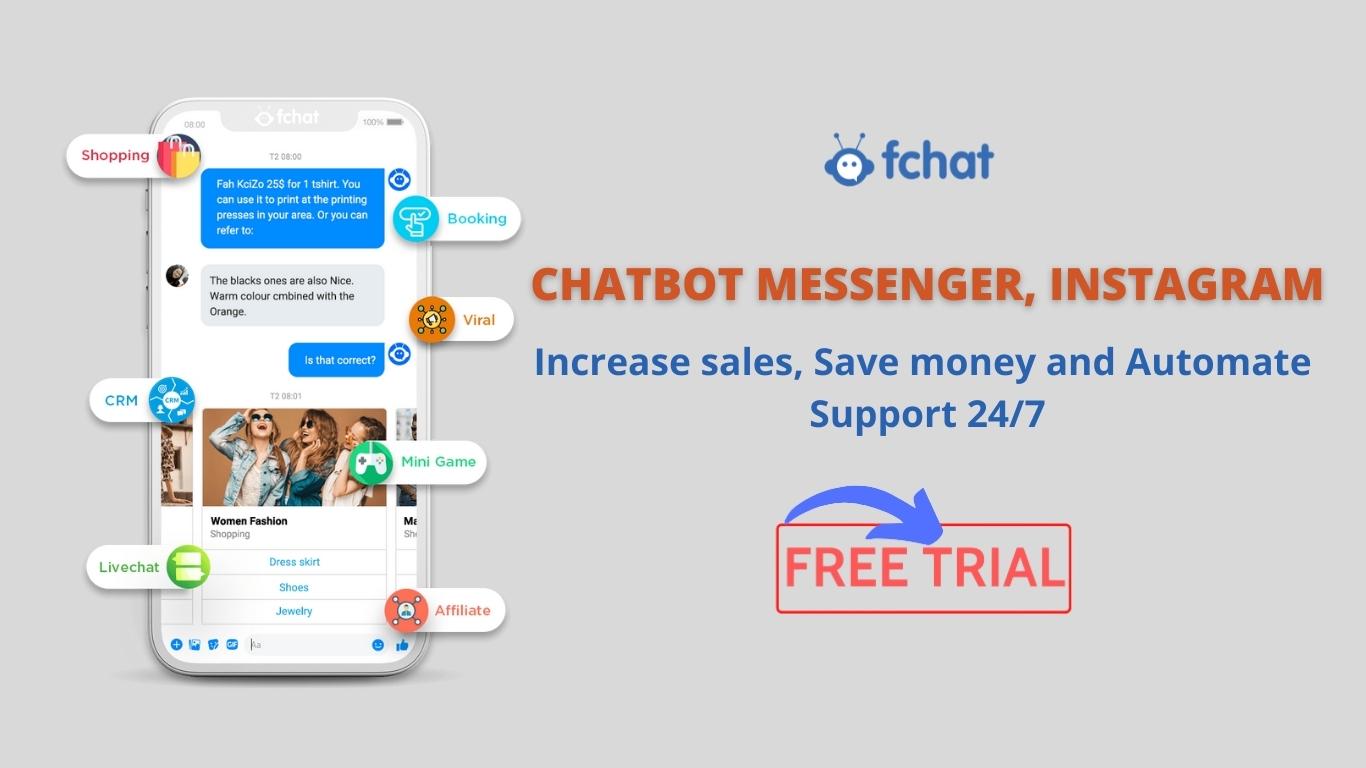 Chatfuel
ChatFuel is a free chatbot builder that allows you to create chatbots for Facebook Messenger without coding experience or technical knowledge. You can build an AI-powered chatbot in no time that can interact with your customers and prospects and answer their most common questions instantly. With artificial intelligence, Chatfuel chatbot will be able to keep the conversation going for as long as possible before it finally hands it over to a human agent who can drive the conversion home or who can handle more complicated inquiries that no bot can handle.
Its features include adding and sharing content cards with customers, gathering information from the messages, and plenty of useful integrations with other platforms like YouTube, Instagram, Twitter, and more.
Chatfuel is one of the best free chatbots, as you can build no-code chatbots on Facebook and Instagram in minutes. Users will send a series of automated welcome messages to their users who opted in and send follow-up messages to users who have just discovered the chatbot.
Botsify
Botsify is a free chatbot software that allows you to create smart chatbots for your websites to keep the conversation with your customers alive. It also uses an interactive user interface to develop your conversational chatbot that uses Artificial intelligence and machine learning to give your customers and leads the answers they need and determine when it must transfer the conversation to a human agent.
You don't need any coding skills for creating chatbots for Facebook messenger using Botsify.
The app also offers conversation forms that help businesses collect data about their leads through their conversations with your chatbots. Then, Botsify takes things further by providing multiple plugins to help you get more out of it using available integrations with WordPress, Google search, a Shopify store, or your RSS feed.
ManyChat
ManyChat is considered one of the best free chatbot platforms available, and it's easy to see why. You don't need any coding skills to build Facebook Messenger chatbots using Manychat. Setting up a chatbot on Facebook is quick and easy thanks to the intuitive builder, and the bot will automatically start working once you've connected your Facebook page to ManyChat.
ManyChat allows you to set up welcome messages that your customers see once they open the chat with you before sending you any messages. In addition, you can set up automated responses to frequently asked questions. The solution takes customer service to the next level to respond to messages with buttons, links, images, and even slides. But Manychat is more than a customer service Messenger bot; it can also be a great help in your marketing efforts. For example, once a new user sends you a message, they become subscribers instantly.
Of course, they can also opt-out at any time quickly, but you will be able to use the chatbot to send them great content, news, offers, and more to keep them engaged and nurture them into loyal customers.
Flow XO
Flow XO is one of the best free online chatbot platforms that enables users to build chatbots to converse with their customers on any platform they're using. You can quickly develop and deploy your chatbot. Chatbot platform Flow XO is not limited to Facebook Messenger. In fact, with over 100 integrations, Flow XO can work with almost all major third-party platforms like Gmail, LinkedIn, Buffer, GitHub, MailGun, and more. Flow XO lets you start with a pre-designed template, then use the drag & drop editor to build it to your vision.
This solution is feature-rich, and it offers multi-language support as well. You can create a custom link to your bot, send attachments in bot messages, create personalized messages, and embed the chatbot directly on any website.
That's it. Now it's back to you. First, make sure to identify your own unique needs. Then, find out the best option for you, depending on those needs.
We hope you enjoyed this article. If so, you might enjoy these resources: