With their outstanding advantages, far beyond human capacity in the field of customer care and online sales, free chatbots have been and currently are the solution for many businesses. Chatbots make customer interaction quick and easy, and their ability to stay online 24/7 helps to sell and take care of customers in the most thoughtful way. So how to create a free chatbot? Follow the article below to learn about chatbots and some free chatbot software tools.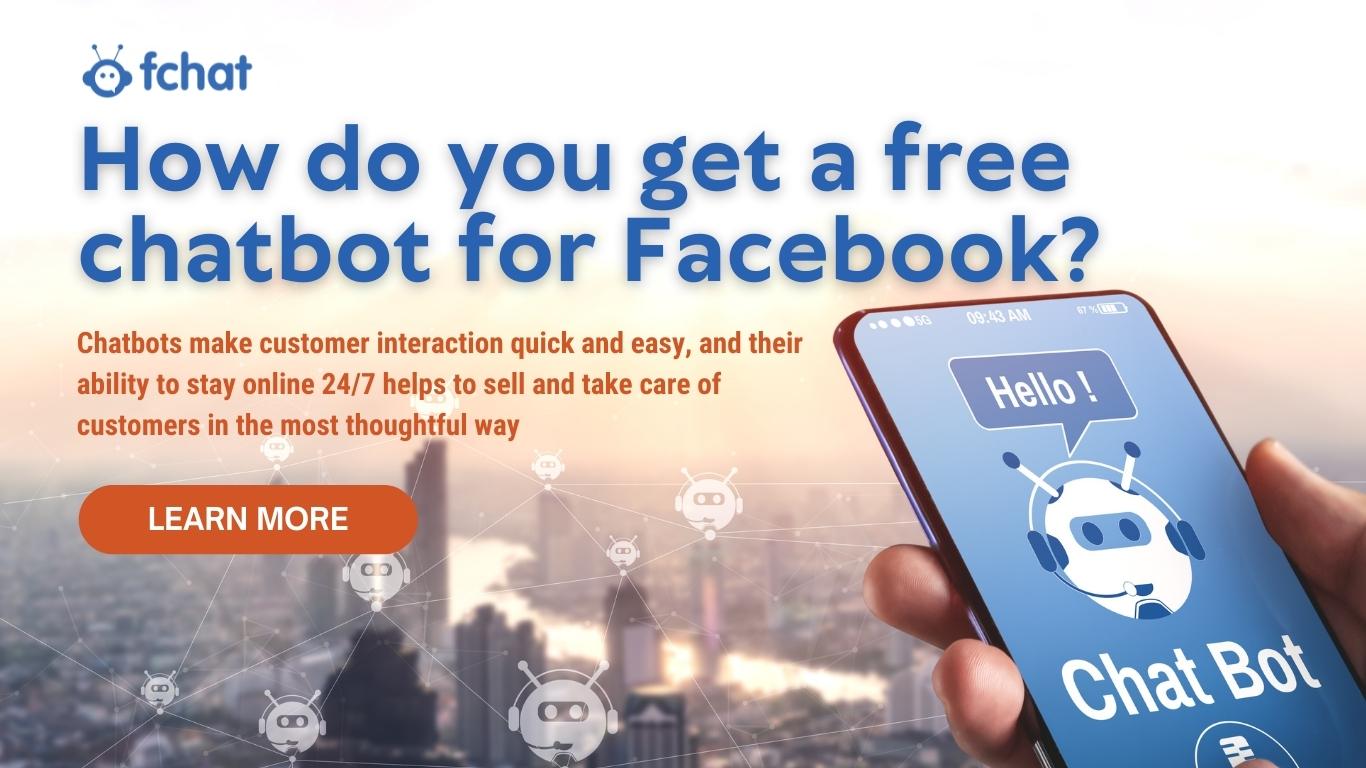 What's a free chatbot?
On Facebook, you will often see a large page having a tool to auto-reply and auto-suggest when no admins are online at that time that it receives messages from followers, or customers. That is the chatbot.
Chatbot is a tool that can simulate a human chatting directly with users. Chatbots can learn and use natural language to communicate through social networking platforms, websites, OTT applications, etc.
You will be training as well as setting up a chatbot to respond to customers on your behalf. Chatbots can understand human language and respond accordingly. A free Chatbot's ability to automatically reply can surprise you, for instance:
FAQ: Create a bot to automatically answer frequently asked questions

Order Tracking/Shipping: Let the Chatbot inform the status of the order as well as the warehouse management.

eCommerce: Train Chatbot to invite customers to visit your website and convert them into customers.
>>> You might need: What is a chatbot? Why are chatbots important for your business?
Current types of Free chatbots
If your business is in need of creating a chatbot, you can refer to the following 4 types of chatbots to choose the most suitable one.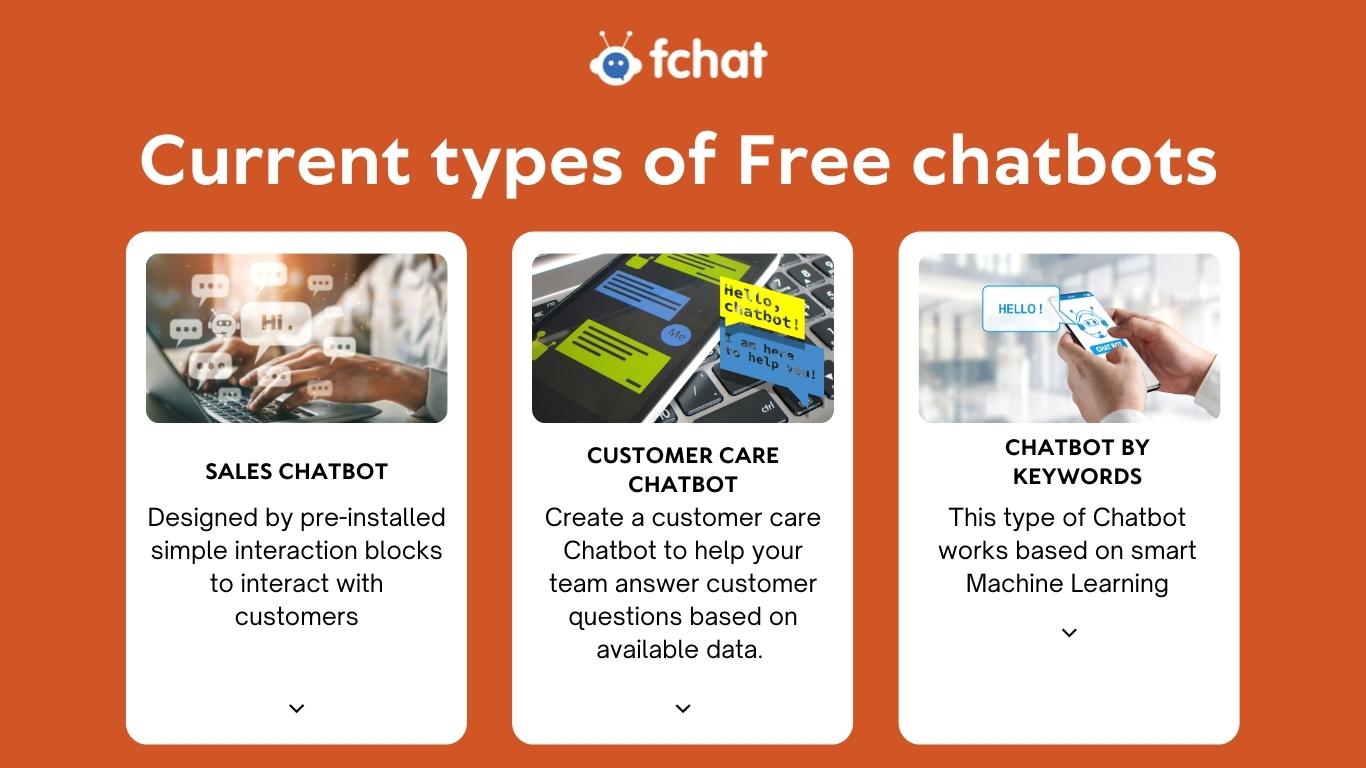 Sales Chatbot: Designed by pre-installed simple interaction blocks to interact with customers. Facebook Chatbots often use this type.

Customer care Chatbot: Create a customer care Chatbot to help your team answer customer questions based on available data. Additionally, during operation, the chatbot can self-learn to give more accurate and realistic answers.

Chatbot by keywords: This type of Chatbot works based on smart Machine Learning, so that it can understand user needs and return more relevant results than the two Chatbot types above.

Contextual Chatbot: This chatbot can remember customer data from previous conversations to better converse with customers. To do so, it combines Natural Language Processing, AI - artificial intelligence and Machine Learning.
The more high-tech the chatbot is, the more information it will bring and the better it will be to respond to your customers. However, it also comes with a commensurate cost. Knowing this will help you choose the most suitable Chatbot for your business.
The principle of free Chatbots
Chatbots communicate with users based on a process as follows:
Translator: User information/requests can be translated into a programming language. The computer can then understand which actions need to be performed.

Processor: AI technology processes user requests.

Respondent: The computer receives output from the AI ​​and returns the corresponding results to users on the messenger platform.
What are the benefits of creating a free Chatbot?
AI technology has never been in vain. As a combination of this advanced technology and more than 60 years of continuous development, chatbots have been bringing a series of unimaginable benefits to businesses.
Save time and costs: Instead of dozens of employees, you only need 1 chatbot system to communicate with all customers at the same time. This will help reduce the time and cost of labour for your business.

24/7 Support: What is a Chatbot? It's fully automated AI technology so you can set it up for 24/7 customer support, thereby enhancing the customer experience.

Increase revenue – boost purchasing behaviors: Of course, when customers are well supported, they will be more eager to buy. If you know how to create effective chatbots, you can also elicit customer needs and close sales easily. In fact, nearly 80% of businesses have increased their revenue after a short time of using chatbots.

Automation: Every business process can be automated through chatbot support. The system will record the requests and automatically execute it methodically.

Collecting customer information: This is the biggest advantage of chatbot when it can collect and analyze customer data to improve the sales experience for businesses. This helps you take better care of your customers and business.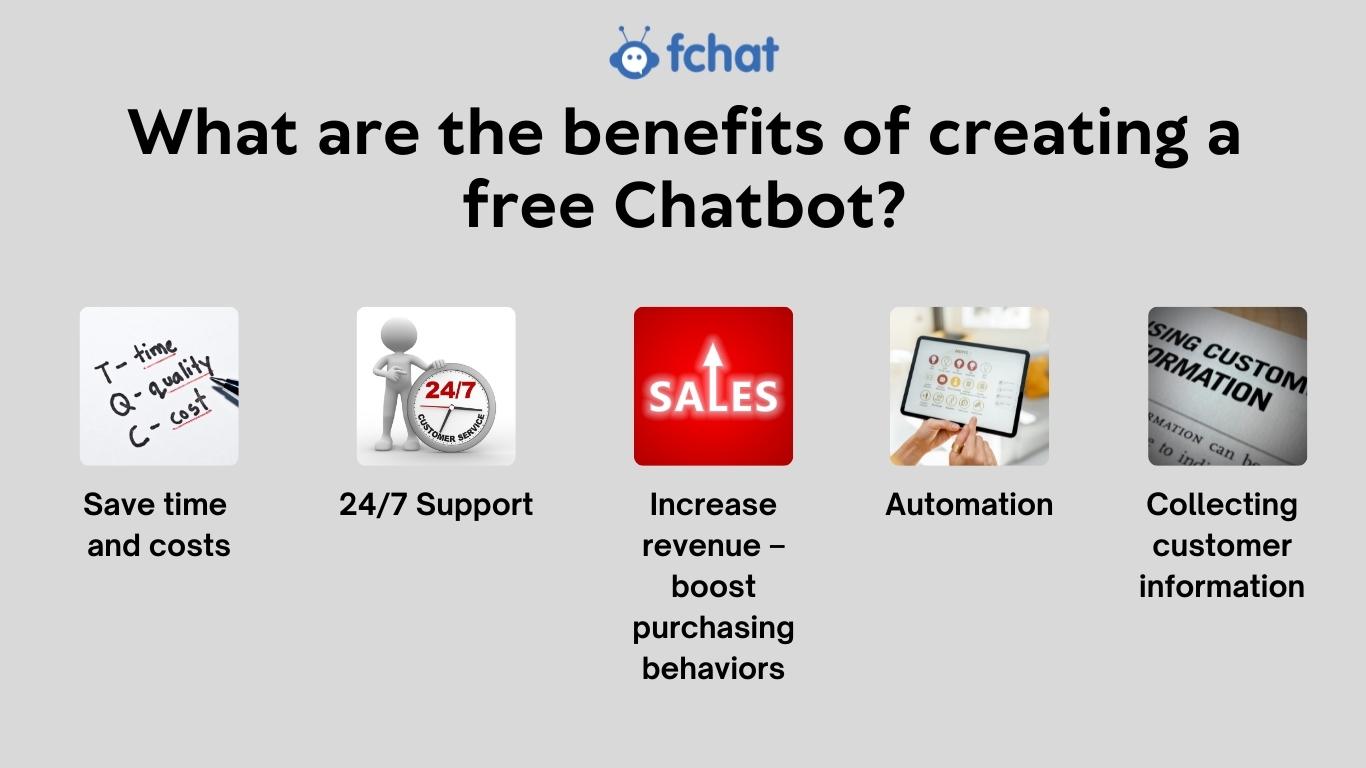 >>> See more: 10 AWESOME CHATBOT BENEFITS FOR YOUR BUSINESS
Reviewing the safest free Chatbots
Fchat.co - Free chatbot
Fchat is a service, built and developed for many years, that helps you create a professional and effective Facebook chatbot that automatically sends messages. With many years of experience and long-term contact with many customer groups, Fchat receives a certain amount of interaction and trust from major partners. The unlimited features that Fchat brings will surprise you because no other unit has it and especially, it's completely free.
Has a huge amount of user storage.

Responds to comments and messages automatically.

Automatically assigns customers to support staff.

Integrates chatbot to a website and some other social networking sites.

Implements promotional campaigns, discounts and minigames.
In particular, Fchat brings effective solutions for your chatbot:
Saves more than 50% of live chat time.

Sends mass messages quickly and easily.

Replies, hides, likes comments automatically on fanpage posts.

Has instructions for replying to messages by keywords.
>>> Use free chatbot now! (Click to Picture)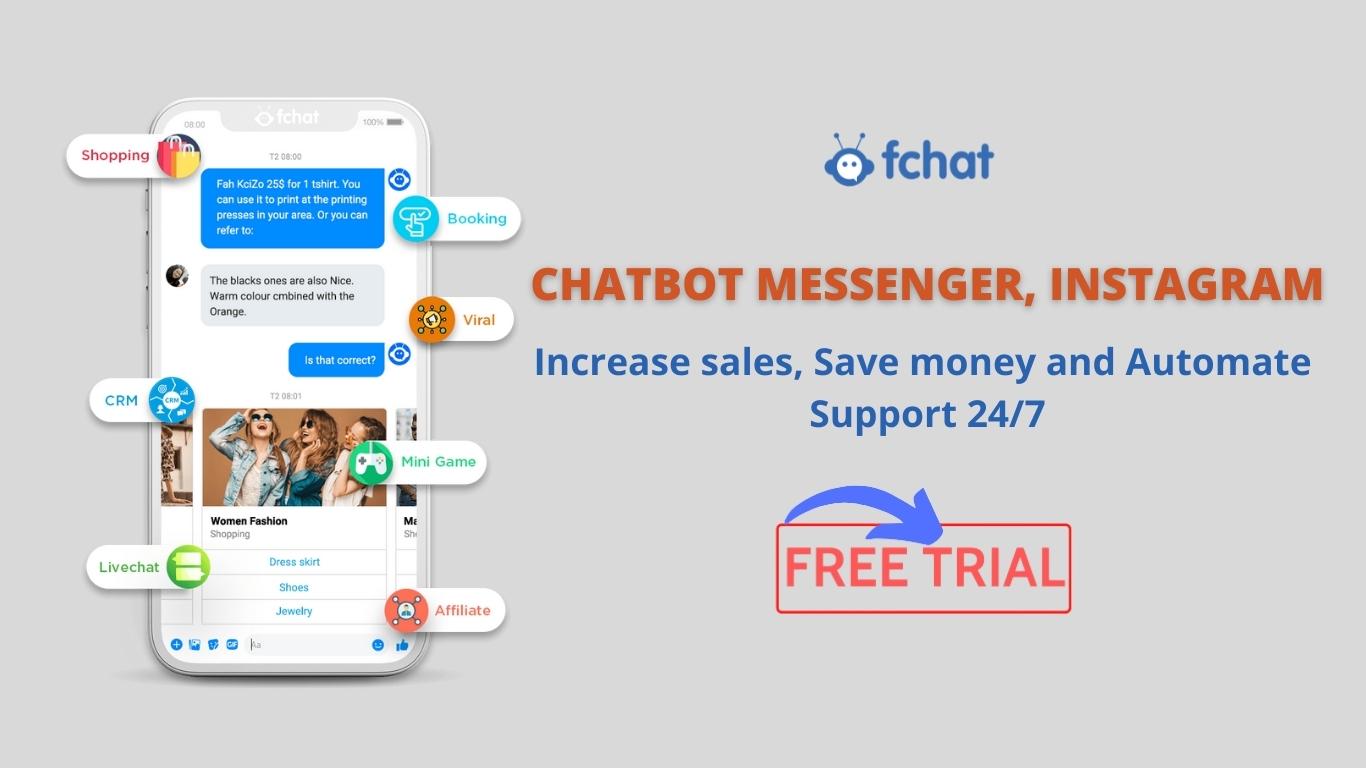 Chatfuel
Run Facebook chatbot in 10 minutes without programming. Chatfuel is trusted by big companies like UBER and TechCrunch. Chatfuel is also capable of supporting businesses on multiple platforms, including Twitter, YouTube, JSON, Instagram, ..
Chatfuel offers both free and paid versions for users. However, if you are a small business or retail business, we find the free version of this chatbot to be sufficient for basic needs.
Manychat
What is Manychat Chatbot? This is a well-known AI system that helps businesses interact with their customers effectively. The outstanding advantage of Manychat is that you can edit scripts, create related keywords, communicate visually, etc. easily. Moreover, Manychat's interface is very easy to use. With each change from users, Manychat displays a live demo screen next to it so that they can monitor more conveniently. You can send messages, photos, videos to registered users, with unlimited storage
And that's it, you have successfully created a Chatbot. To use the Facebook chatbot effectively, you should refer to the script instructions to best attract and interact with customers. Hopefully, this article has helped you understand what a Chatbot is and what benefits it has to create a chatbot for businesses. Try some of fchat.co's free Chatbot platforms and let us know what you think.