Most brands don't have the resources to offer 24/7 online customer service and sales support. Fortunately, chatbot facebook messengers don't need to sleep (or eat lunch). A good chatbot facebook messenger free can answer customer questions, track packages, make product recommendations, and even close a sale any time of the day or night.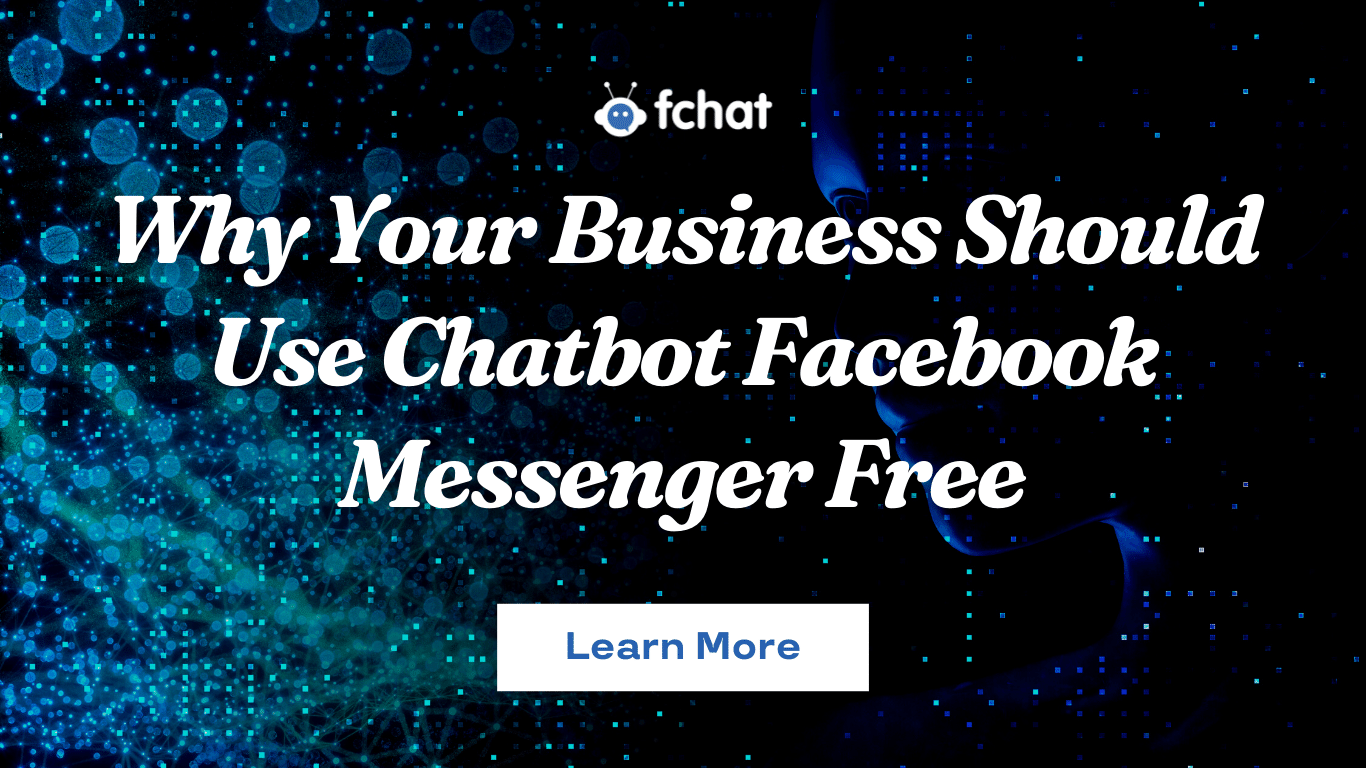 What is a Chatbot facebook messenger ?
A Chatbot facebook messenger is a piece of automated messaging software that uses artificial intelligence to converse with people. A Facebook Messenger bot is a chatbot that lives within Facebook Messenger, meaning it converses with some of the 1.3 billion people who use Facebook Messenger every month.
Chatbot facebook messenger python can be programmed to understand questions, provide answers, and execute tasks. They can provide a customized online shopping experience and even make sales.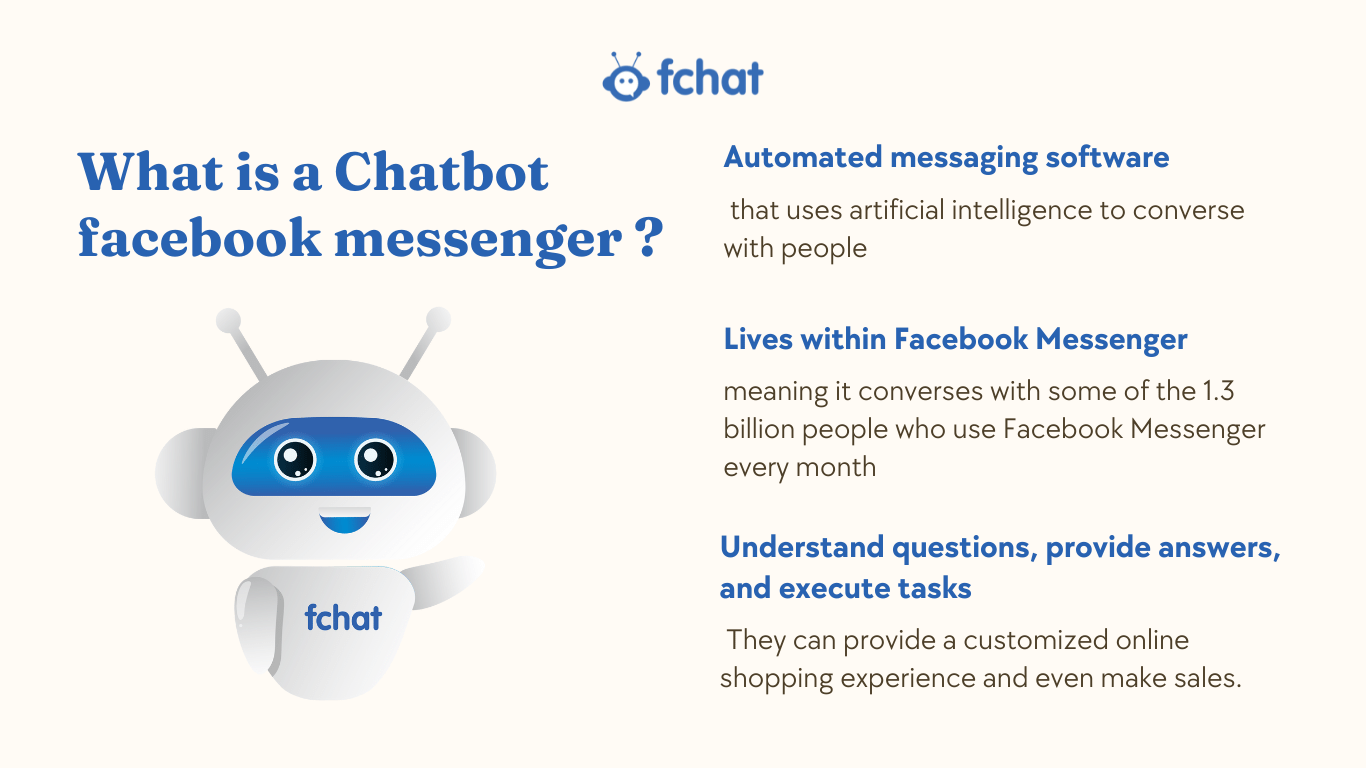 Read more:
The benefits of using Chatbot facebook messenger for business
1. Improve Your Customer Care Services
Facebook messenger chatbot marketing can act as a customer support portal, allowing you to allocate your human resources to other tasks and gather valuable data about your products and services. Your chatbot will open another communication avenue for your customers that is more personal, private, and easily accessible.
To make your customer care services amazing, combine artificial intelligence (your chatbot) with human intelligence. Aside from helping your chatbot avoid making mistakes, this combination is perfect to help every customer properly fulfill their request. (Definitely add this to your benefits of chatbots list!) Your bot can help your customers place orders while linking them to the best vendor to deliver it to them.
2. Drive Engagement Beyond Clicks
Before now, engagement was based on clicks. When consumers clicked on an ad, a call-to-action, a video, or a link, this was considered as a form of engagement. Engagement with a chatbot is different. It is an active, personalized conversation with a customer.
This personalized experience doesn't only drive more engagement, it nurtures it. For example, instead of customers passively watching a movie trailer, they can be probed towards it, making the entire experience more proactive and a benefit of chatbots.
Facebook messenger chatbot free leave users with:
An entertaining experience

A better understanding of the brand

An emotional connection to the experience

A higher likelihood of them sharing their experience with friends
3. Sell Your Products and Services
Aside from creating a higher level of awareness and engagement among customers, facebook messenger chatbot are the perfect tool to push your audience through your sales funnel. When consumers visit your website or social media pages, they can automatically give recommendations tailored to your customer's shopping preferences based on their past searches.
Facebook messenger chatbot marketing are a powerful sales tool because they:
Are available 24/7, broadening sales opportunities to an international level

Qualify your leads to only share information about relevant products and services

Can help with payment processing

Allow you to allocate human resources to other tasks that can generate new sales avenues for your company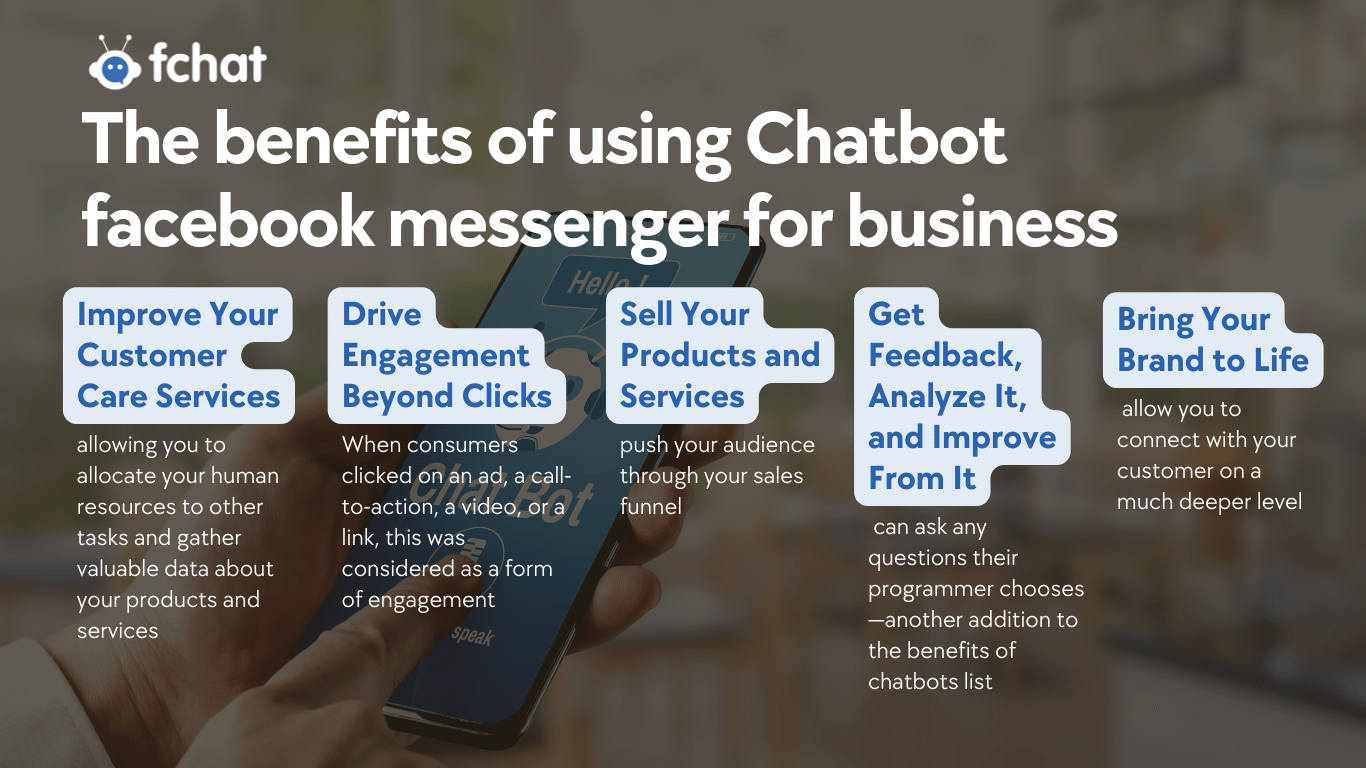 4. Get Feedback, Analyze It, and Improve From It
Because of the more personal nature of a conversation with a chatbot, more specific data can be gathered. Facebook messenger chatbot marketing can ask any questions their programmer chooses—another addition to the benefits of chatbots list! Unlike with traditional ads, you will be able to gather specific information that will give you more insight into your target audience.
Today, advertising is less about driving an audience to a landing page or website, but more about driving it to a facebook messenger chatbot free for data. The chatbot acts as:
A promotional tool

A customer care tool

A sales generating tool

An analytical tool whereby further personalization can be made for future communications

find out why teams love managing their social with agorapulse
5. Bring Your Brand to Life
Once a facebook messenger chatbot python is launched, it represents your entire brand. Similarly to sending team members as representatives to conferences, events, or shows, your chatbot is the face of your company online. Unlike traditional ads, which are pushed onto consumers, chatbots slowly lure in customers, meaning they have to have a level of personality.
Facebook messenger chatbot free is an unusual tool as they give consumers a level of control over the conversation. They allow you to connect with your customer on a much deeper level.
Your chatbot tells your brand's story through a private conversation with a potentially endless audience. You have the opportunity to let your chatbot:
Tell your brand story

Engage and re-engage with your audience

Facilitate your sales efforts

Grow your business
Might You need: 10 Awesome Chatbot Benefits for Your Business
The dos and don'ts of using Facebook messenger chatbot marketing
DO set expectations clearly
First, make sure the user knows they're interacting with a bot. Introducing the bot can be a good way to start. You can even give it a name, like Decathlon does here.
Then, make it clear what the bot can and can't do. Program your Facebook Messenger chatbot to take the lead in guiding the user through the experience by asking questions or using prompts that move the interaction forward.
DO maintain your brand voice
While you want to be clear that your Facebook Messenger chatbot is a bot, you want it to sound like your bot. Use turns of phrase your customers expect from your website, and maintain the same general tone. If your brand is casual and friendly, your bot should be too.
That said, keep it simple. Don't use slang or jargon that will confuse users. Try reading your bot's prompts out loud to a colleague to make sure they're clear.
And always use a tone appropriate to the task at hand. If you're asking someone to provide personal details like a flight number or their address, take a more professional tone.
DO let human agents handle complicated inquiries
A Facebook chatbot's success depends on its ability to recognize when a human being is needed. Automated conversations are speedy and responsive, but they can't replace human connection.
Customers should have the option, at any point in the conversation, to connect with a person. Your chatbot should be able to recognize a request for human help, even if it's outside the expected flow of conversation.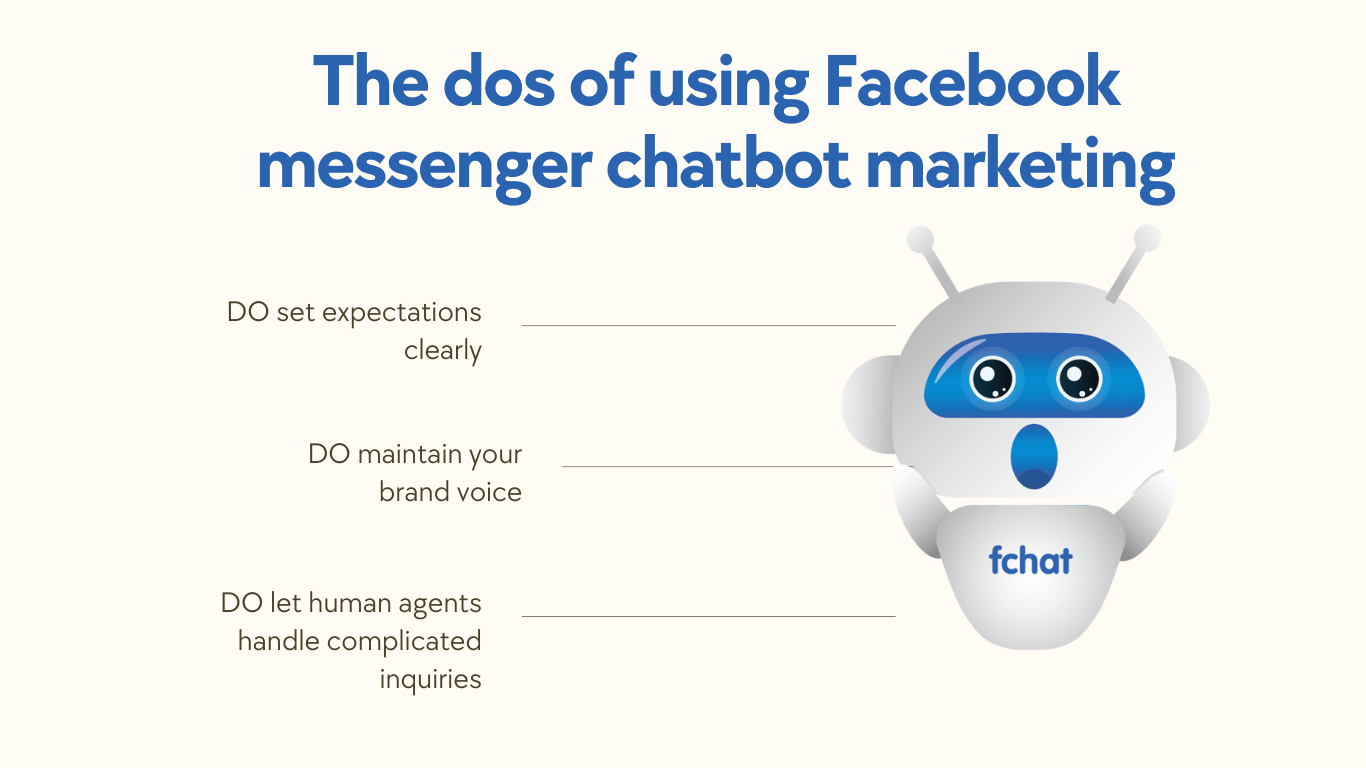 DON'T spam
There's really only one major don't when it comes to facebook messenger chatbot, and this is it. Don't spam.
Don't assume that a customer who reached out for help wants to receive marketing messages. Personalized product recommendations might be helpful, but make sure you have permission before sending them.
Fchat.co - Best tools for building facebook messenger chatbot marketing
Fchat is a sales facebook messenger chatbot software that helps businesses automatically give consultations, close orders and take care of customers effectively. Currently, Fchat has been present in many different markets such as Vietnam, Thailand, Indonesia, Philippines with more than 100,000 users. Fchat supports online shop owners and businesses of all sizes to build smart and flexible free chatbot software for all industries. Using Fchat's chatbot website template, businesses can use a full set of features such as:
Store up to 10,000 users for a lifetime free chatbot design package.

Easily connect the chatbot to an unlimited number of integrated websites.

Set up chatbot software with flexible scripts such as greeting script, timer script, auto-responder script, campaign launch script, ...

Perfect live chat feature: Chat directly with customers from many sources on the same operating window, manage comments, chat history, customer support group chat.

Respond by keyword, using natural language, friendly interface, easy to use.

Prevent customer poaching, automatically hide comments, customer information on fanpages.
…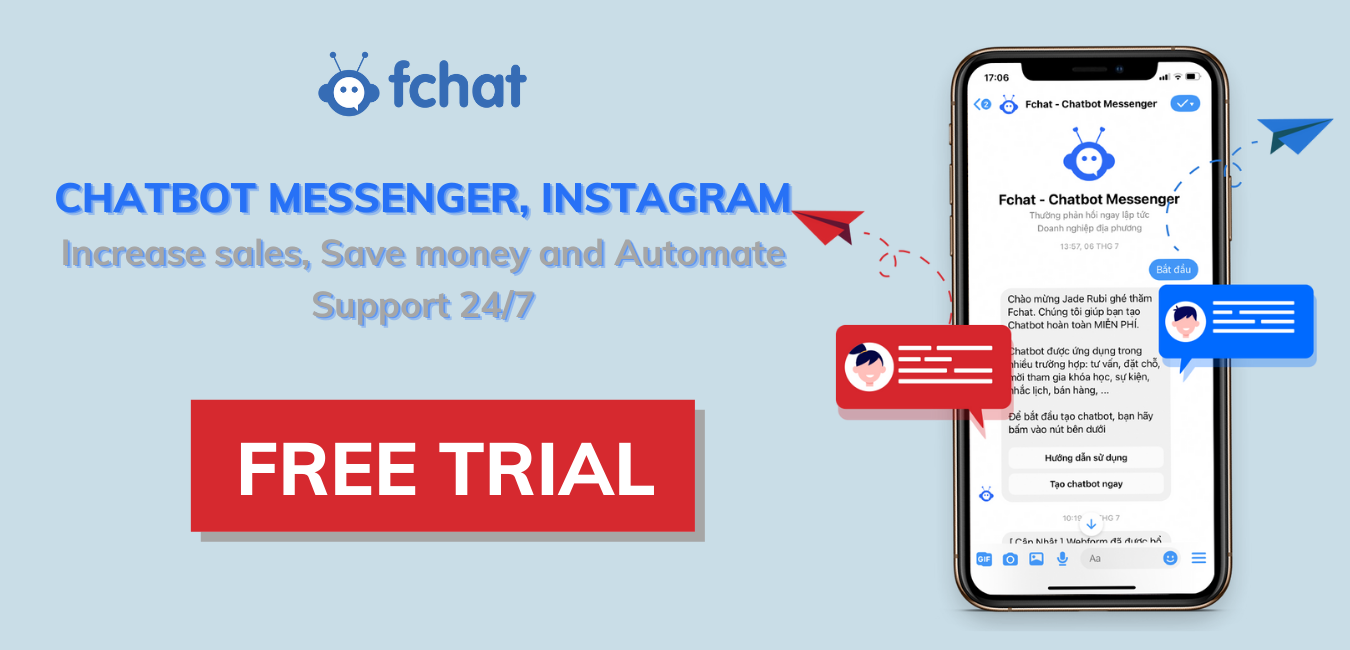 Facebook messenger chatbot is evolving every day and these improvements are allowing them to do everything from placing food orders, calling a taxi, processing payments, to even telling jokes. Facebook messenger chatbot marketing is an incredible way for you to connect to your audience, learn about them, and build a long-lasting relationship with them. Why not create a chatbot marketing strategy and give chatbots a try?