In the age of personalised marketing, chatbots emerge as one of the few channels that can offer a genuine one-to-one experience between brands and users. In this article, Fchat.co will write a guide to create chatbot facebook messenger free in 2022.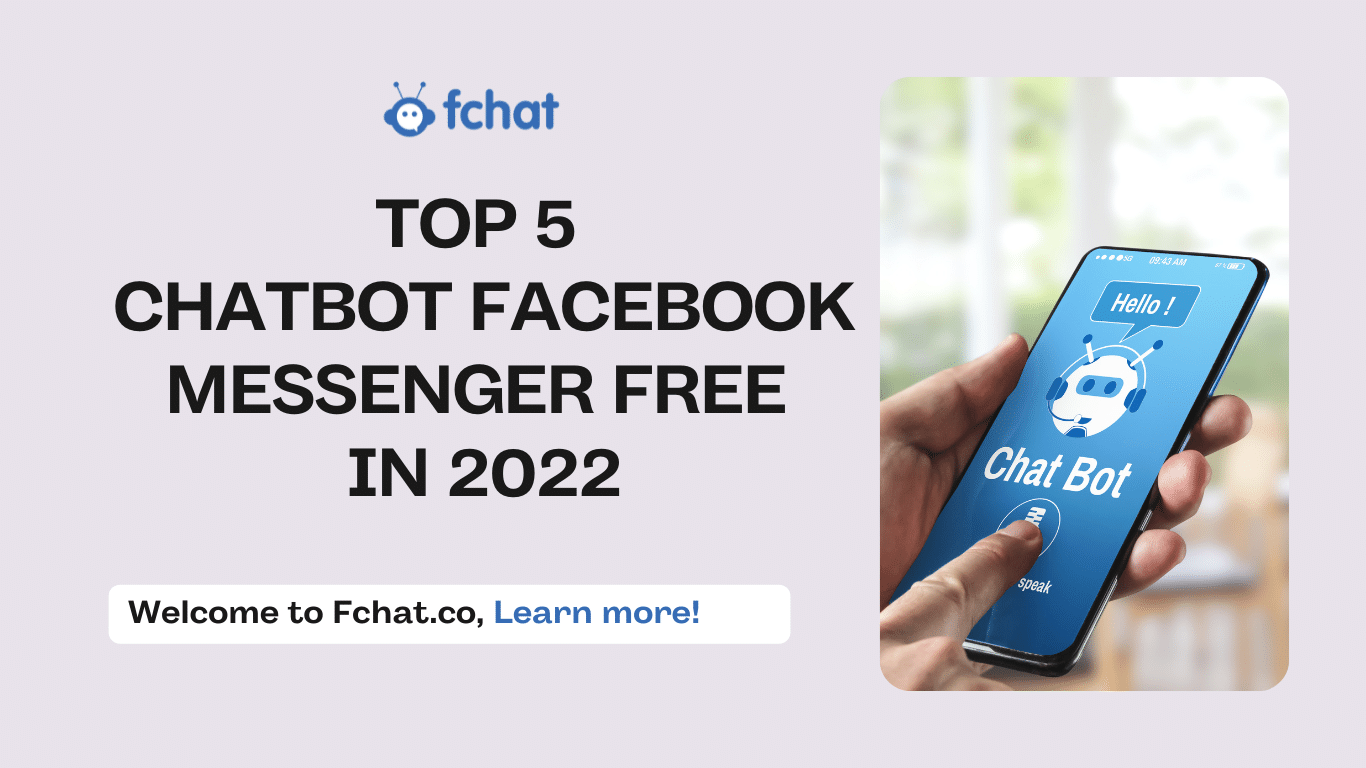 What is a chatbot facebook messenger?
Chatbot facebook messenger (also known as Facebook Chat Box or Facebook Bot) is a small program that works inside another big messaging application, in this case, Chatbot Facebook messenger Marketing. Once installed, the Facebook Chatbot can automatically interact with users, allowing website visitors to access a range of different services.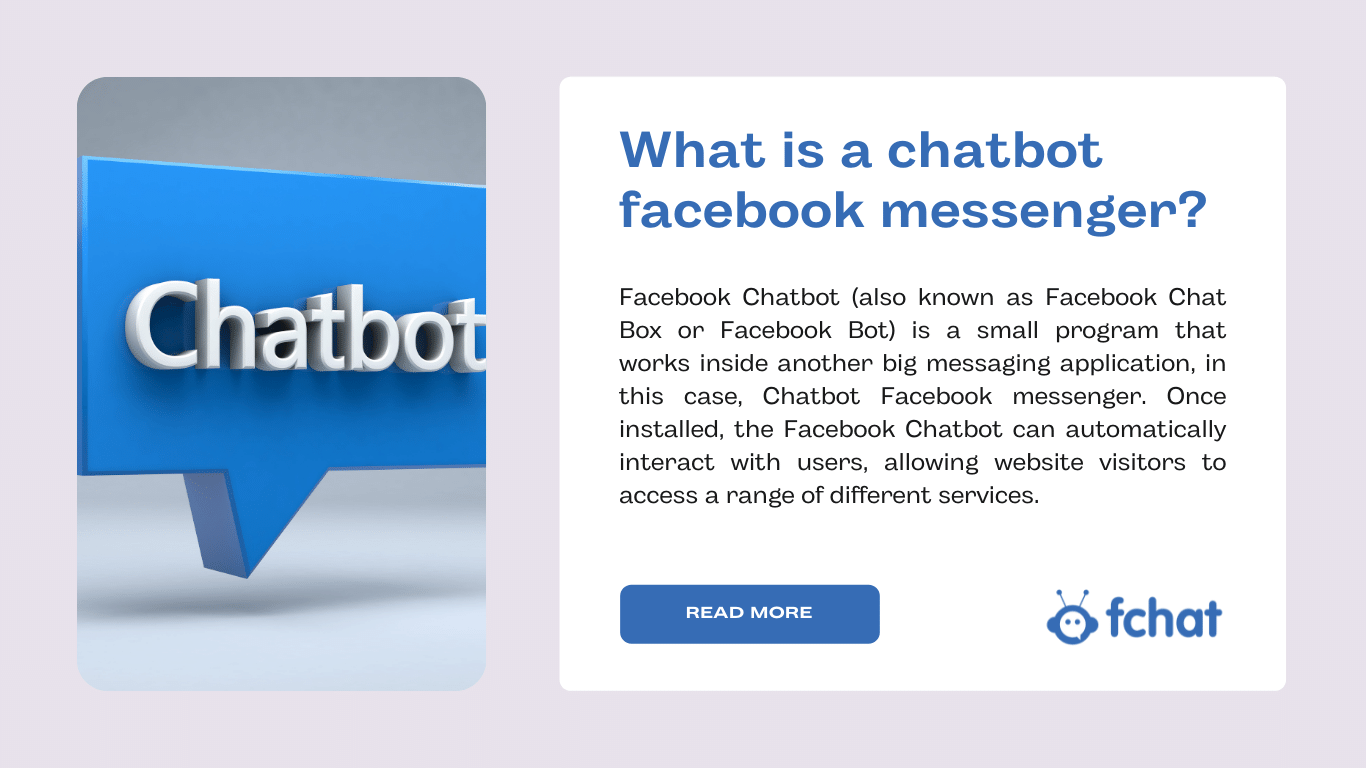 While you may not know what a Chatbot means and how it works before, you've probably had some interactions with it online. From chat programs designed to improve customer service to chatbots that answer frequently asked questions or recommend products, these little snippets of code are ubiquitous these days on the Internet. Most companies use facebook messenger chatbot python to improve profits and better customer care services.
Read more:
How to create chatbot facebook messenger free for your business
To create a chatbot facebook messenger free for a personal page, we can use Fchat, it offers quite complete features for consumers.
Step 1: To create your own chatbot, visit the website: https://fchat.co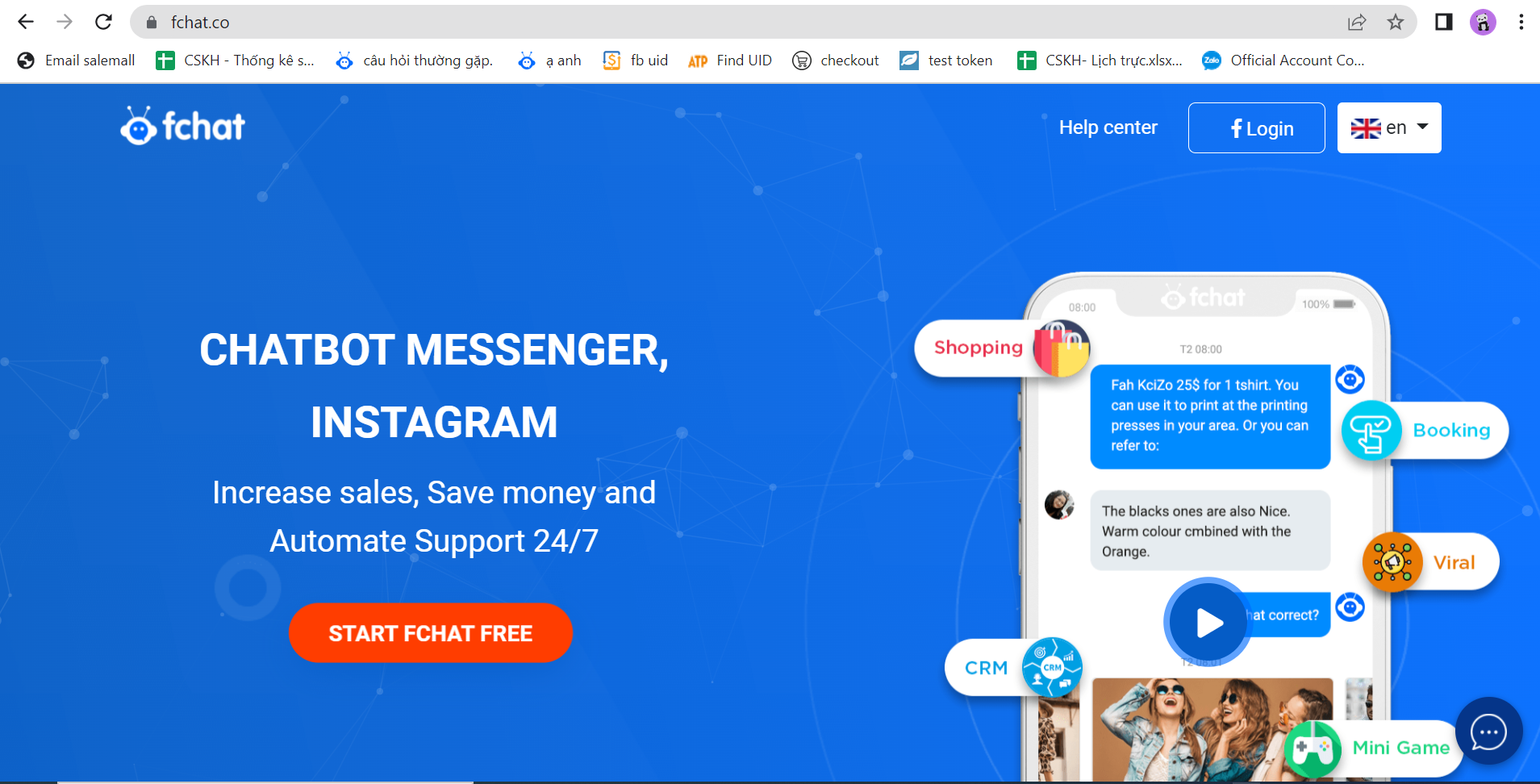 Step 2: At the Fchat homepage interface, select "FREE TRIAL" to start the setup.
Step 3: Fchat will connect to your Facebook channel account, just follow to link closely (Remember to use Facebook admin account or personal page to create chatbot).
Step 4: After linking your account, Fchat will ask you to connect the Page where you want to use the chatbot, you just need to select the personal page you want to build the chatbot on by clicking Connect to page.
So you have created your own facebook messenger chatbot python. However, for the chatbot to be able to work effectively, you need to carefully learn the user information or message your personal page to divide the type of content suitable for chatbot scenarios.
>>> Might You need: Best Facebook Chatbots That Engage Customers
TOP 5 best chatbot facebook messenger free for your business
Fchat.co
Fchat.co is a chatbot facebook messenger free that helps marketers build high-converting chatbots. Unlike many other chatbot builders in this post, Fchat.co specialises in connecting your chatbot with your wider marketing stack – including your ad campaigns and drip marketing.
With in-built chatbot forms, lead magnets and marketing automation tools, Fchat.co makes growing your list, and more importantly, converting your visitors into leads a breeze.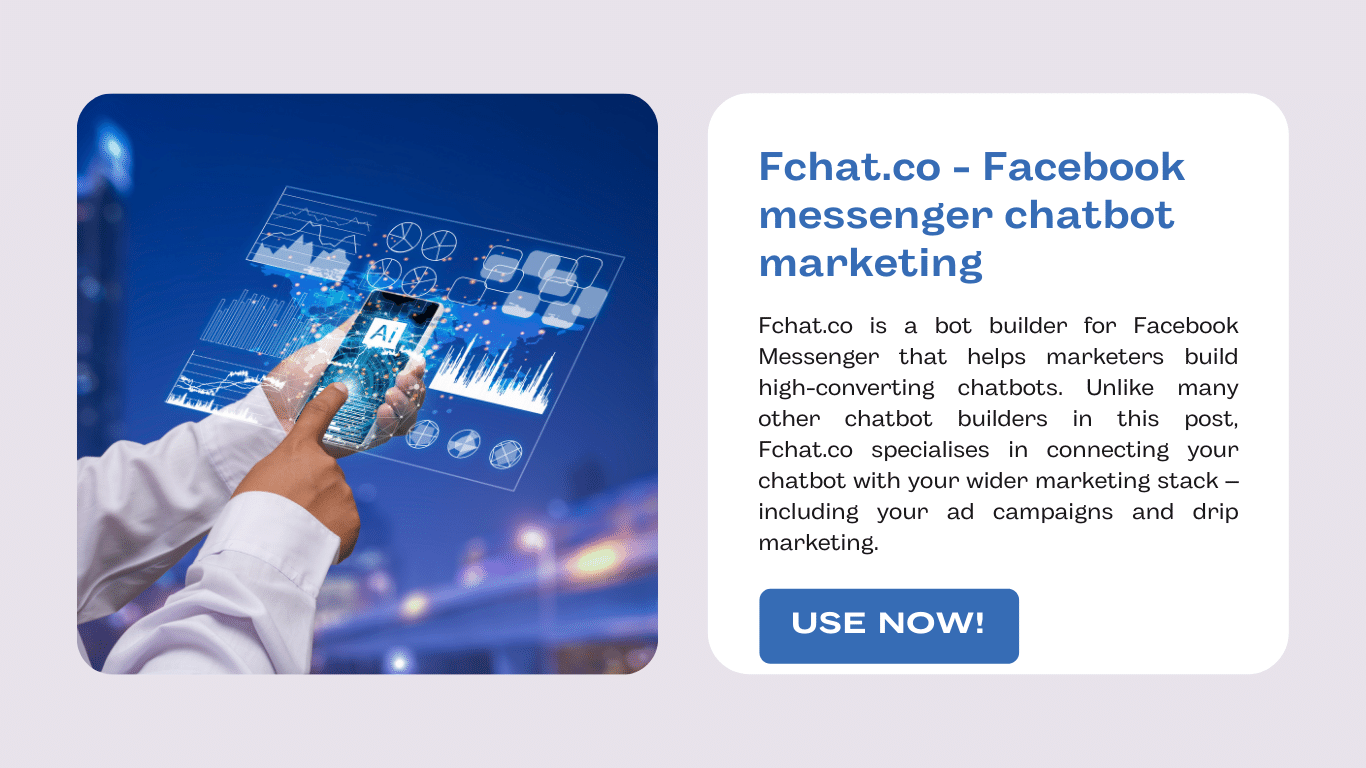 Pricing: The minimum order is three months. Buy more Page from 2.2USD - 2.5USD per page, which includes 10.000 Customers and 2.000Orders / mo.
TARS
TARS is a drag-and-drop chatbot builder that you can use to create chatbot facebook messenger python or conversational landing pages for your website. It's very straightforward to use with zero coding or development skills required. There are more than 800 chatbot templates for different industries and use cases that can be edited and customised. TARS puts all the focus on building bots that generate leads and add ROI to your marketing efforts – something many bot builders neglect.
Price is the primary down side to TARS as there is no free version and it's one of the more expensive builders around. Prices start at $99/month for the basic chatbot builder. But the $499/monthoption will get you the most advanced set of analytics and marketing tools available among the builders in this article. You'll be able to integrate with Google calendar and all your existing applications, plus lots more.
Flow XO
Flow XO is a complete solution for building chatbots, hosting them and deploying them across platforms, which means you're not only limited to Facebook Messenger. You can also build chatbot widgets for your website or integrate them with suitable third-party platforms and users can also share your bot with others.
The interface is incredibly easy to use and there's a free version that you can try out to get a feel for things. You get access to all of the features on the free version but you're limited to 500 interactions – although you can build up to five different bots.
Paid versions start at $19/month, which gets you 5,000 interactions and you can add 25,000 by paying an extra $25/month (50,000 for £50/month, 75,000 for $75/month, etc.) and add five more bots for an extra $10/month.
Botsify
Botsify is a simple builder that lets you create chatbot facebook messenger free. It also comes with some great integration features you won't find with other builders. For example, you can integrate with Shopify, WordPress and Alexa; create conversion forms in your bot or allow human staff to take over the conversation.
You can get started with Botsify for free or sign up to a paid plan, which start from $10/month.
Chatfuel
Chatfuel is a chatbot facebook messenger python that aims to make bot building easy. You don't need any coding skills to use Chatfuel and the free version of the platform gives you access to almost every feature for up to 5,000 subscribers, although users will see the Chatfuel branding on your bot.
While it's not as easy to get started with Chatfuel as it is with some of the Messenger bot builders we'll be looking at in this article, it does make managing and reusing messages easier than most – something you'll appreciate later on.
Paid versions start from $15/month and this gets you more subscribers, audience insights, priority support and some extra data management features.
I know what you're thinking, this level of service comes at a cost, yes? Well in fact, no it doesn't! Melu's managed live chat service is incredibly cost effective. You can even try before you buy with their free trial.