Using chatbots for customer care and customer feedback is a strategy being widely used by companies, stores, etc. The positive effects created by Chatbots seem to make businesses reduce much time and costs. In this article, Fchat.co will reveal the most effective chatbot sales scripts of 2022 for businesses.
Chatbot is currently considered an effective automated customer care tool for its ability to chat smartly according to scripts 24/7. However, this is just a support tool and Chatbot can't set up its own scripts but relies on users' settings. Hence, in order to build an effective customer care script, you need to: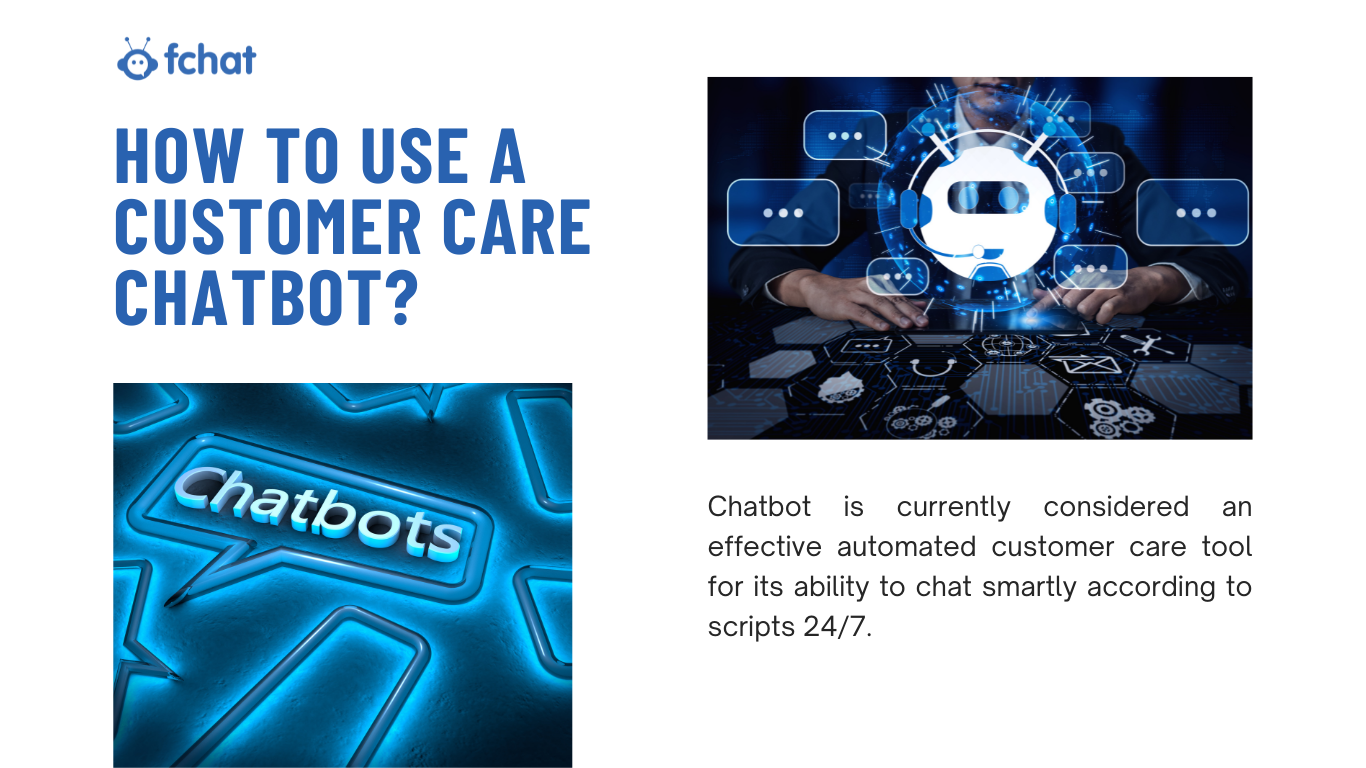 Read more:
9 Tips On How To Write A Perfect Online Chatbot Script
The Most Effective Free Customer Care Facebook Chatbot Scripts Of 2022
Create a plan to build customer care scripts
This is a crucial step to creating a good customer care script. In order to do this, you need to answer the following questions:
What is this script used for: Introduce the new product/service, promotion and after-sales programs, etc.

Your script's target customers: potential customers, old customers, VIP customers, etc. of your business

Customers' wait time, your customer care staff's converse time

Customers' level of content after interacting with customer care staff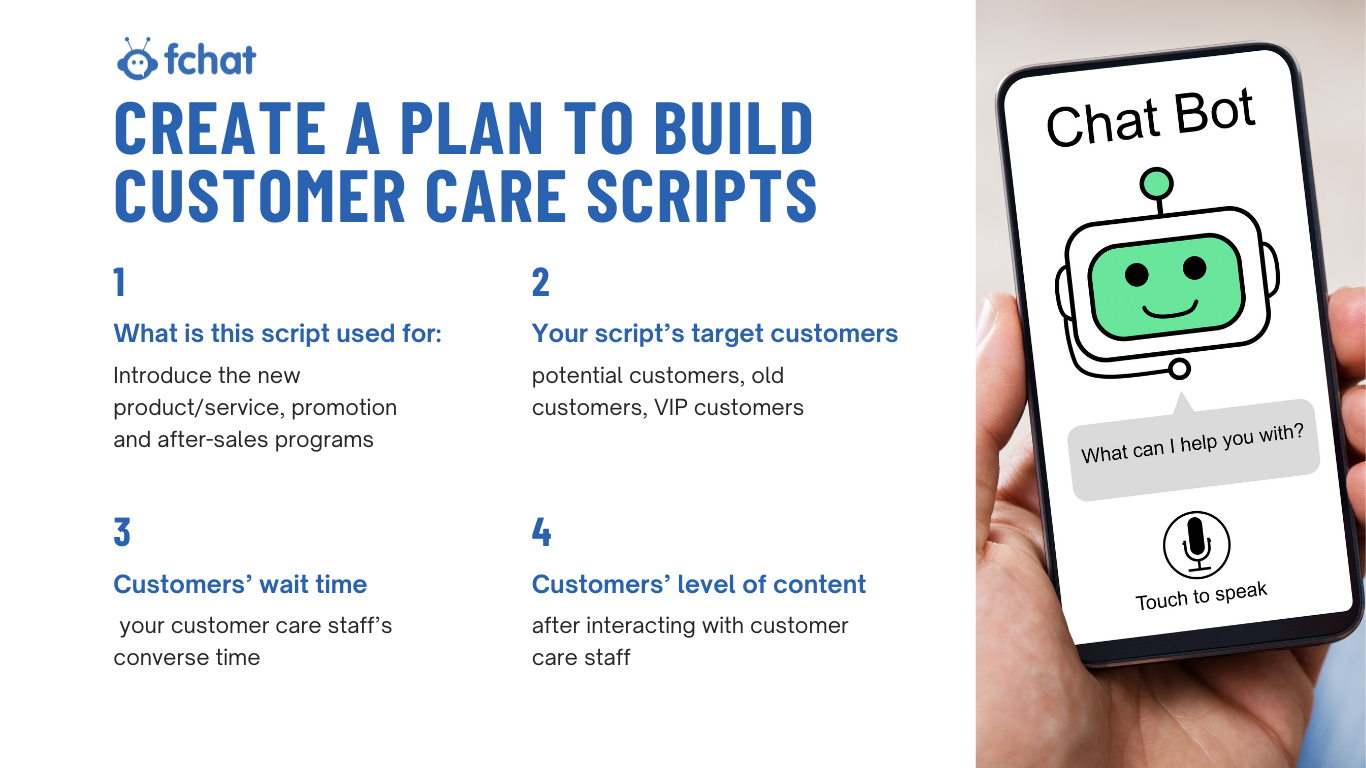 Segment customers
Customer segmentation is a necessary step to build a suitable Chatbot script for each customer segment. Consider categorizing your customers based on:
Age

Geographic area

Gender

Income

Interest level

Purchasing power
Each customer segment has specific needs and levels of brand loyalty, thus having different potentials for customer development. Once you have identified the customer group with the greatest potential, your business will have to prioritize taking care of it.
Create a customer care script chatbot
This step is very important, you will need to have strong knowledge about the product, the warranty process, how complaints are handled, and your company's targets for brand building and sales for each specific phase to build an accurate and complete customer care script. A professional customer care script will include:
An impressive greeting: A good greeting can make an immediate impression on customers. Your greeting should be warm and impressive.

Listen and empathize: This is what every customer wants from an interaction with your business. Customer care staff need to have the skills to listen and empathize with customers via calls.

Identify the root cause: After listening to customers' problems, customer care staff need to identify which department can handle them.

Provide solutions: Customer care staff need to tell customers in detail how the company intend to handle their problems, including the steps and time.

Goodbye: Keep the right welcoming and considerate attitude until you have ended the call, reassure customers and ask for a schedule.
Customer care scripts need to be built with logic, nature and welcoming language, expressing the business's core values and purpose.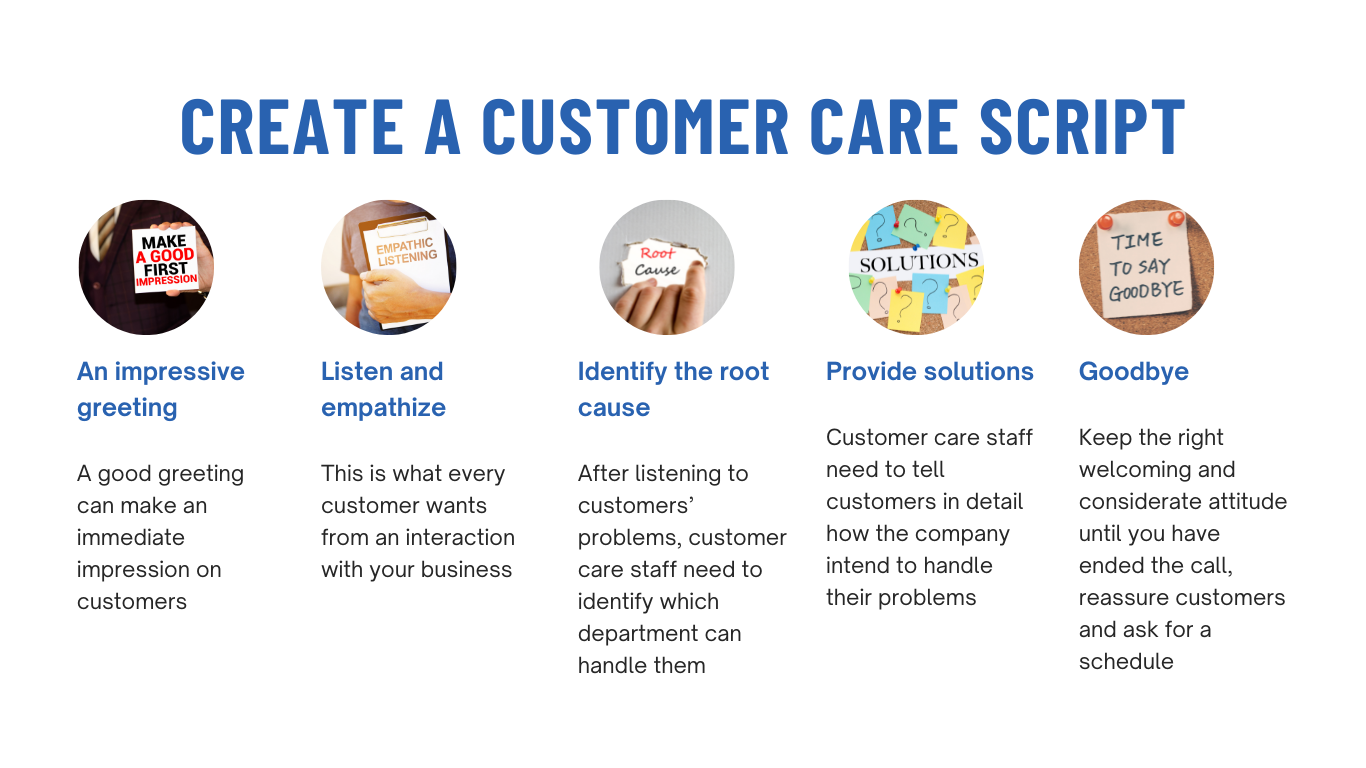 Learn more:
Keep in touch with customers
In order to efficiently support old customers who are still interested, Chatbot has to respond in time. Take advantage of the collected information of said customers to build an appropriate interaction. Chatbot also has to send updates about new products, promotions, special offers, etc. Chatbot has to message interacted customers quickly.
If your customers find Chatbot's messages annoying, you need to stop or send fewer messages. If you don't pay attention to this, customers may block your page. Never create forceful messages like "Why are you not replying?", "Please respond", etc.
Use Chatbot to remind customers of your product
This is considered the most effective marketing method that most business owners use for customer care. With the million products put out in the market every day, customers, even your loyal ones, won't be able to keep up with all your products.
Using Chatbot scripts regularly can remind your customers about other products of your company, providing product information and benefits. When a new product is being launched, set up your Chatbot to send notifications to your customers. To make your Chatbot convenient and effective, always build at least 3 scripts for one interaction scenario so your staff can handle emergencies flexibly. Categorize cases of customer interactions. For example, customers are uninterested, customers refuse to meet, customers are angry, customers complain, customers ask for a refund, etc.
U can use chatbot for facebook page free here: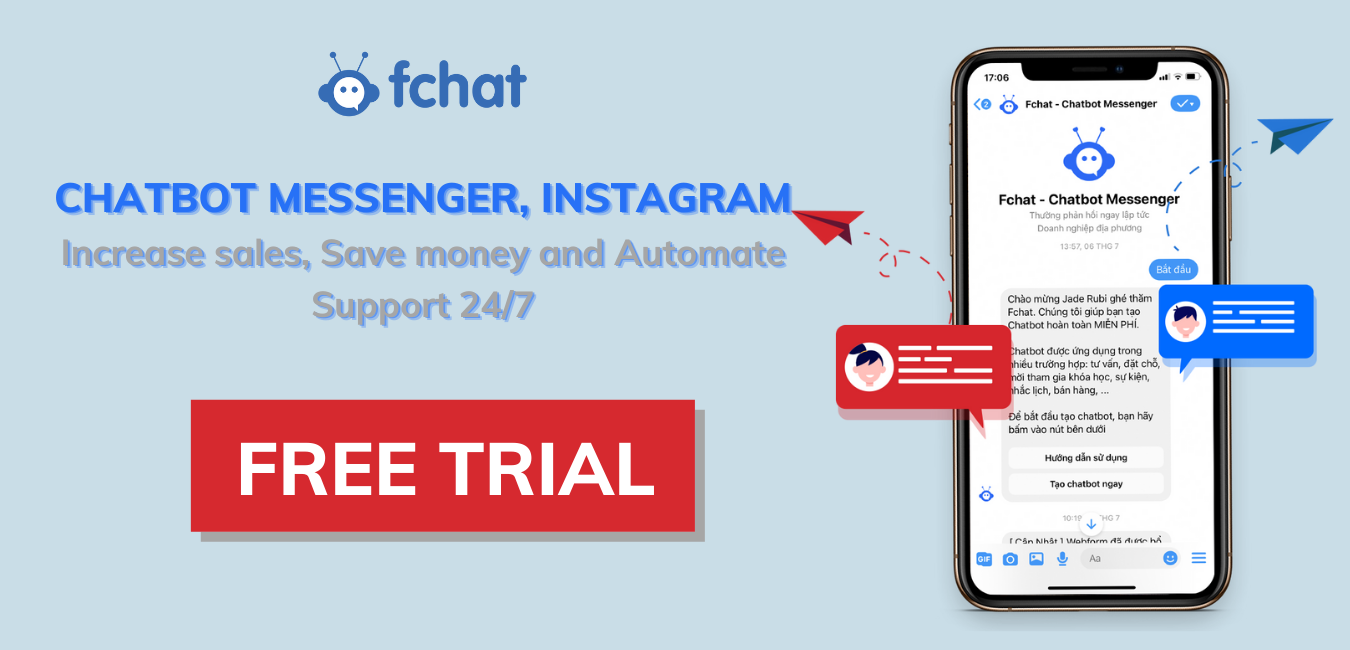 To be able to retain old customers and create credibility with new customers, businesses need to build specific customer care scripts. Customer care scripts show professionalism, save time and costs for businesses. Hopefully, the information shared above will help you create your own professional Chatbot customer care scripts to serve your business. Good luck!