Human resource is always one of the top priorities of an enterprise. Because a team of qualified personnel will bring efficiency to work, contributing to the growth of the business. In the current digital age, the use of chatbots in recruitment is no longer a strange thing. However, many businesses are not aware of these benefits. So how to create a recruitment chatbot for the HR industry? Find out with Fchat.co in the following article.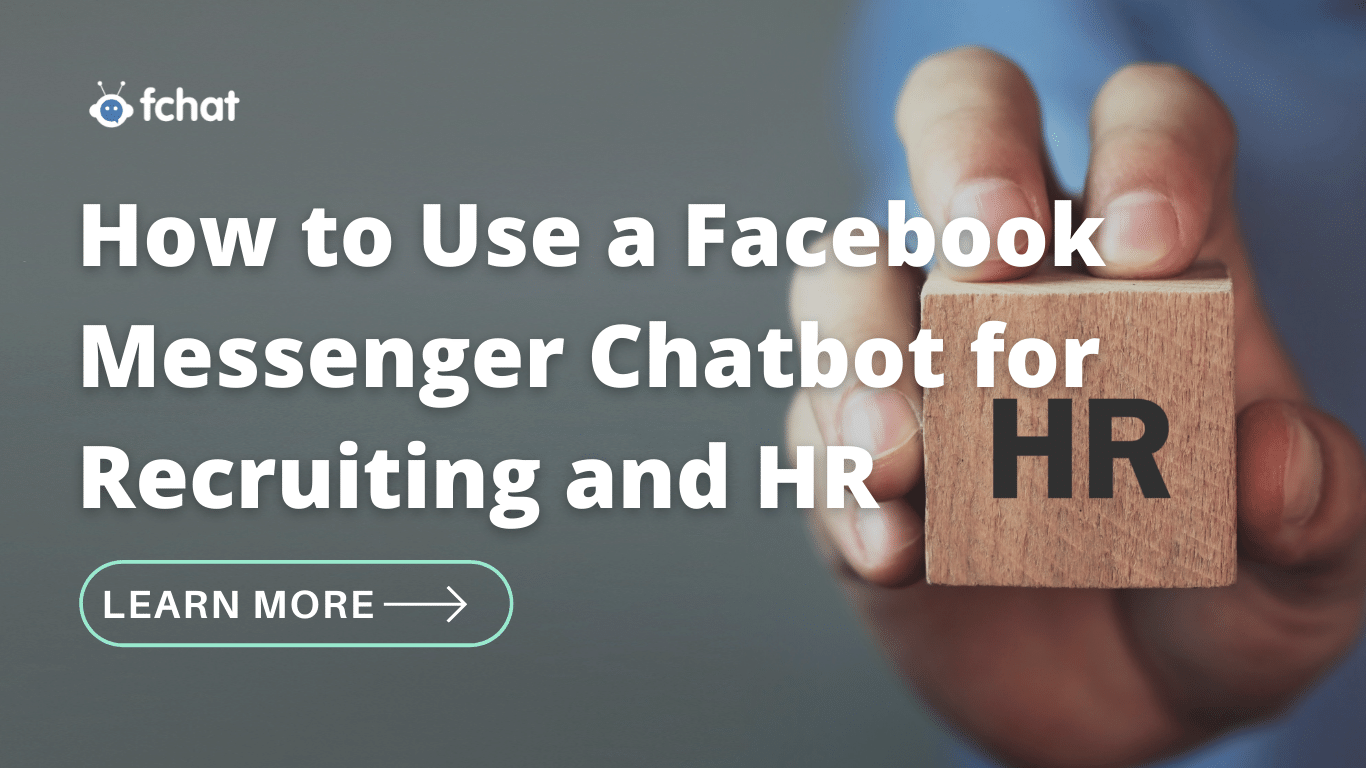 Benefits of using chatbots for human recruitment
Quick and accurate answers
Usually, candidates will contact the company's HR department directly when seeing certain recruitment information. And to help HR avoid having to answer repetitive and time-consuming questions, the chatbot can do it on behalf of HR staff. The chatbot will provide all necessary information to candidates: vacancies, business information,...​
Quick response
Oftentimes, HR cannot quickly answer all candidate's questions, the information may be incorrect, missing... Therefore, the automatically installed chatbot will make this job easier and faster.
Civilized and friendly communication
Communication will be more convenient and easier with chatbots. Candidates will feel more comfortable answering questions, difficult and delicate information about company rules are also more easily accessed.
Effective training
Chatbots can totally replace HR employees when introducing new employees to company information, rules, etc. Conditions related to collective regulations are communicated quickly, fast and accurately via chatbot.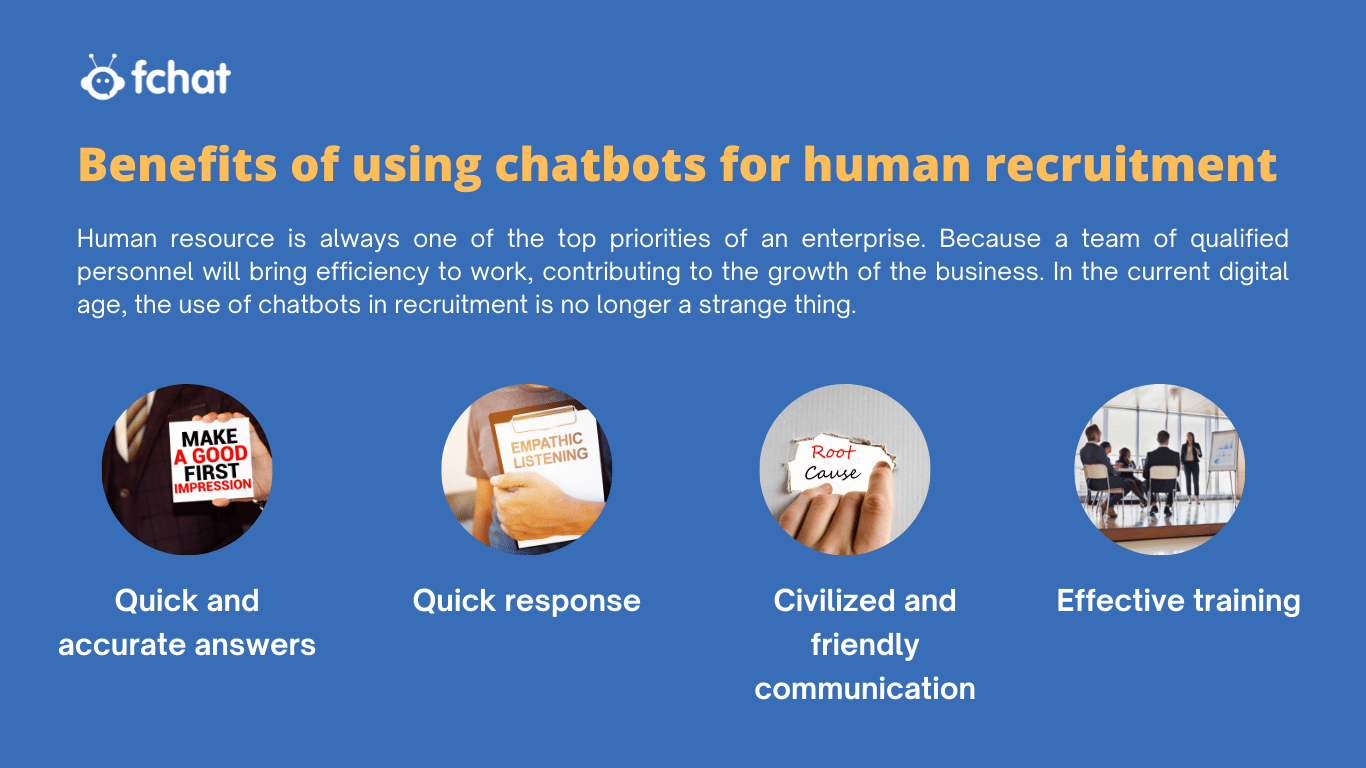 => Maybe you are interested:
Types of businesses that can benefit from an HR Messenger bot
A Messenger bot can impact the recruiting process of any business that hires new employees, regardless of:
Size. HR departments for larger companies may struggle to handle the sheer volume of applications. A bot can help sort through them and pick out the most qualified candidates quickly and efficiently. Recruiters for smaller companies, on the other hand, may use a bot to answer FAQs. That way, they can turn their focus to the many other tasks on their plate instead.

Position. You can use a chatbot to help hire for in-house, outsourced, or remote roles of any level or type. You can customize everything a bot says and does, so it can perfectly fit the position you're looking to fill.

Industry. Businesses across industries can use recruitment bots, but other types of organizations can benefit from them too. Nonprofits can use a chatbot to sign on new volunteers, for example. Or, universities can use one to accept and qualify student applications.
How a chatbot can streamline your recruitment process
Facebook Messenger chatbots can make recruitment and hiring simpler for both HR employees and jobseekers. They can:
Collect information from candidates: With Fchat's Save User Input plugin, your chatbot can accept contact information, resumes, and other materials from applicants. You can export this information to a Google Sheet too for easier analysis or candidate ranking.

Ask screening questions: Your bot can ask applicants any number of qualifying questions, like those related to experience, skills, or location. You can even have your bot email an applicant's information to a human resources manager if they pass all the qualifying questions. Then, the manager can follow up with the most promising candidates personally.

Answer FAQs 24/7: HR managers no longer have to waste time answering the same questions over and over. Bots are great at responding to FAQs about the job or hiring process. Plus, they're available for this any time, 24/7.

Schedule interviews: Integration your calendar or scheduling system with your bot. Allow users to easily sign up for interview slots, without playing phone tag or waiting for email responses. Your bot can send the user a reminder when their slot is coming up, too.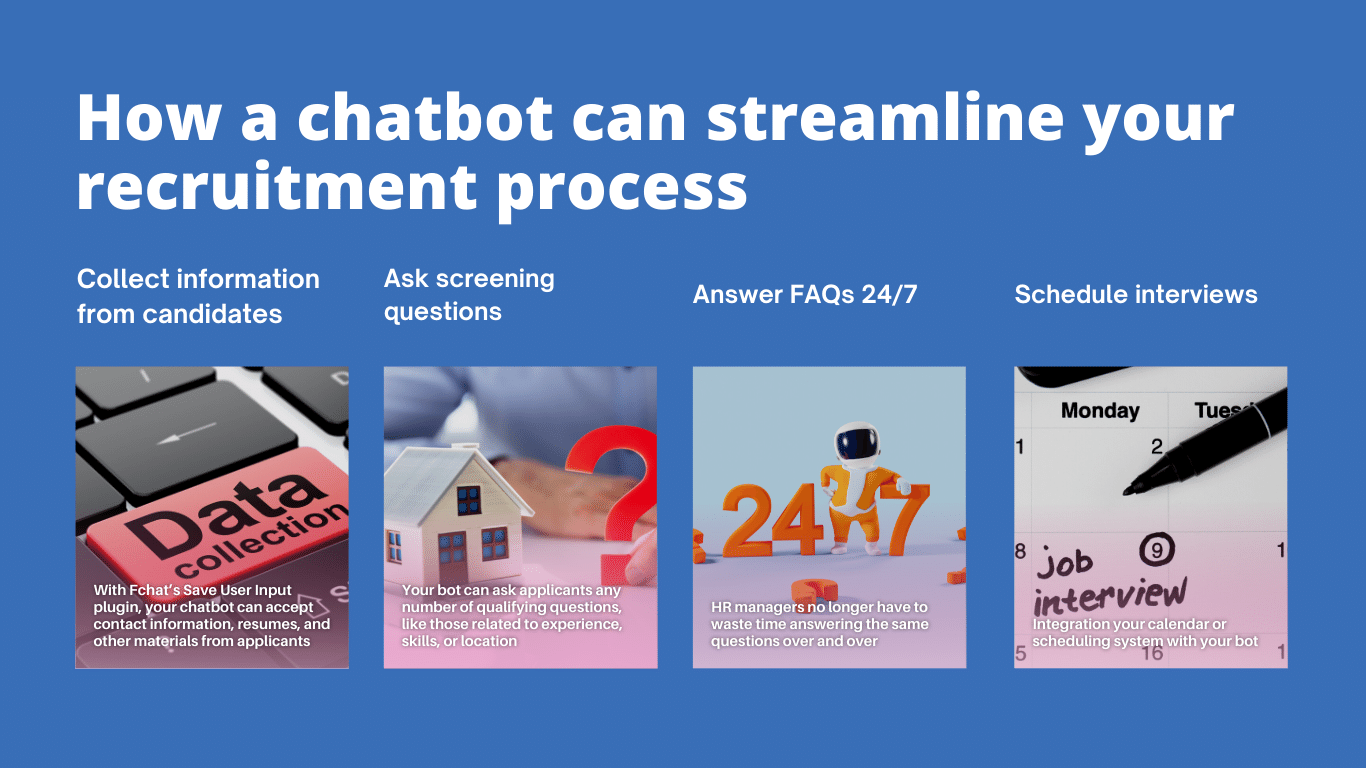 Finally, a recruitment chatbot creates a more convenient experience for the applicants, too. It makes it easy for them to get questions answered. It also offers an engaging, instant new form of communication with a potential employer. So no matter how big or small your business or department, a bot can help you stand out from other companies competing for the same talent.
Learn more:
Tips for optimizing your recruitment chatbot
Follow these best practices to maximize the efficiency of your HR bot:
Get creative. Your recruitment bot will form the first impression of your company for most applicants. Design it for the type of employee you want to attract. Also, make sure your bot will correctly represent your company culture. Give it a name and persona and make it friendly! Include GIFs and emojis if appropriate for a more engaging and welcoming experience.

Provide tailored experiences for different applicant types. Maybe entry-level applicants have an extra task to do before making it to the interview process. Or perhaps senior-level applicants get a direct invitation interview sooner. Create different flows to accommodate applicants of the various types you'll be expecting.

Include FAQs. Take note of the questions that applicants ask most often in your current recruitment process, and equip your bot with answers to those. Include as much helpful information as possible, like the office address, notes on team culture, details about perks and benefits, etc.
Be ready to step in. You may want to have a window of time each day when there's a human HR agent available, too. With the Live Chat plugin, an agent can jump in to answer complex or personalized questions if the bot ever gets stuck.

Connect your bot to Facebook ads. If you're using Facebook ads to promote your job openings, think about connecting your bot to them. It can immediately engage and even qualify anyone who clicks on one. That way, you can get more qualified candidates more easily.

Consider other uses. Chatbots are great for recruitment but can be used once employees are hired, too. A Messenger bot can help with onboarding, training, and employee retention. Set yours up with FAQs about the employee handbook, for example. Or, equip it to send company-wide alerts and reminders about things like holidays and meetings.
>>> You can see Demo script chatbot for Recruiting and HR here: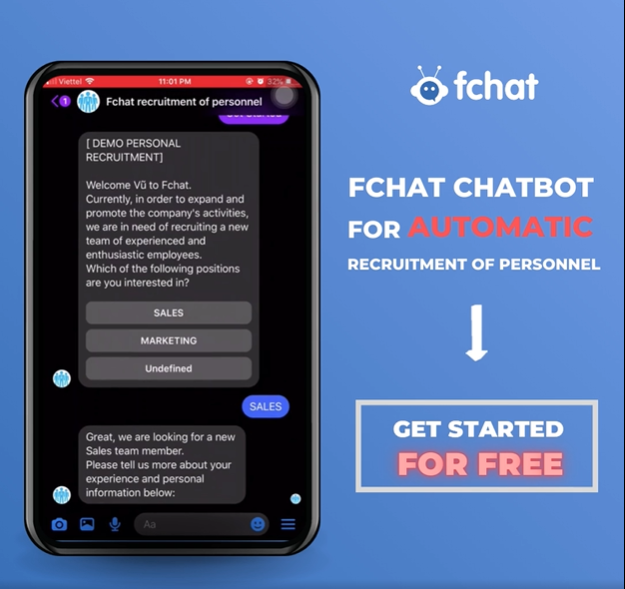 If you still have not found a way to create an effective recruitment chatbot for the recruitment process, or your business is having trouble developing its HR team and needs to find quality employees, use Fchat. With a platform like Fchat.co, creating a recruiting chatbot for the HR industry has never been easier!