Instagram is a new sales channel targeted by shop owners and business stores. Therefore, Facebook has added Instagram to its Messenger API platform, allowing businesses to create Instagram chatbots to automatically respond to customers' messages. Not only Direct Messages, but interactions from Stories or Shops will also be recorded and processed completely automatically thanks to instagram chatbots. This article will show you how to create a Free chatbot for Instagram to further assist your business.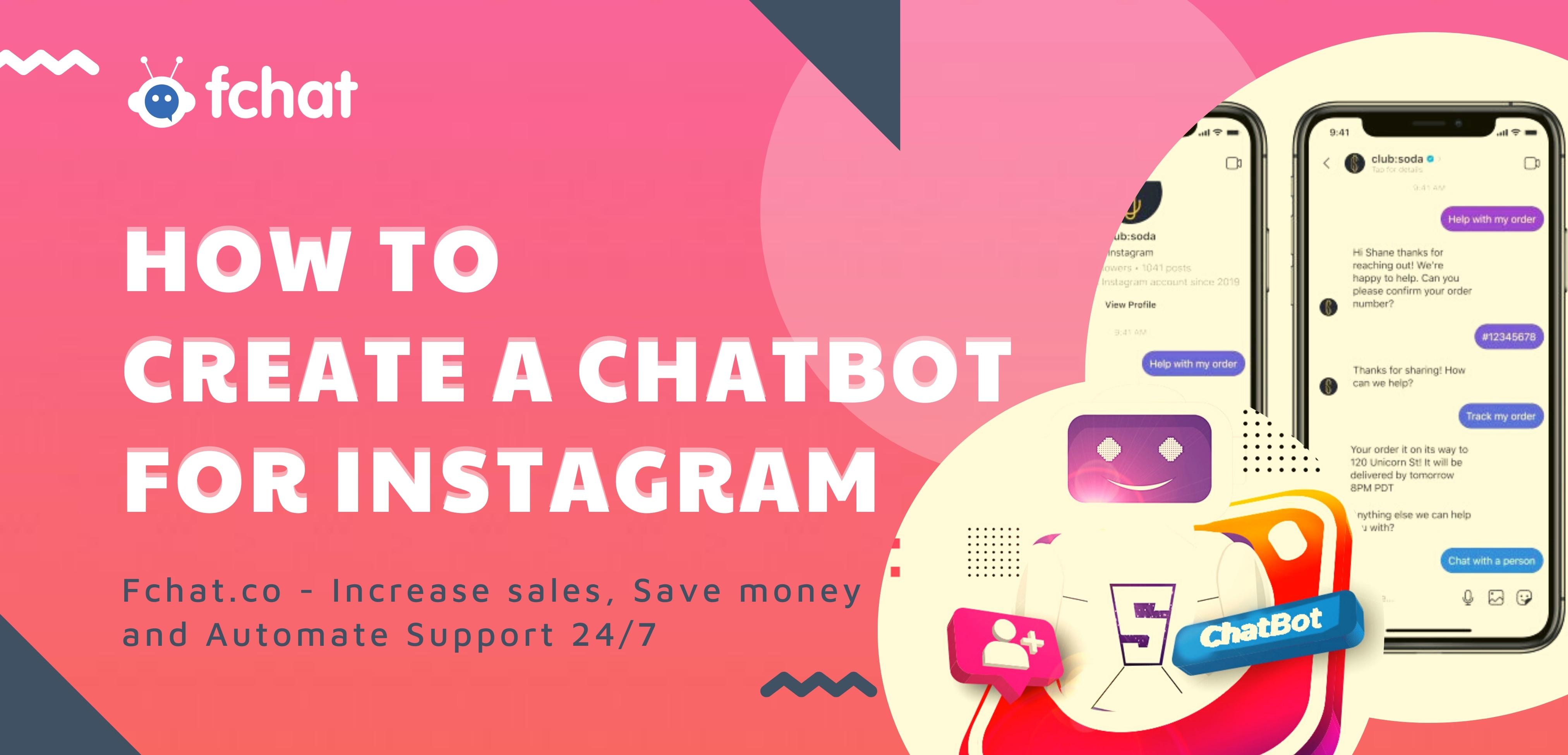 What is Instagram Chatbot? How to connect Chatbot to your Instagram
Chatbot is a tool that can simulate users' direct chatting experience with human staff. Chatbots can learn and use very natural language to communicate through social networking platforms, websites, OTT applications, etc.
>>> See more:
So what is an Instagram chatbot? Chatbots for Instagram are also used similarly to Facebook chatbots, Messenger chatbots. Creating auto-responding chatbots will save a part of the labour for fanpage admins, and at the same time increase sales potential thanks to immediate feedback, instead of taking hours or even days in the traditional way. In fact, a business can completely build a sales system from A-Z based on this platform, by allowing buyers to choose different categories and then go to the payment process.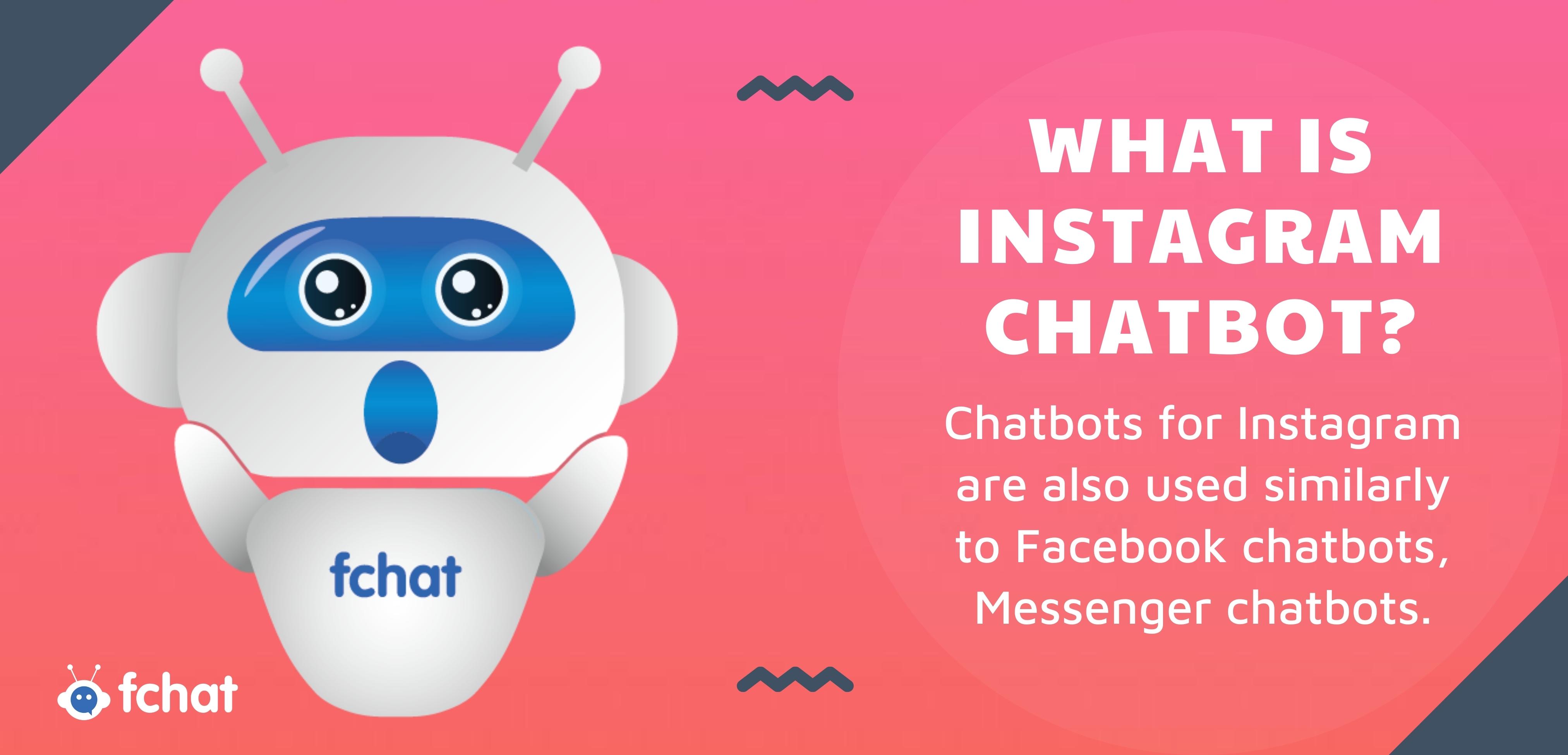 How to connect Chatbot to Instagram:
Step 1: Switch from a private to a business account on Instagram
Step 2: Add the Facebook page connected to your Instagram business account
Step 3: Confirm Instagram Message Access
Step 4: Connect Instagram business account and fanpage to Fchat.co
>>> You can see detailed instructions on how to connect chatbot with Instagram here: https://fchat.co/help/instagram
So you have created your own chatbot. However, for the chatbot to be able to work effectively, you need to know the information about which users usually message your personal page in order to segment suitable content for each chatbot scenario.
Popular types of Instagram Chatbots
Chatbot for Sales
Being a 24/7 sales support tool, chatbot updates constantly, helping you not miss any shoppers' orders. The outstanding advantage of the chatbot is its simplicity to use. Sales chatbots do not need to use natural language processing software, but only simple interaction blocks (text/image/gallery, ...) to interact with customers. Response scripts are also pre-generated.
Chatbot for customer care
This type of chatbot is often used by large customer care centres to answer frequently asked questions according to scripts or existing data. For simple questions, the chatbot will answer itself. For more complex questions, the chatbot will direct to customer support staff to solve. During operation, the chatbot will self-learn to give more accurate and appropriate explanations to reality.
Benefits that Chatbot brings to your Instagram business
The Instagram chatbot added by Facebook to the Messenger API platform has shown that the potential of this Social Network is enormous. In addition, the application of chatbot for Instagram also opens up business development opportunities for both retail shop owners or large businesses. So what are the benefits of online chatbots for sellers on this platform?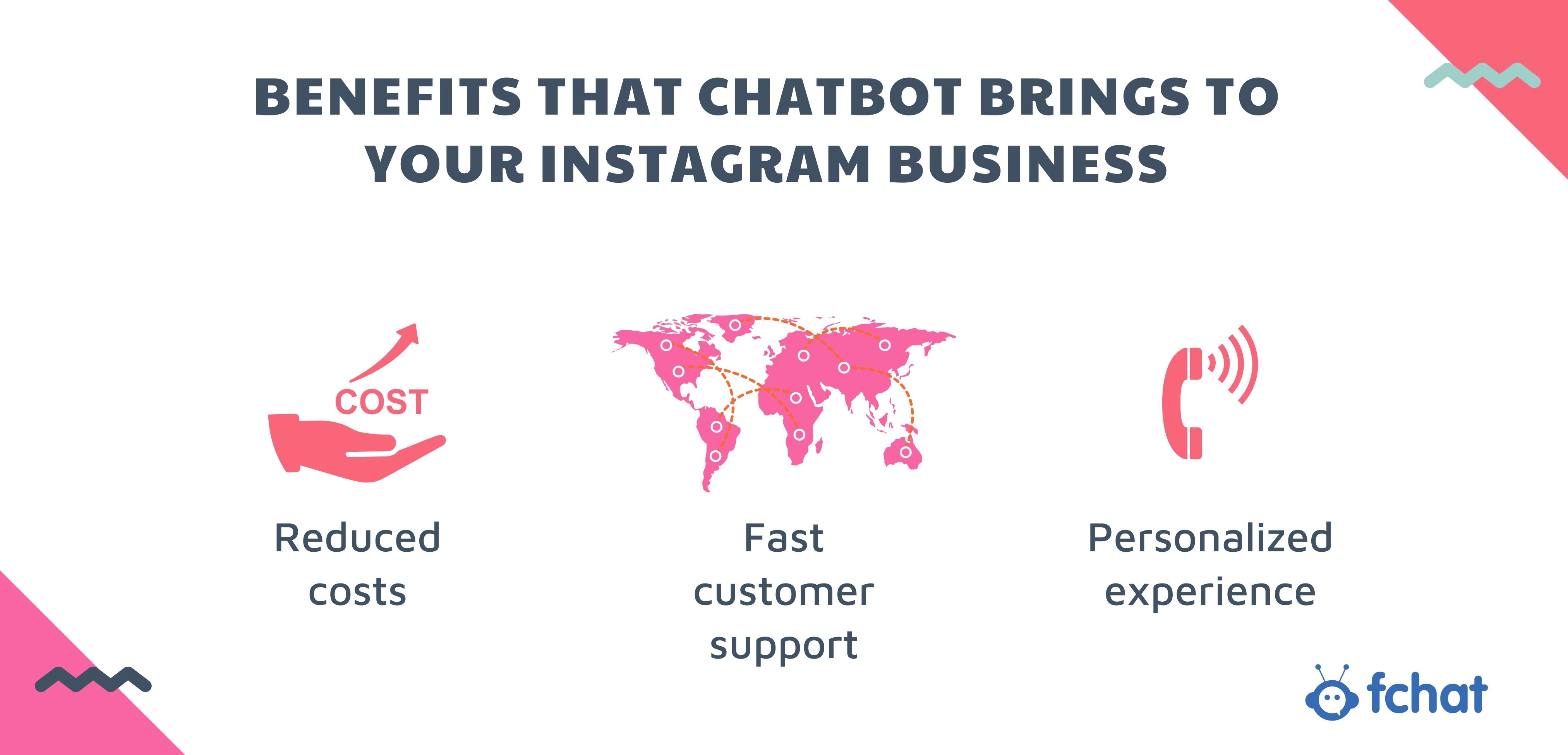 Personalized experience
Based on data collected from past transactions, Chatbot has the ability to remember all personal information of customers such as name, age, occupation, interests, etc. Thus, as soon as it recognizes a request from a shopper, the Chatbot will be able to answer accurately. Then it will give specific shopping advice suitable for each individual. These recommendations are based on the interests and trends that interest them.
Reduced costs
Chatbot can replace humans to take on all tasks from product introduction, quotation, consultation to closing orders, asking for feedback, etc., thereby, helping you save a large amount of money for sales and customer care staff. According to Juniper Research, by 2022, chatbots will be able to save businesses about $8 billion in customer support budgets.
Fast customer support
We, as humans, need time to rest, but chatbots do not. A chatbot can operate 24/7 for 365 days. Chatbot also receives and processes customer requests automatically and quickly. This will help improve the shopping experience for customers and increase the order rate, thereby increasing sales easily.
>>> You might need: 10 AWESOME CHATBOT BENEFITS FOR YOUR BUSINESS
How to create a free Instagram chatbot
Not only actively supports business, communicates with users, but Instagram Chatbot also saves costs significantly. Therefore, there is no reason for you to ignore such an effective assistant, right?
View detailed step-by-step instructions on how to create and use chatbots effectively:
Define Chatbot Goals and Scenarios
With so many possible sales scenarios, it can be difficult to pick the best case to apply to your Chatbot. Therefore, setting operational goals for chatbots has also become more difficult. Instead, why not try the opposite, define your goals first, and then choose your use case later?
First, think about what your goal is: Solve customer mistakes? Promote a new product? Or generate potential buyers? For example, if you can't keep up with the number of messages on Instagram direct, then take advantage of chatbots to support answering customers.
Build content strategy
When starting to create content to engage customers throughout the journey of chatbot interaction, continue with the FAQs model, meaning questions your shoppers can ask chatbot.
This makes it easy to create the most correct flow of questions and answers for all conversations. If you are not sure about the frequently asked questions of customers, try to discuss further with the team that regularly interact with users to come up with the most accurate information:
Customer care team:

these are the people who have the opportunity to talk to customers the most in the company, so it will not be difficult to consult with them about customers' most frequent questions.

Sales team:

has the task of reaching out to potential customers, so they must know very clearly about the "pains" that users often suffer from. This helps increase the company's ability to convert from users to customers.

Marketing team:

The Marketing team mainly works with customers in terms of communication, so more than anyone else, they understand the questions that encourage users to more actively interact with the company on the website and social networking sites.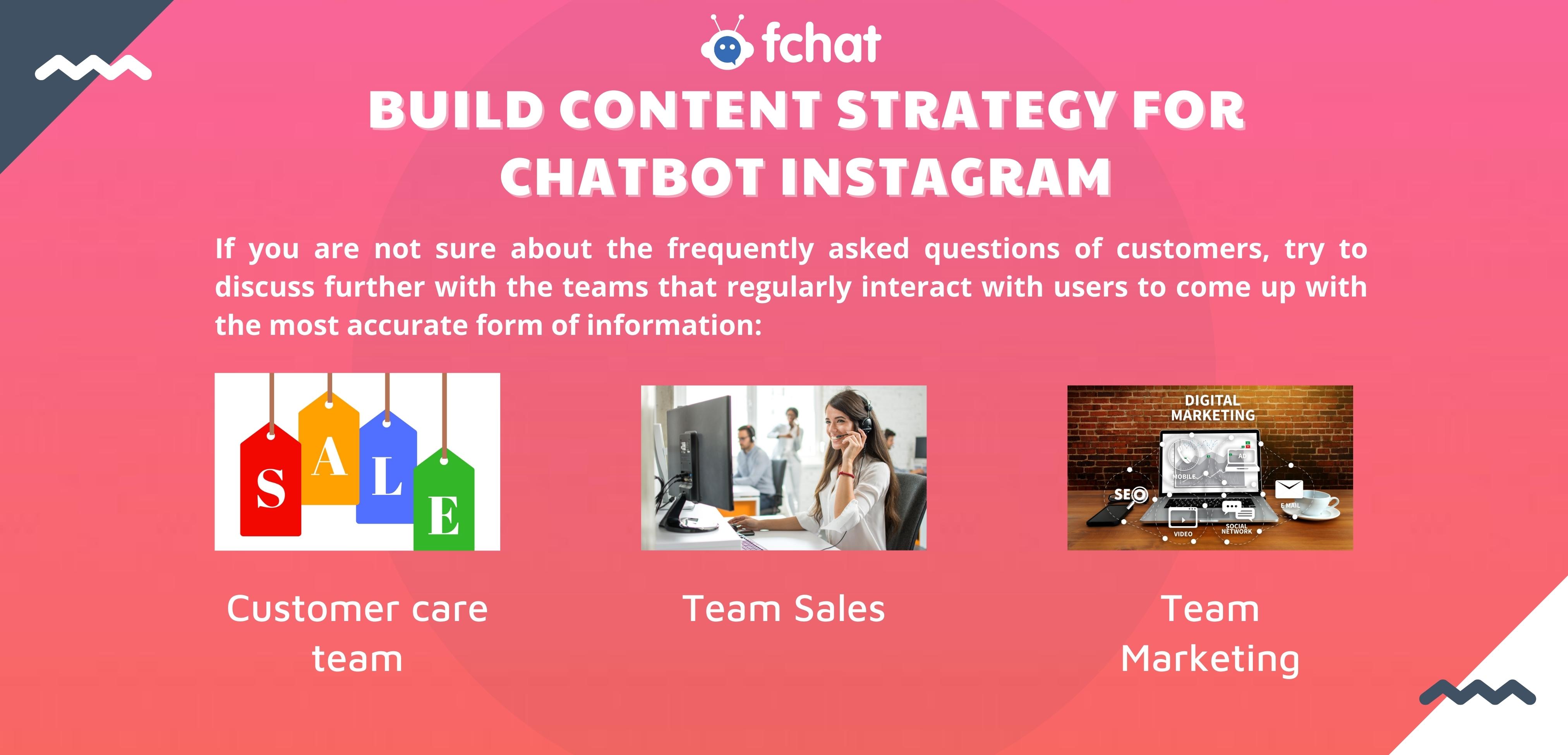 In particular, instead of creating new content, why not try to take advantage of your most popular content posts and improve them so that you can both experiment with chatbots and contribute to promoting marketing campaigns.
Create a unique personality for the chatbot
Imagine if your bot was humanized, has a unique personality, capable of providing an interesting user experience, what would the purpose be? Wouldn't it make the customer much happier? What's better is that the ability to closely connect with the brand image in the long run. You can even give the chatbot a unique name, creating simplicity in the using process and transparency with shoppers.
Create a welcome message
The welcome message is very important to attract users and get them to respond to your chatbot. The best welcome messages should ideally meet three criteria: engaging, leading to shoppers' expectations, and propensity to ask questions.
>>> See now how to create a Welcome Message here!
Build all conversation cases
Now that every question you ask and every explanation is available for users to choose from, start building the conversation to last as long as possible. At the same time, it must be ensured that all conversations fully meet the needs of customers to lead them to the ultimate goal of contacting the organization's representatives directly.
Add some visual elements
To create more engaging messages for users, you can include some visual elements in the conversation such as emojis, animated GIFs or images, or even just one wave hello! The visual aspect does not only enhances the personality of the chatbot but also helps reinforce the messages you send and increase conversation conversion rates.
Lead customers to your goal through call-to-action buttons​​​​​​​​
When the user has answered all your questions and is ready to move on to the next step, a call-to-action button will complete the process perfectly, while achieving the goal set from the beginning. The call-to-action button is responsible for directing users to a specific product category or page on your website, or calling users to share their experience with friends on social channels and above all, bringing them directly to the purchase payment page. Think carefully about what you want your customer to do after pressing the call-to-action button.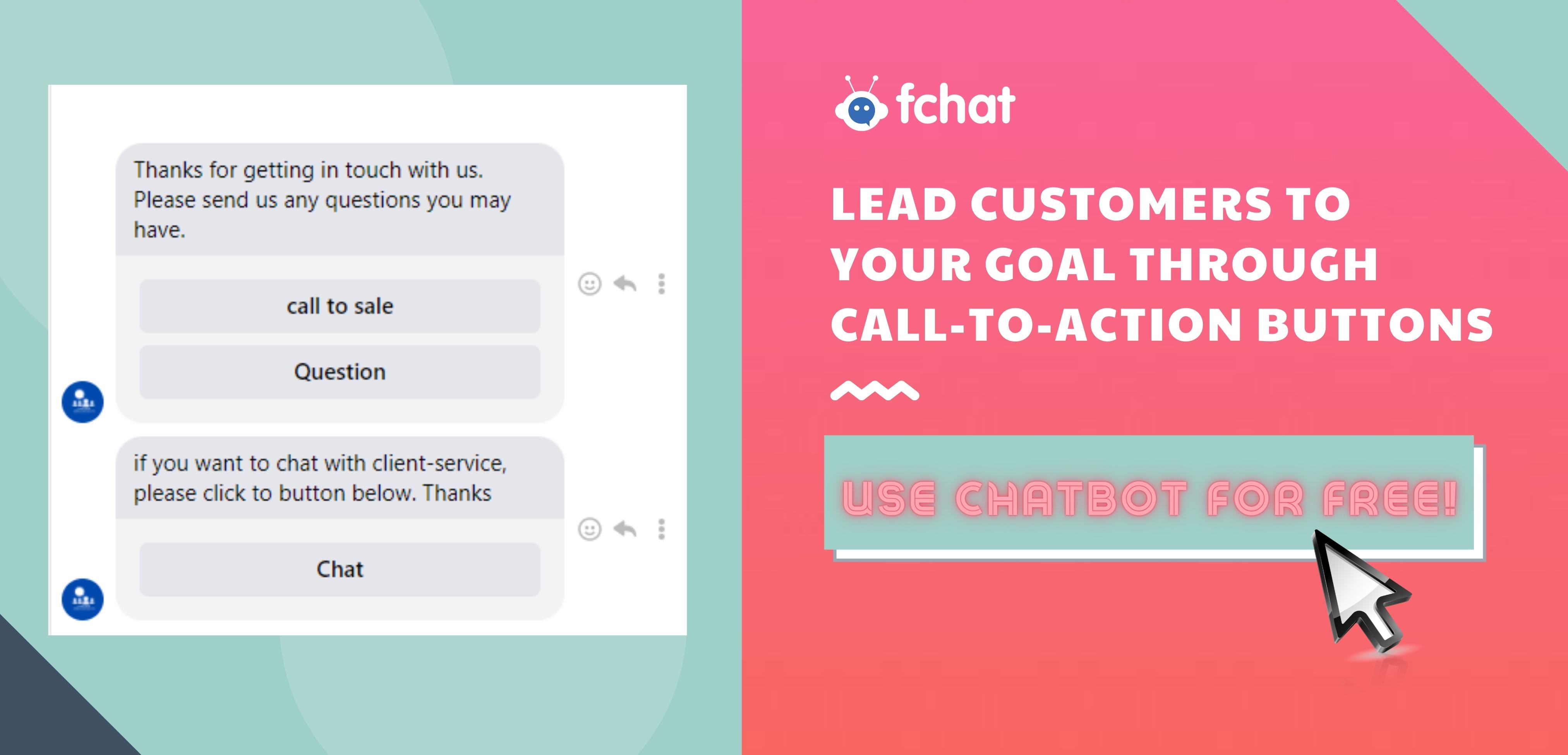 As of 2021, there are billions of Instagram users globally, with tens of millions of businesses operating on the platform. Therefore, using an Instagram chatbot for sales will facilitate businesses or brands to operate better in customer relations and sales.