Automated Facebook Messenger chatbot is a technology that directly affects the revenue as well as the operation of a business. Initially, it just emerged as a trend, but later on, automated chatbots have gained a larger and larger position in the field of business. The following video is an example of an automated chatbot that anyone running an online business needs.
If you have not installed a chatbot for your Facebook page, take a look at Fchat - Facebook messenger chatbot below!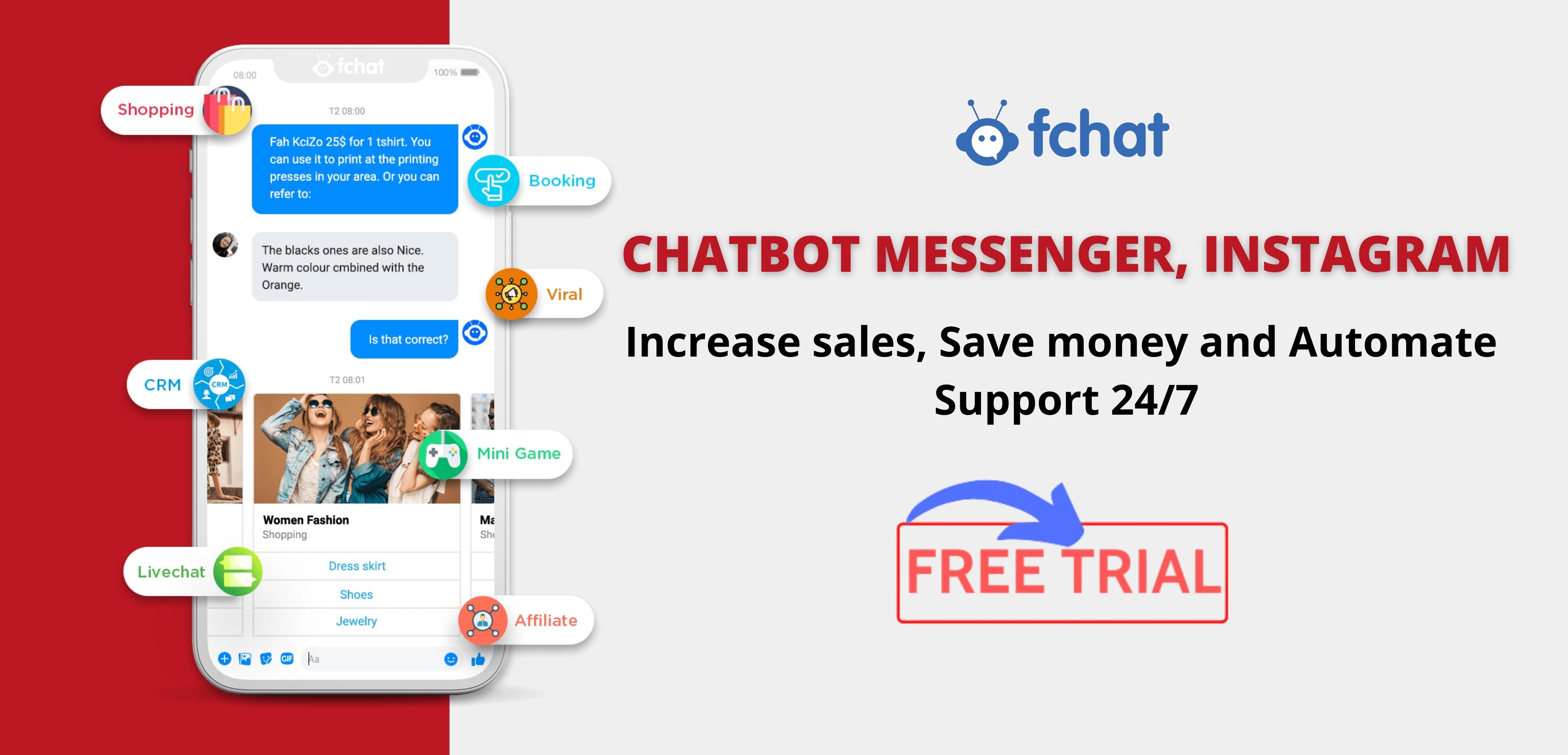 If you are running an online business on Facebook, running Facebook Ads with a page, you will understand how difficult it is to reply to the inboxes and comments of dozens or hundreds of customers.
Forget about doing it manually because the era of sales automation has reached the point of perfection. Chatbot Facebook Messenger will help you take care of not only hundreds but thousands of customers, solving your understaffed problems. It helps you sell even when you're sleeping, that's the fact. The chatbot will communicate with customers exactly like how you reply to text messages. After receiving the information, it will save the order information for you to confirm and deliver the goods to the customer. If you are a business owner, I believe you will choose chatbot to increase revenue over maintaining a cumbersome staff.
How will Chatbot Facebook Messenger help you?
Automatically reply to customers' inboxes and comments.

Automatically take care of customers and sell products.

Automatically get customer order information.

Create a popup when customers visit the website.

Create a giveaway landing page.

Create mini-games to attract customer interaction

Create campaigns to attract and increase the number of potential customers.

Manage and categorize customers.
…
There are many benefits that Facebook Messenger chatbots bring to your business. And your job now is to develop a strategy to use this chatbot effectively.
>>> You might need: 10 AWESOME CHATBOT BENEFITS FOR YOUR BUSINESS
Step 1: Train the chatbot to automatically interact with customers.
Imagine the process of customer interaction with the business to set up automated questions inside the chatbot. I call this step setting the desired script: The questions will appear sequentially, customers then answer in a form, like filling out the registration form on a website. When the Facebook messenger chatbot understands the first answer, it will ask the second question, …
Tools used:
User Input: Ask questions for customers to answer.

User Email: Automatically get customers' emails.

User Phone: Automatically get customers' phone numbers.

Text: A block containing a long message, where customer information is aggregated.

Image/Video: Message containing an Image/Video
For example, when my customer wants to receive "consultation on designing a customized sales website". Firstly, I would create a block called "web sales". Inside this block, I set up suitable questions to automatically retrieve customer requests. Then summarize the information and call to discuss with them directly. My chatbot will sequentially ask questions when customers inbox on Facebook Messenger to help me understand the basics of their requirements, thereby giving them more accurate consultations.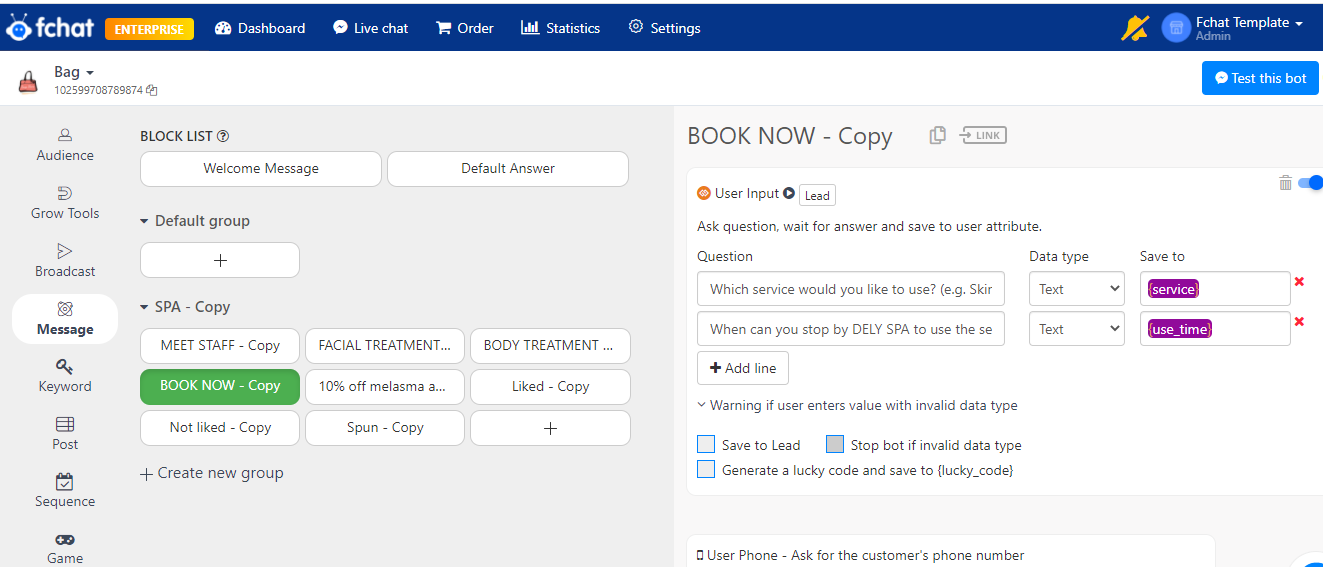 You can also set up other types of messages in the chatbot depending on the purpose of your advertising campaign. For example, if a customer wants to download an ebook, set up a chatbot to automatically send them a link… a customer wants to watch a video, send the video to them. There are many types of objects used in the Facebook messenger chatbot that developers support you with, get creative to make the most of those tools.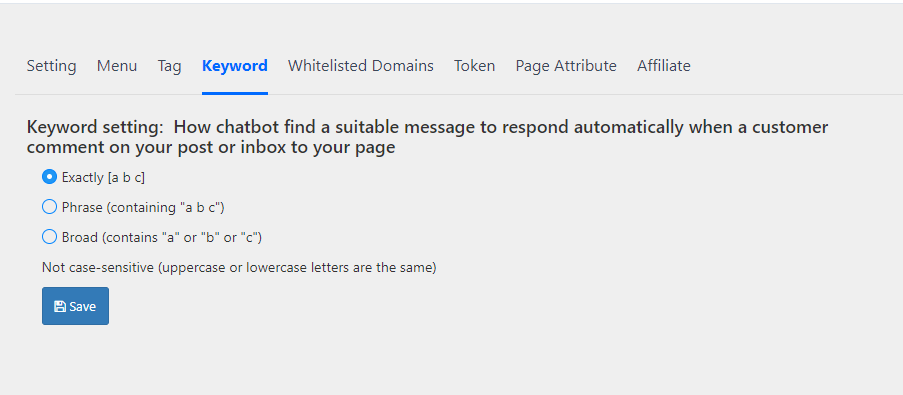 Next, you need to train the chatbot to understand the words that the customer replies to or comments that are not in the desired scripts. For example, when the welcome screen pops up, customers might not look at the next answer but send messages like "I need advice", or "I'd like to ask the admin", ... which appears quite often, possibly due to slow internet resulting in Facebook messenger chatbot's slow response. Or because the customer wants to send a message to ask more questions. Especially when customers comment, they will usually ask a random question. For whatever reason, you also need to prepare message blocks to serve those questions.
Go to Chatbot > Keyword to install this feature for chatbots. When a customer sends a message/comment containing a keyword, the chatbot will put the customer in a corresponding message block. In the example below, when a customer texts/comments the keyword "web sales", my chatbot will direct the customer to the "sales web design block" to help the customer get the desired answers.
Step 2: Let the Facebook messenger chatbot appear where you want your customers to interact.
If you install a marketing/sales campaign on Facebook Ads, select the Messages (Messenger) ad type.

In the call to action section that calls for customers to interact, encourage them to message you by clicking the button created on the Facebook Ads manager, sending the link of the desired product or scanning the QR code to activate the chatbot and add that customer to the list of potential customers.
With interactive ads, you should also call or instruct customers on how to contact you. You can set up a Facebook messenger chatbot so that the message templates pop up when any customer interacts with a comment. From there, the chatbot will help you answer hundreds or thousands of comments at once. Or hide comments with phone numbers and emails to avoid revealing customer information to competitors. Go to Page Settings and configure the chatbot's response to your liking.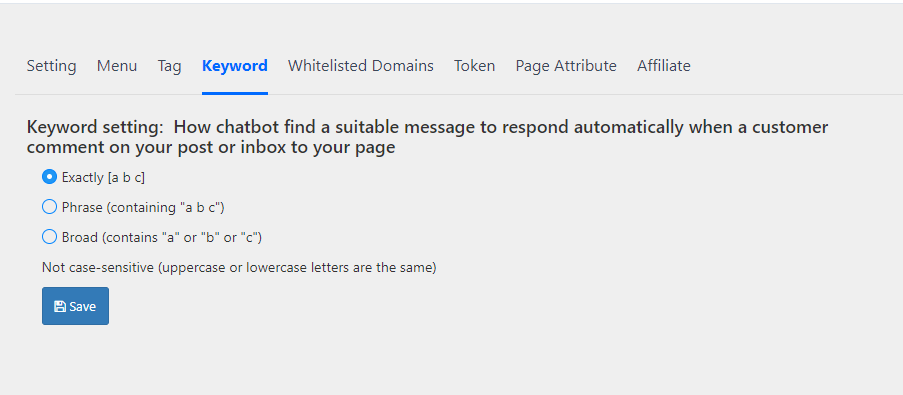 If the ad is a campaign that directs customers to your website, landing page, blog, etc. Remember to install a Facebook chatbox on it so that the chatbot can automatically interact with your visitors. Go to the Grow Tool, then click on the "<> COPY Embedded CODE" button and follow the instructions to display the chatbox, like the chatbox on the right of the following image: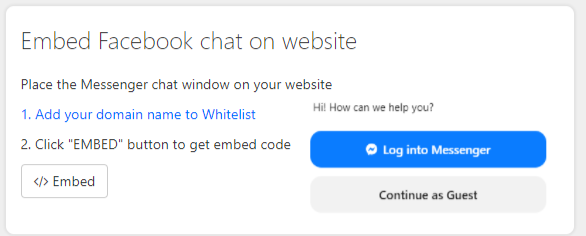 In this section, you can also use the Chat Button Embed Code to insert the Send Message button in your popup, posts, or anywhere on your landing page/website. Make it easy for customers to interact with the chatbot.
Step 3: Create marketing campaigns with Facebook Messenger chatbot.
The more people interact with the chatbot, the longer your list of customers will be. To do so, you need a strategy.
In any marketing campaign with customers already on the database list, you should not overuse the chatbot's features for sales. Instead, regularly share stories according to the S – S – S formula.
What is the S-S-S Strategy?
S – Star: You need a main character who has gone through everything from pain to joy when he found your product.

S – Story: Then, associate your product with the success story of that character to make the reader realize: "I am the same person in this story, and I need the solution he is using"

S – Solution: The solution you offer, be it an offer, product or service to help customers achieve results.
Share stories and keep in mind that sales messages should make up less than 20% of messages sent to customers. The remaining 80% of the messages are about how to help customers overcome their problems. If you overuse sales messages, they will leave you and join a database of another business that brings them more value. Chatbots give you many features to interact with customers while they are in the database, but Facebook will not allow you to overuse it as a form of SPAM that continuously sends messages to customers. List = Money, create campaigns for customers in the list database to enjoy while reading the messages you send. For example, create a game where the person with the highest score will win a free shopping card worth 500$ or so. You always have a lot of ways to interact with customers and when they are satisfied, they will naturally buy products to support you.
Hopefully, through this article, you have learned more about Chatbot so you can apply it to your online business. An effective advertising campaign with great support tools will produce unexpected results.
See more: WHAT IS MESSENGER CHATBOT? HOW TO USE AND MAKE MONEY WITH IT?