Various businesses have been applying chatbots to their Instagram to support customers 24/7, send updated information, introduce new products, sell online. Conversational commerce - Digital commerce on messaging platforms that enable communication between sellers and buyers, is becoming more and more popular. And Chatbot Instagram is a 2022 trend that businesses can't overlook.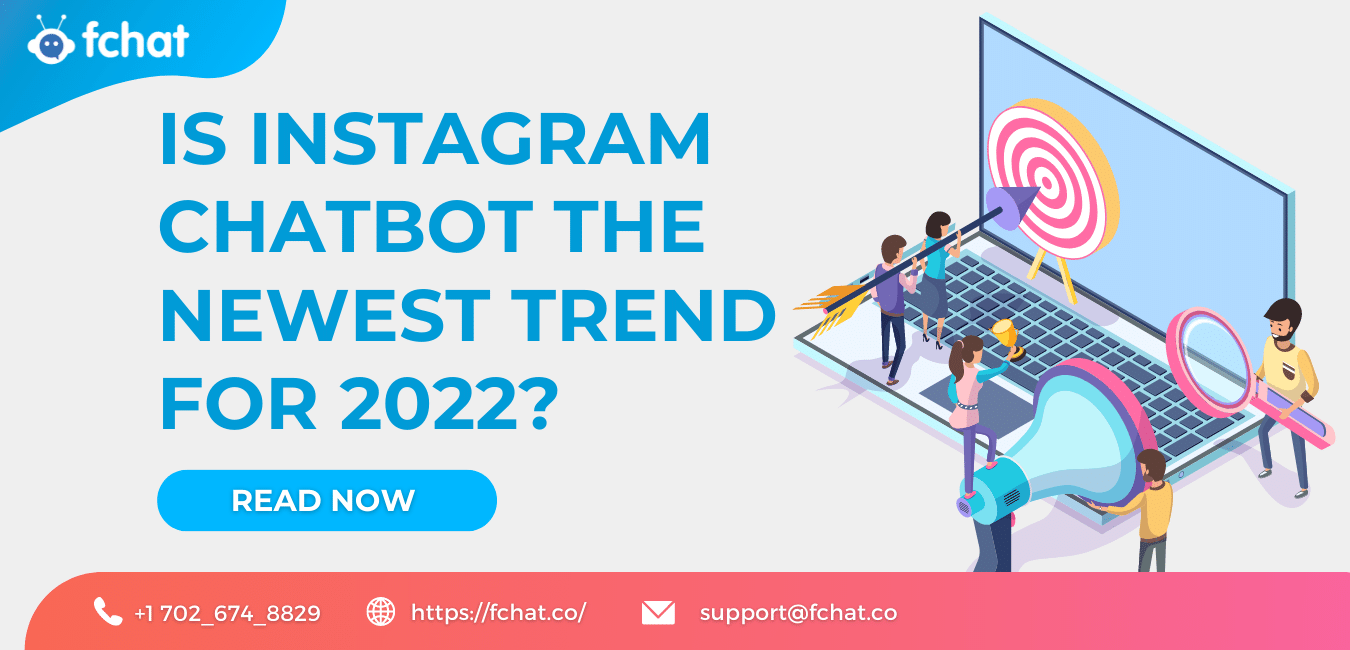 Chatbot Instagram is becoming the main channel for conversational marketing
That was an opinion of Mary Kathryn Johnson (MKJ), founder and CEO of Messenger Funnels, a chatbot company specialized in helping businesses grow by using conversational marketing. According to MKJ, chatbot optimization aims to ensure CTR (Click-through rate) reaches at least 40%. This is how businesses can double their order conversion rate.
In 2020, chatbot quizzes were dominating. On average, 60% of quiz participants went on to visit sales websites. Moreover, most are organic traffic, which means a business's advertising expense will be zero! The collaboration of Mobile Wallet and Chatbot to better serve the customers and provide deeper solutions to their needs is the most exciting thing about chatbots.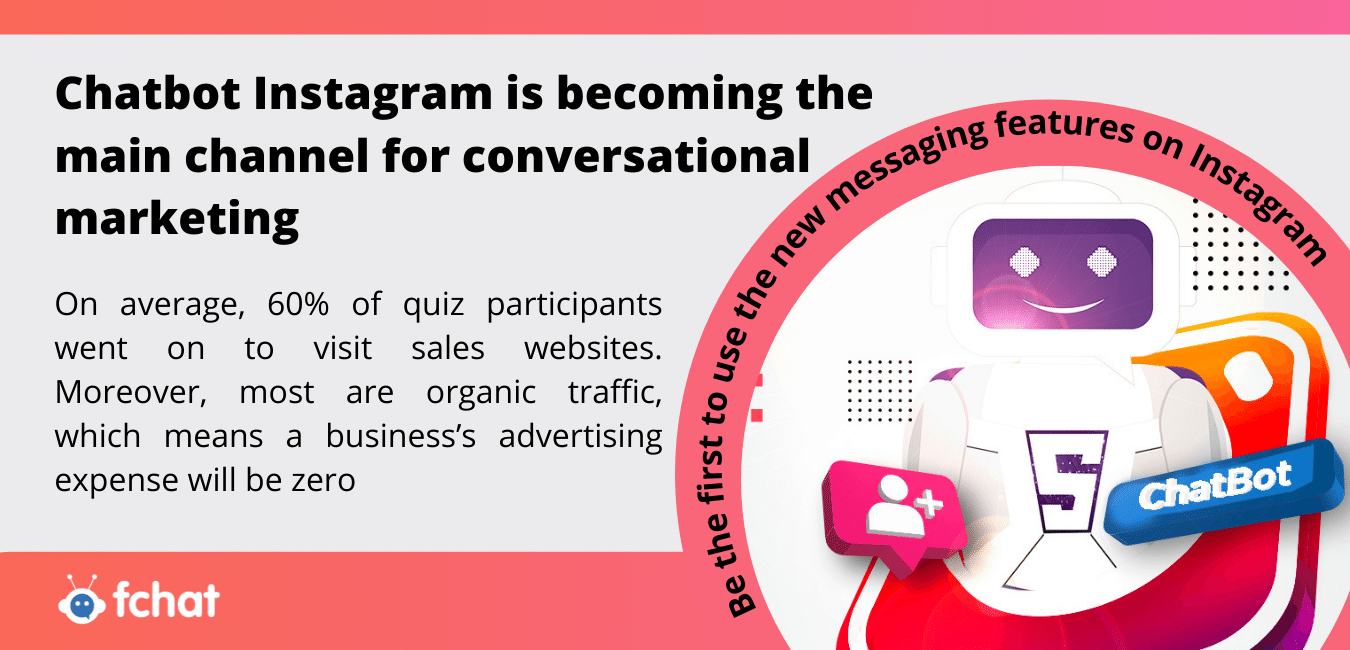 In 2021, Chatbot has become the main channel for marketing conversations - both online and offline - because this is how consumers directly receive accurate information and answers from their favourite businesses. And Chatbot Instagram is one of the strongest growing channels after Facebook's official acquisition and the Instagram Chatbot API integration.
Be the first to use the new messaging features on Instagram
CJ Hutsenpiller, founder and CEO of Tacobot, a marketing company based in the USA, said in 2020, they spent hours working on conversion in their Facebook bots - pushing users to complete any goals that his team had set out, including the "process attributes" in each block and building their main tracking process. This has increased their bots' conversion rate significantly.
In 2021, adding bot usability on Instagram will be a huge deal. As Instagram becomes a bigger player in the chatbot area, being one of the first businesses to use it will provide many competitive advantages.
>>> Use Fchat chatbot - The best chatbot for Instagram now!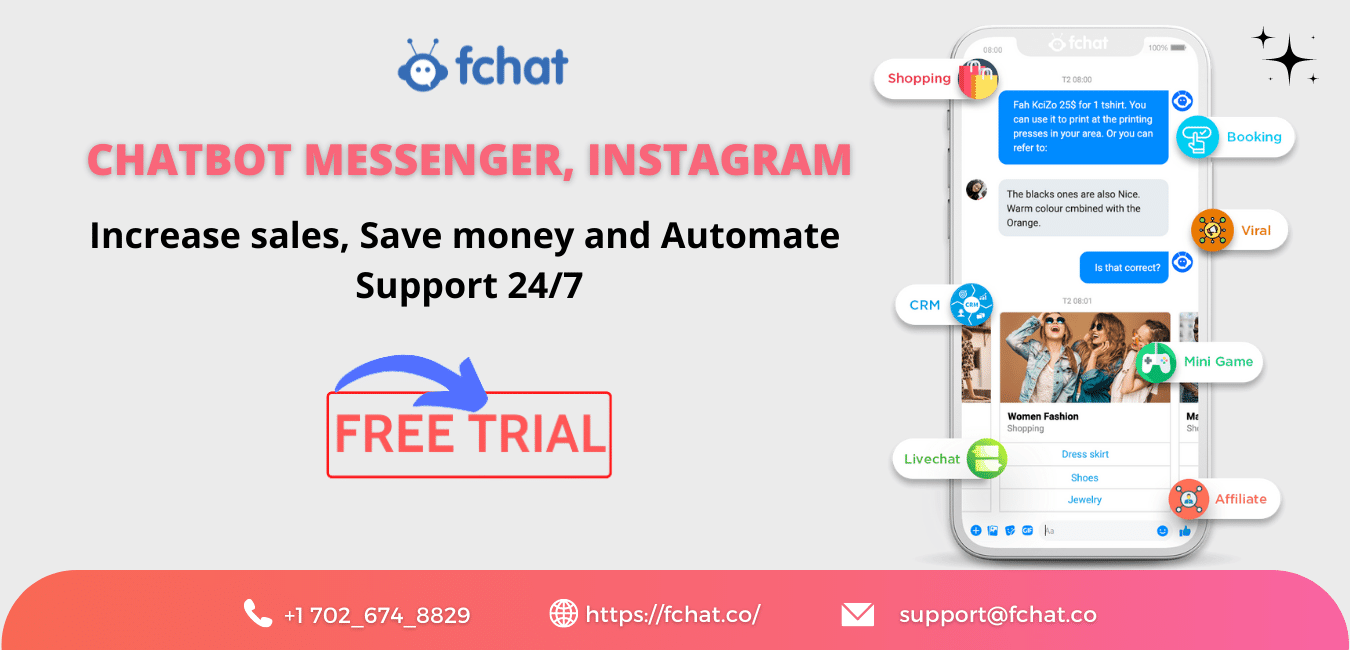 Start seeing chatbots as interactive tools connected to other platforms
According to the opinion of Robert Taylor (founder and CEO of Chatsales, a Facebook chatbot agency) in 2021, there are a lot of opportunities coming to businesses who are considering using Instagram chatbots not as a business tool but as an interactive tool that are connected to other platforms. Platform integration and no coding is the future of chatbots. Use chatbots to engage and direct customers to your own platforms before attempting to sell directly through them.
Use chatbots to create meaningful relationships based on one-on-one dialogues.
Ryan Dearlove (founder and CEO of bot agency Chit Chat) said 2020 had been an unusual year for everyone, but they were fortunate to have acquired a few new clients. Most notably, they created a chat experience for a fast-moving consumer goods (FCMG) brand. They used their experience in chat marketing to help their existing customers through the pandemic. He thought they were seeing more brands using chatbots not only as a customer service tool but also to deliver a unique personal brand experience, creating meaningful relationships on a one-on-one basis.
In terms of daily usage, more people use social messaging apps than social networks, so Facebook (Meta) is investing heavily in this area. The standalone innovations of Messenger apps like WhatsApp and the cross-platform integration of Messenger and Instagram will represent huge opportunities for brands. In 2021, brands, especially e-commerce brands, should give it a try. The majority of incoming messages are pre-order messages, so brands using Instagram messaging will have a marketing advantage.
Search Facebook Shops + chatbots.
According to Brian Meert (founder and CEO of AdvertiseMint, a digital advertising company specializing in Facebook ads and Facebook Messenger chatbots), in 2021, Facebook Shops has the potential to grow as they have the customer's credit card on file. Once this happens it will give Facebook a huge advantage. With a simple store setup and easy Messenger integration, I think there's a lot of potentials to increase sales for e-commerce brands.
Instagram has a huge user base, so it's exciting to see new ways to start conversations with users on that platform. However, this community is at a high threshold for quality. So, if you are going to create automated conversations, take the time to set up your Instagram chatbot in a way that is valuable to the users.
Play by the rules with Instagram Messaging
Jay Vics (founder and CEO of JVI Mobile) commented: The unique points to chatbots in 2020 are virtual birthday clubs, sending users something on their birthday using Messenger, SMS or email (based on user preferences). In 2021, the chatbot industry has grown even more strongly. Instagram chatbot integration has become a must for all businesses. Businesses, when getting into the automation game, should play by the platform's rules and guidelines, or turn to outsource if they are unsure.
>>> You might need: How to create Chatbot for Instagram here!
Brands must be ready for the demands of Instagram messaging.
Nikesh Ghosh (founder of the conversational marketing agency Chatveda) also shared that during social distancing, the number of brands using Facebook Live has increased. Messenger's chatbots app helps improve early check-in and generate leads, as well as directing users to Facebook Live on a scheduled basis with timely reminders.
In 2020 Messenger chatbots were used by government organizations in different countries to raise awareness about Covid-19. In 2021, with the launch of WhatsApp chatbots, we're enabling businesses — from startups to big businesses — to use the power of conversational marketing to scale. As chatbots on Instagram open up, the new era of chat marketing and its apps will revolutionize the way brands communicate with customers.
According to the latest data: In Q3 2020, the reach of the 50 biggest brands on Instagram was 34.7% higher than on Facebook. Additionally, 90% of accounts follow a business on Instagram. Messenger has also announced that there will be a Chatbot Instagram API. Once the beta is over, it will help businesses improve response rates and customer care quality, and increase brand awareness and sales through messaging. As direct messaging becomes more seamless, customers will rely on fast, direct communication, and brands must be open to this.
Giving customers the best service experience is the last secret
Karen Sahetya (founder of Brand Central Marketing, a group of world-class Facebook marketing experts) says the most important benefit of chatbots is giving customers the best service experience. So, in addition to trying to attract customers, switching to chatbots is a great retention strategy.
The Instagram chatbot is increasingly used in e-commerce, as well as by end-users, as it allows shopping activities right within Messenger and tracking those purchases more easily.
By 2022, businesses should stop seeing chatbots as a standalone solution. Instead, they should integrate the Messenger bot with SMS, email, and the rest of their marketing efforts for a more comprehensive marketing strategy. However, businesses must know how to exploit it with caution because this is not the same copying trick. Communication styles like email cannot be used in Instagram chatbots. Research the end-user experience and don't abuse this direct approach to ideal customers.