Messenger chatbot is an effective business solution to communicate and respond to customer messages automatically. Because of this convenience, the chatbot system is increasingly being expanded. Although there are many types of messenger chatbots, in order to set up and develop a complete chatbot system, it is imperative to go through the basic and necessary steps. Join Fchat to learn the process of building an effective Facebook messenger chatbot system with 5 basic steps.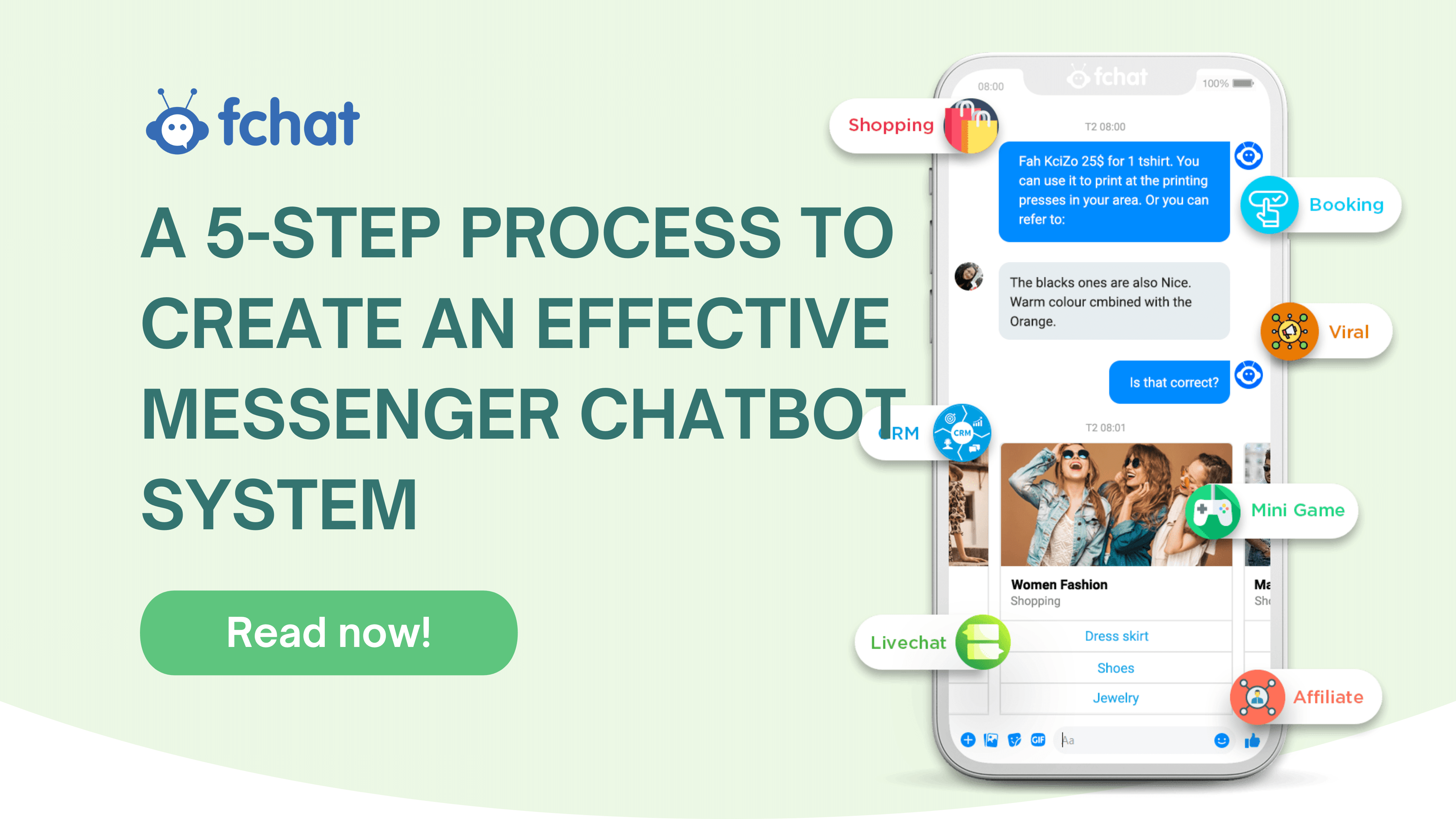 What is Chatbot? What is Messenger Chatbot?
A chatbot can be defined as an AI-based computer program that simulates human conversations. They are also known as digital assistants that understand human capabilities. Bots interpret the users' intent, process their requests, and give prompt relevant answers.
Bots can communicate through voice as well as text and can be deployed across websites, applications, and messaging channels like online chatbots: Facebook chatbot, Instagram chatbot, Whatsapp chatbot.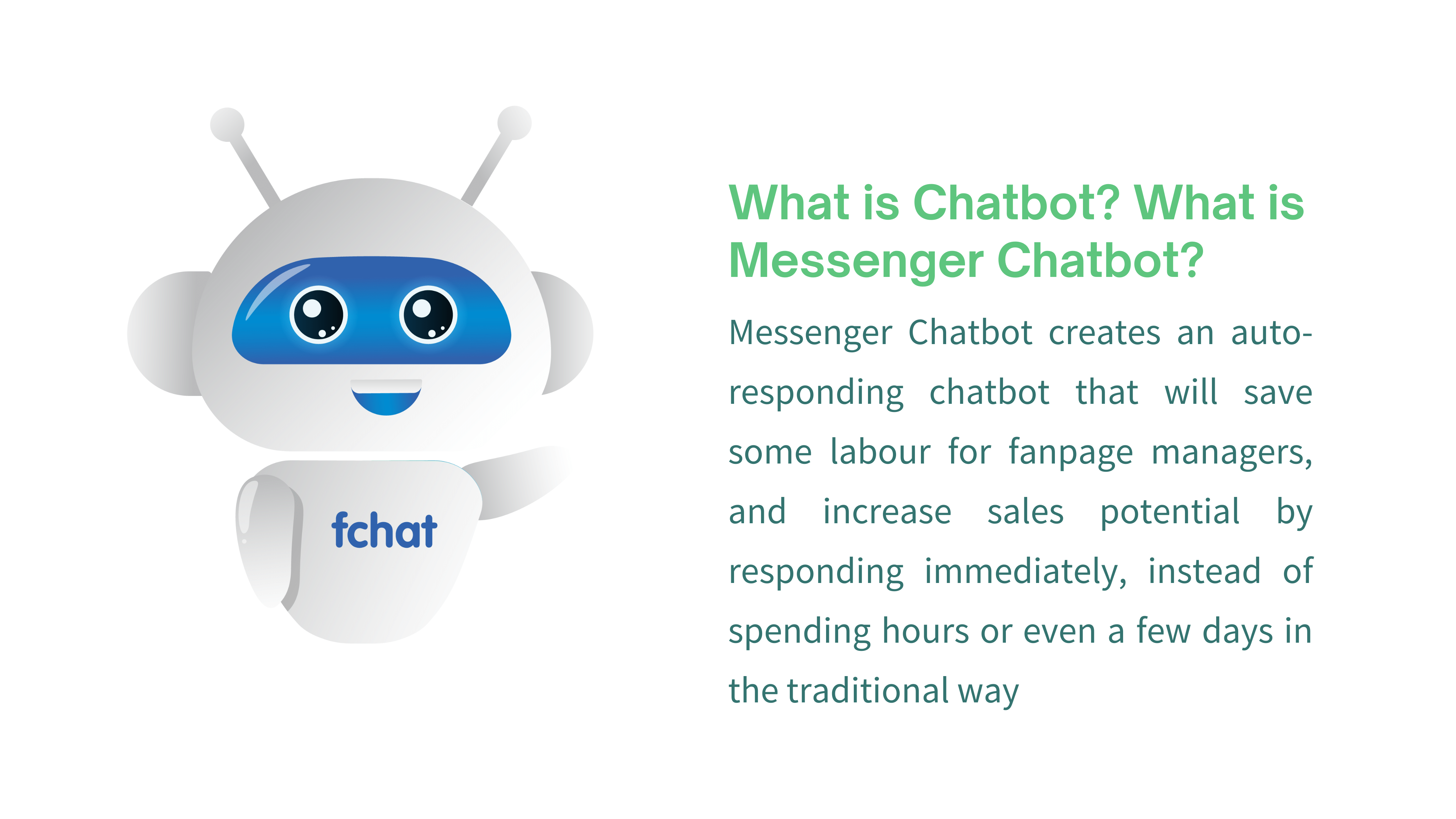 Messenger Chatbot creates an auto-responding chatbot that will save some labour for fanpage managers, and increase sales potential by responding immediately, instead of spending hours or even a few days in the traditional way. In fact, a business can completely build a sales system from A-Z based on this foundation, by allowing buyers to choose different categories and then go to the payment stage.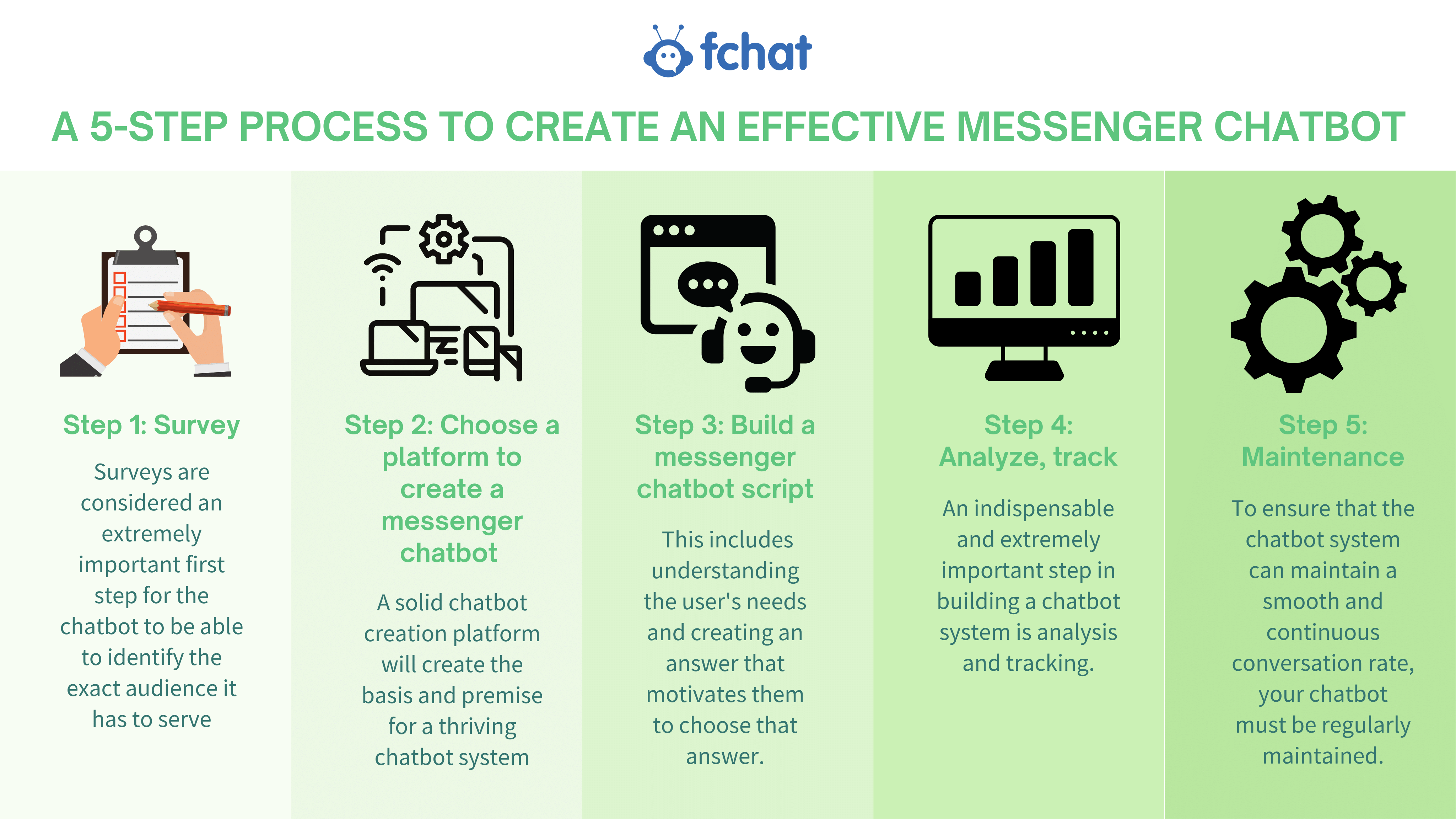 Step 1: Survey
Surveys are considered an extremely important first step for the chatbot to be able to identify the exact audience it has to serve.
To do that, you must conduct a survey to identify the group of potential customers through Facebook Page Insights if the chatbot is built on Facebook. If the chatbot is built on the website, you can easily collect the above basic information through Google Analytics or your ads campaigns' directions.
In addition to the survey, Create chatbot messenger is also very important in speeding up the process of determining the interaction between the user and the chatbot so that the necessary information of the customer can be synthesized. From there, you can set up a consumer-oriented questionnaire with limited choices.
>>> Free messenger chatbot software for consulting, automatically closing orders according to the script for all industries, helping businesses increase 200% of revenue, and save 50% of costs!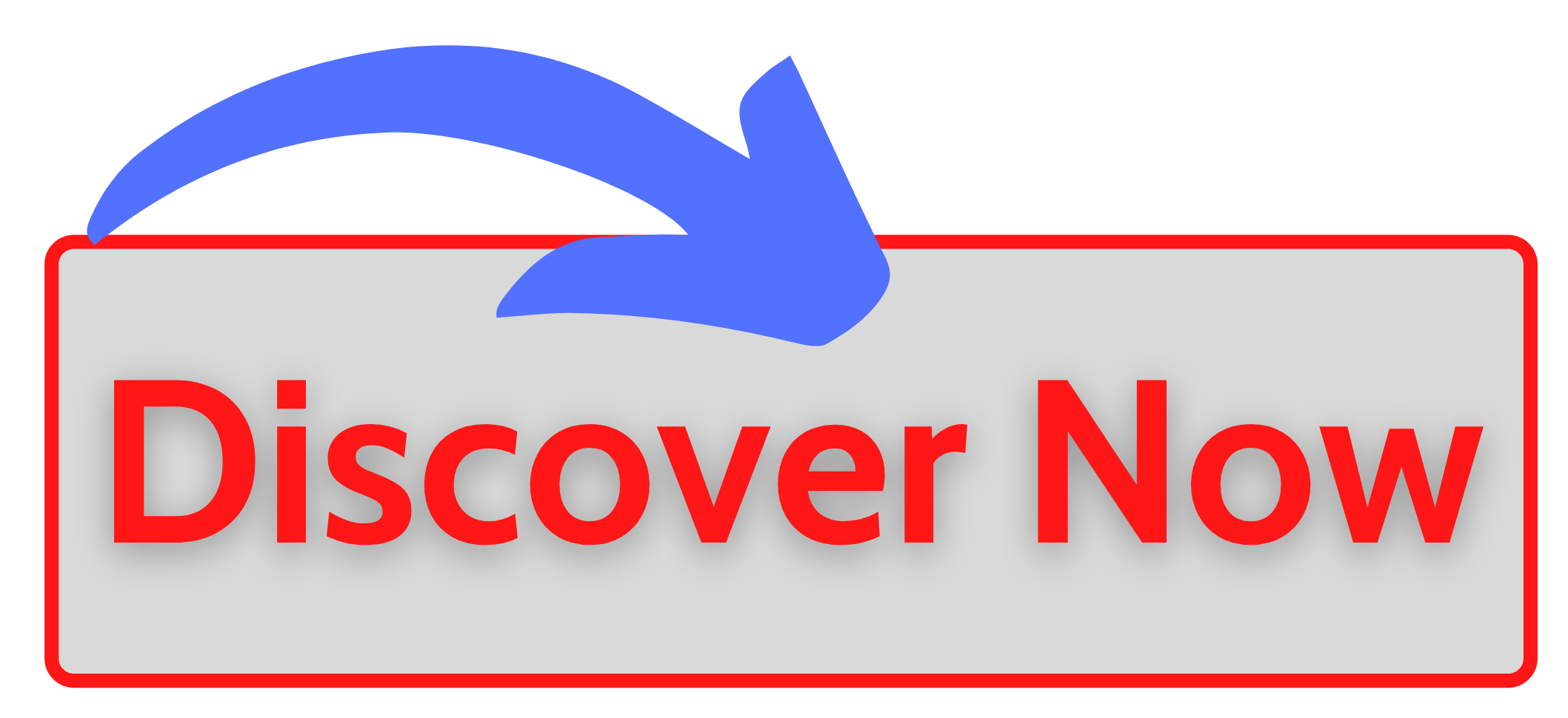 Step 2: Choose a platform to create a messenger chatbot
A solid chatbot creation platform will create the basis and premise for a thriving chatbot system. Therefore, choosing a chatbot creation platform is an extremely important step to carry out the processes of building, testing and deploying chatbots.
Currently, there are many popular free chatbot creation platforms. However, if you use it for business purposes, you should choose WIT.AI supported on Messenger Platform or API.AI developed on Google Cloud Platform.
Once you have chosen a suitable platform, you should integrate using the Create chatbot messenger tools to ensure the effectiveness of the chatbot you set up. There are many tools based on two platforms WIT.AI and API.AI, but one of the outstanding free messenger chatbots is Fchat.co - Chatbot supporting multiple platforms such as: Facebook, Instagram, .. .
Step 3: Build a messenger chatbot script
In order for the messenger chatbot system to gradually progress to completion, you need to build a chatbot script to perform two main tasks. This includes understanding the user's needs and creating an answer that motivates them to choose that answer.
For the first task, you need to find out the intentions or desires of customers through the interaction between you and them on the system according to a pre-established script. Facebook messenger chatbot is fully capable of reading user information by filtering keywords and responses.
For the second task, messenger chatbot will generate responses with results or suggestions for customers to continue giving answers after each question. Thereby increasing the ability to converse with users in natural language.
After completing the script, you need to deploy and put that chatbot on Messenger or any other application according to your wishes.
>>> See more: HOW TO CREATE A CHATBOT ON FACEBOOK IN 2021
Step 4: Analyze, track
An indispensable and extremely important step in building a chatbot system is analysis and tracking. The analysis will help create a customer-related database for you to build more customer care features accordingly.
When using Chatbot messenger Facebook, you also need to regularly monitor to detect errors or other risky issues. This helps promptly fix problems, and does not affect the user experience.
Step 5: Maintenance
To ensure that the chatbot system can maintain a smooth and continuous conversation rate, your chatbot must be regularly maintained. Avoid errors in the process of using and operating Chatbot messenger facebook, update the new sales scripts so as not to affect the chatbot structure that you have built before.
However, you need to pay a large amount of money to use the chatbot maintenance service. To minimize those fees, businesses have applied artificial intelligence (AI) to help develop chatbots, support, advise and take care of customers like real employees.
Building a Messenger Chatbot system has never been so simple. With just five basic steps, you have built yourself an effective chatbot system and brought significant benefits to your business.
>>>Fchat.co - Chatbot messenger facebook software for consulting, auto-selling according to the scripts for all industries.