Livestream is one of the features that allows users to directly share images, audio, video, everything in life through and even sales. For the vast majority of Internet users, this feature has become so familiar, it is even considered a "billionaire" job pursued by many young people today.
To be able to Livestream stable and smooth, supporting software is extremely important. Therefore, the designers of the livestream application have also launched a lot of very good apps to serve the audience to watch live. Here are the best Live stream apps you can use:
Facebook Live
If we talk about the most used Live stream apps today, we can't ignore Facebook Live. Live Stream Facebook is one of the built-in features developed by Facebook to serve users. With this feature, users can freely record images, stream live videos with audio to friends, relatives and all other Facebook users.
Facebook makes it simple to live stream. All a live streamer has to do is just tap the "Live button" under the status update to start their broadcast. A Facebook Live stream can be private, involve a specific group of friends, or be completely public.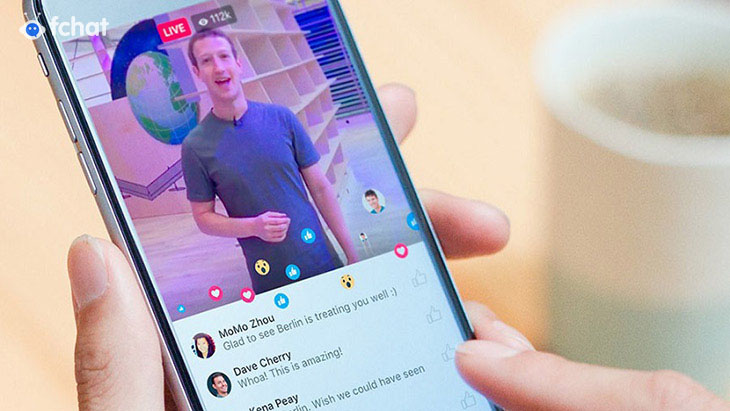 Live Stream Facebook is a great platform for businesses, celebrities, advertising business people to market products, promote brands. Specifically, you can now stream directly from your personal account, Fanpage, and even share live stream videos into groups to increase views.
=> Close unlimited orders, increase customer experience when Livestream selling on Facebook with Fchat Chatbot.
Sign up for a free trial here:
=> Read more: 7 examples of effective customer care scenarios with Chatbot

Youtube Live
Youtube is known as a product of Google, the most popular online video sharing hosting website in the world today. Youtube now allows live streaming on the web platform or live streaming on phones with a simple and uncomplicated way of setting up live streaming.
In the live video, you can introduce new products, interact with your audience through: Q&A – Provide information – Introduce events to viewers,... Users just need to register to broadcast. directly for your personal YouTube channel and then wait for YouTube to review it.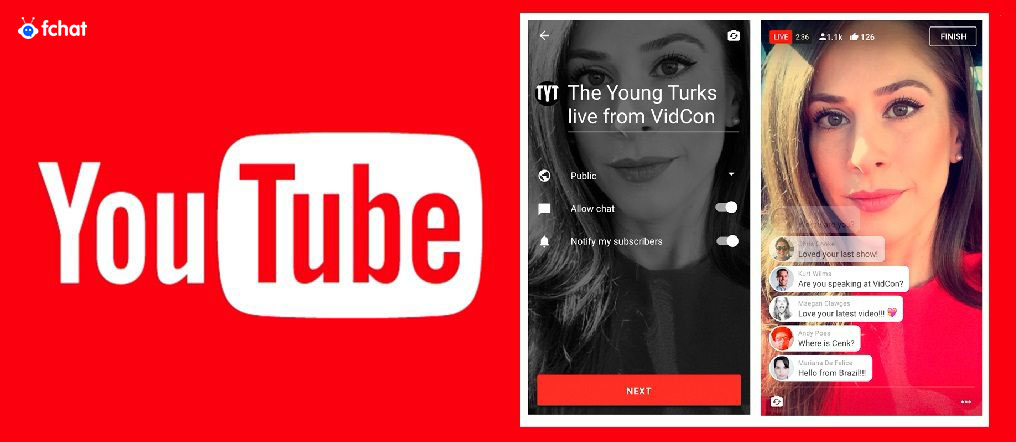 When we go live, everyone who subscribes to your channel will receive a notification to access the live view. YouTube live streaming is also a way to increase the number of subscribers, increase the number of subscribers on YouTube. So this also helps your YouTube channel to enable monetization.
Instagram Live
As a regular visitor to the social network, you will no doubt be familiar with Instagram, a platform that helps users flip through a variety of content, to see new updates and all interesting shares from everyone. Instagram is constantly working to come up with new features that can drive engagement on the platform.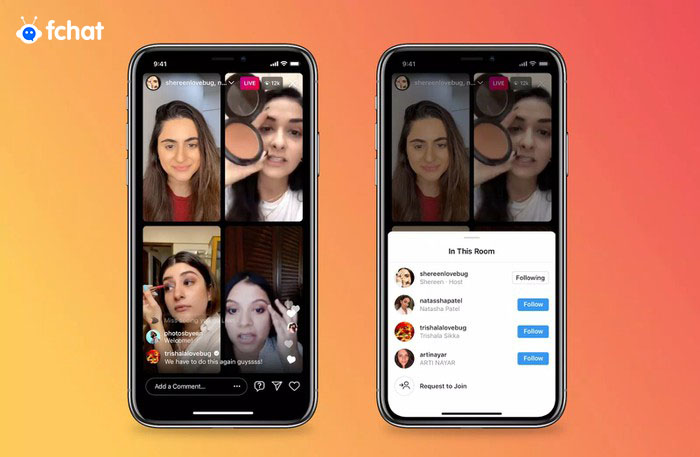 With more and more businesses using Instagram marketing, it is imperative to take advantage of Instagram's latest features to drive business growth and gain more Instagram followers. Instagram live is the latest addition to the family of features Instagram has to offer. By using Instagram Live, you are creating a conversation with many people across the globe. Everyone wants to feel that they are a valued and engaged customer when they join the conversation.
=> Close unlimited orders, increase customer experience when Livestream selling on Instagram with Fchat Chatbot.

LinkedIn Live
In recent years, live video streaming services (also known as livestreams) have become extremely popular. Currently, nearly every social network has this service, and even a lot of people consider live video streaming a profession. LinkedIn has officially entered the live video streaming market with a service called LinkedIn Live. Currently, LinkedIn Live is being tested in the US and you must be invited to try it out.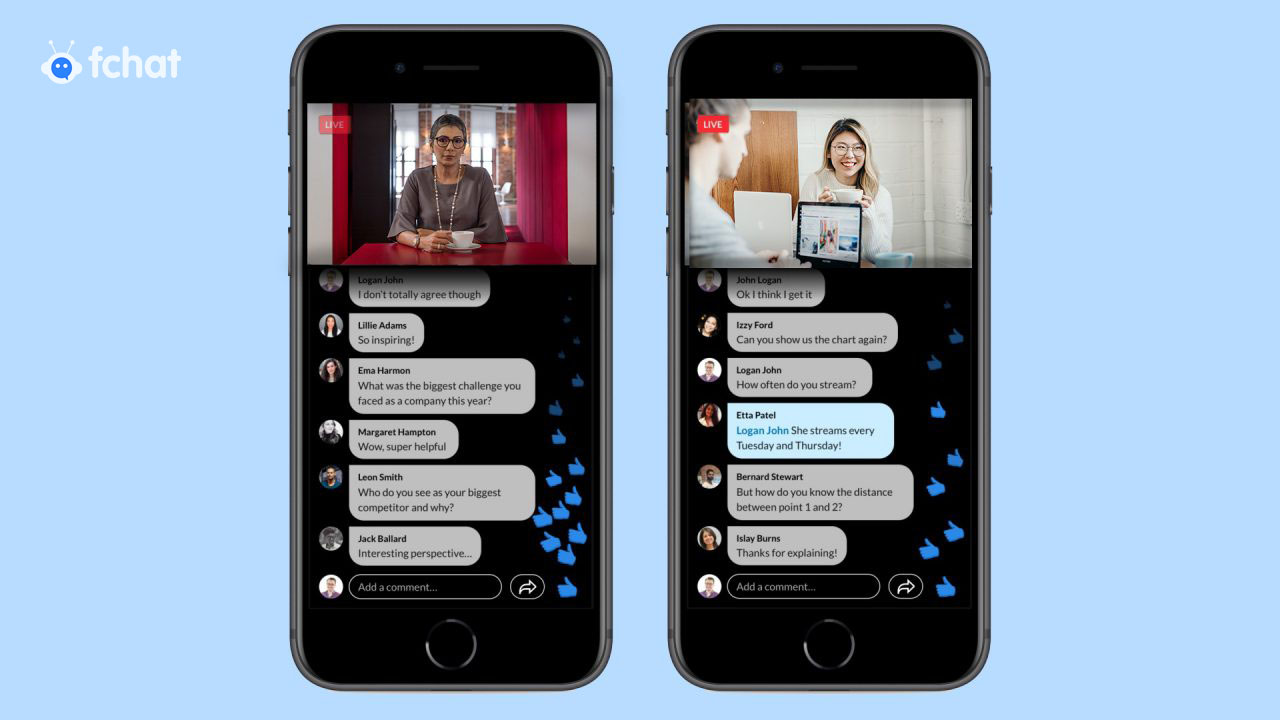 LinkedIn hopes that LinkedIn Live will be used for meetings, new product launches, Q&A sessions and influencer-led events... With over 600 million LinkedIn users globally , LinkedIn Live may soon become popular. In addition, to develop content for LinkedIn Live, LinkedIn has partnered with partners such as Wirecast, Switcher Studio, Wowza Media Systems, Socialve, and Brandlive.
V - Live
V-Live is a live video streaming app of Naver (Korea) that helps connect artists and fans similar to YouTube. This application allows fans to watch live videos of celebrities, through the chat feature, fans can communicate with their idols.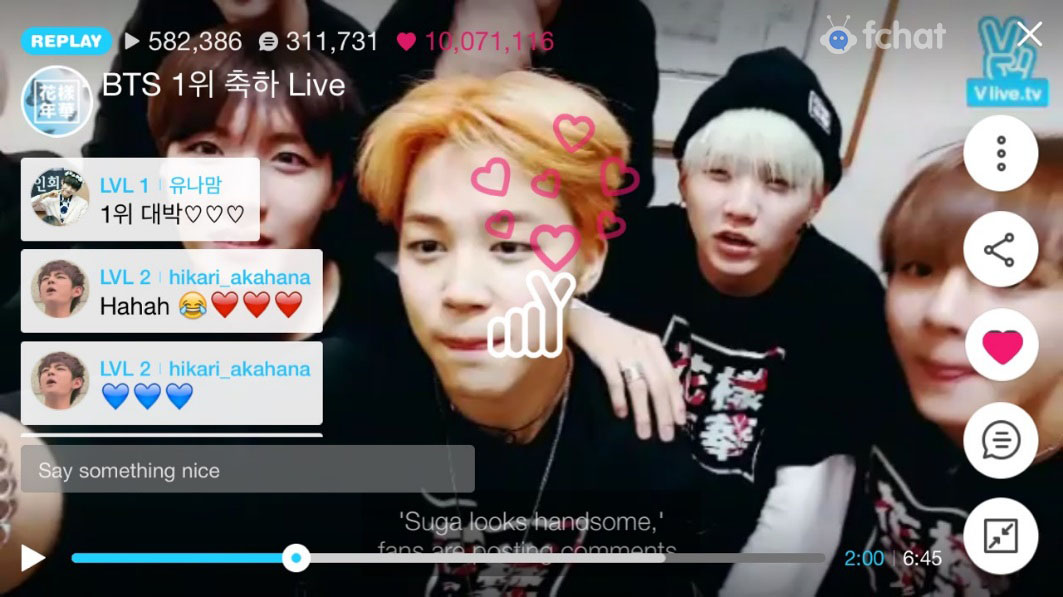 Content that can be viewed on V - Live includes 'Special Live' programs with a focus on large-scale events such as new album launches, concerts etc..Contents "App Live" (App Live) produced by live stars in areas such as cooking, beauty, education, consulting... and live shows at hotspots (Spot Live) , broadcast images of celebrities' daily life without warning.Whenever you want to watch the broadcasted video again, you can watch it again.
TikTok Live
Although it has just appeared not long ago, Tik Tok is now a very hot social network about videos - where people share short clips inspired by music. TikTok allows users to easily and quickly create unique short videos to share with friends and young people around the world.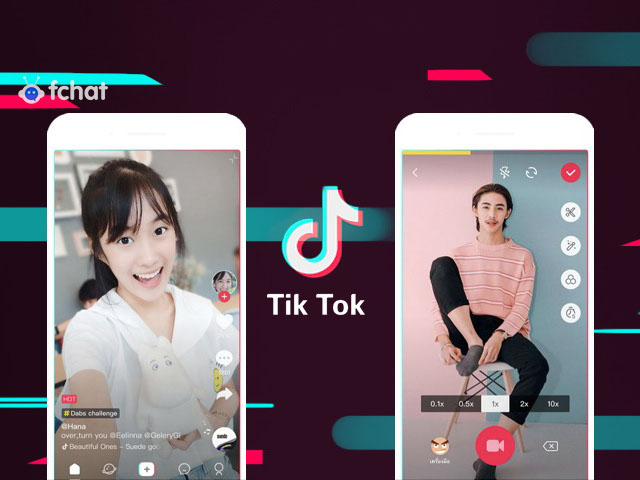 Tik Tok has just introduced the Tik Tok Live feature with many outstanding advantages, helping to diversify the creative experience and enhance the efficiency of user interaction. Tik Tok Live is a feature that allows users to broadcast content and interact directly with followers with unlimited sharing time. Through this new feature, creators will have more tools to create more authentic, engaging content, enhancing their ability to interact directly with account followers.
=> Close unlimited orders, increase customer experience when Livestream selling on TikTok with Fchat Chatbot. Sign up for a free trial HERE.
Bigo Live
Bigo Live is a Livestream App that allows users to share live videos to the community. This app allows users to live broadcast their special moments, chat live with friends or make video calls. Currently Bigo Live is available in over 150 countries with 400 million downloads worldwide.
To share your live video on Bigo Live to everyone is very simple, you just need to select the camera icon, then set the country where you want to share your video. Next, enter the title of the video and finally click Go Live and the live streaming process will begin.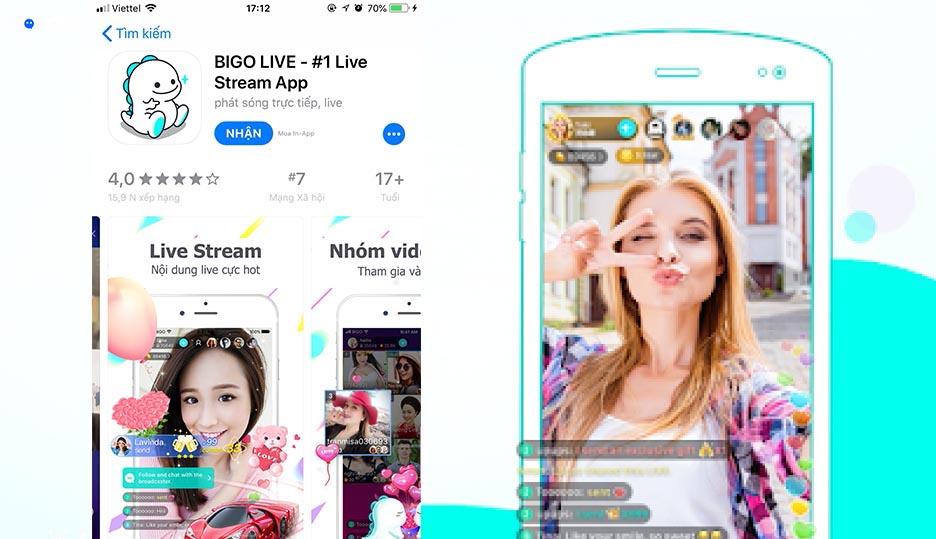 What's more, with Bigo Live you can choose to watch live channels and switch channels easily by sliding the screen up or down. In addition, this application also has a chat frame that allows viewers to chat and send virtual gifts such as flowers, hearts, rings, teddy bears to increase points for the video player account.
Snapchat Live
Snapchat is known as a very unique selfie application with a miniature social network that is loved by many users around the world. Currently, Snapchat Live streams are on par with apps like Facebook and Bigo.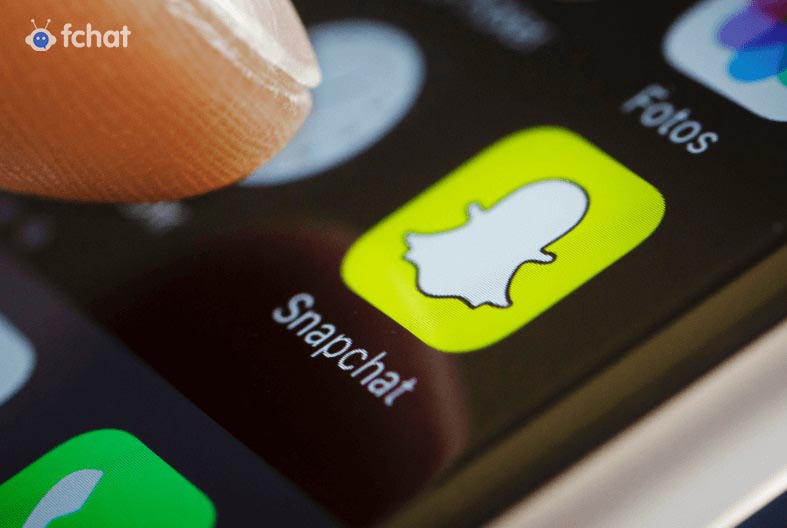 Live streaming on Snapchat is very easy, you just need to download the app to your device, register and log in to be able to use it. However, it still has the disadvantage that its image quality is not stable and the error arises when the Sticker cannot be used while live streaming. To provide a better user experience, this application needs to add and update better features.
Twitch
Twitch is a live streaming platform focusing on the gaming and tech industry. Twitch, allows you to watch and chat with millions around the world and is considered to be the largest live streaming platform for gamers.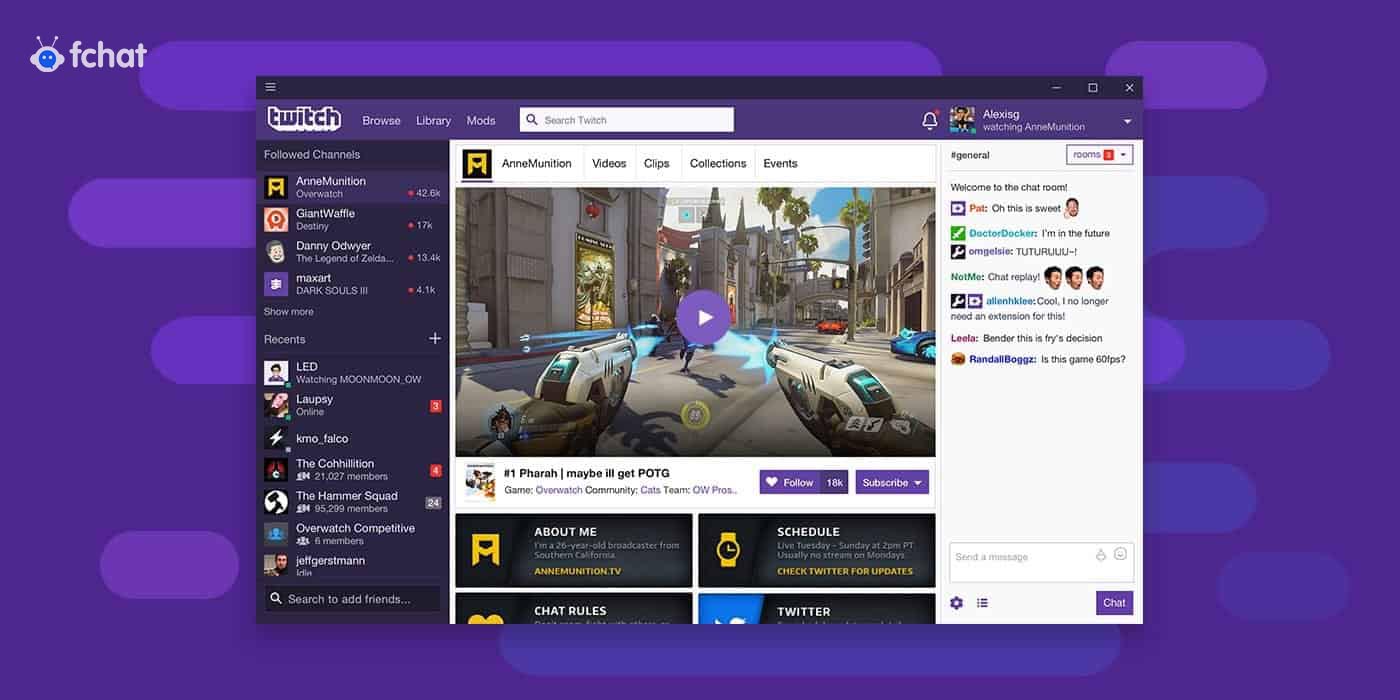 This streaming platform is embedded with multiple ways of monetizing your content:
Channel subscriptions

Emotes

Bits

Ads

Sponsorships and more
To avail these benefits, you will need to get partnered with Twitch. Twitch is available free of cost for all its account holders but is embedded with three tiers of subscription plans starting from $4.99 per month.
Some famous gamers have used Twitch to share their gaming experiences and techniques such as: Ninja, Tfue, Shroud…
Live streaming is bringing great efficiency in today's life and business activities. Above are the top 9 best Live stream apps in 2021 that you can download to experience and relax after stressful working days or effective business. I Hope you have a pleasant experience!