If you do business on Facebook, you will surely encounter a situation where your business competitors will go to your post to get the phone number that the customer commented on. They even create fake Fan Pages with the same name to inbox quotes, and borrow other people's reputation for profit. Therefore, you need to have a method to hide guest comments on your Fanpage. In this article, Fchat will show you how to hide comments on Facebook to avoid robbing customers from competitors who are selling the same products/services of your business. Stay tuned to see how to do it.
What is hiding comments on Facebook?
With today's large business market, grouping similar products and services is inevitable. Therefore, it is difficult to avoid competition, occupying customers as well as enticing customers by all means. Hiding comments on Facebook is a way you hide customer comments on your posts. These comments only you can see, interact with comments and others will not be able to see.
Hiding comments on Facebook is a method chosen by many businesses in their posts or advertising campaigns. Therefore, if businesses only invest budget for Facebook ads without understanding the anti-robbery tricks, this is detrimental and wastes effort but is not effective.
Why hide comments on Facebook?
The business market is large, the same products and services are inevitable. In addition, most people now use Facebook as their main sales channel leading to fierce competition. This leads to the consequence that many people will not go through all the tricks to rob customers of other genuine sellers to be able to sell goods.
Customer robbery is a common occurrence on Facebook, this is a low-cost trick that brings back a lot of customer data. Your competitors will use the approach of customers who comment, leave information, your Facebook phone number, then make an approach and are ready to sell cheaper than your price to close customers. These are the reasons why shop owners on Facebook always find ways to hide the comments left by customers.
=> Read more: Chatbot - Smart customer care tool for online shop owners
Instructions on how to hide comments on Facebook
Hiding comments is a way for sellers to protect their customers as well as their revenue. To be able to hide comments on facebook quickly and effectively, you can refer to the following ways:
3.1 Hide comments automatically manually
This is a rather passive, time-consuming way to do it, but it's a safe way to do it and gives you absolute peace of mind. With this method, you will not miss any customer comments on Facebook. To hide customer comments by doing this, you need to follow these steps:
Step 1: Access your Facebook Fanpage.
Step 2: Click on the ellipsis icon (...) at the comment you want to hide and select Hide comment.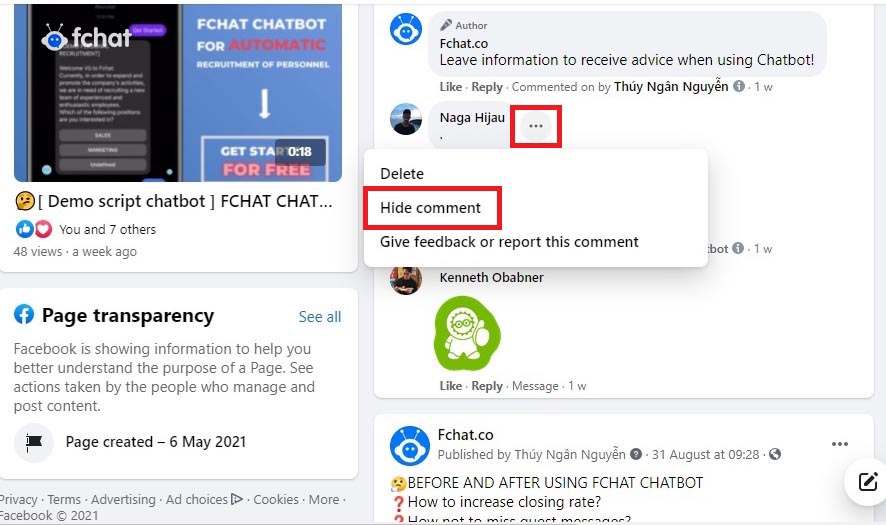 With this method, it is only suitable for articles with a small number of comments. If your post has hundreds of comments, this method will no longer work.
3.2 How to hide comments on Facebook automatically
To hide customer comments automatically, you need to set up some basic steps. This helps you every time you run a Facebook ad that shows guest comments, those comments are automatically hidden and only you can see them.
Note: You need to have the highest admin rights on Fanpage to have the right to hide comments.
Step 1: Visit the Fanpage to hide comments.
Step 2: Select the Site Settings section, then select the General section and scroll down to the Page Moderation section. With this approach, you can control the customer comments as well as the status of customer robbery on your site.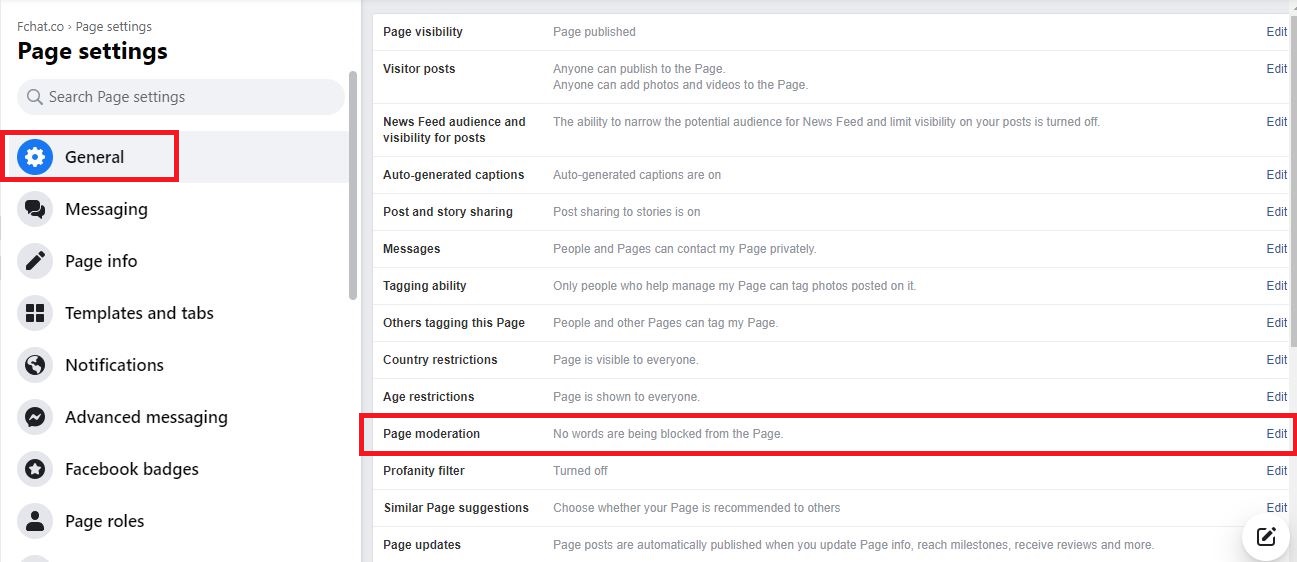 Step 3: Add words and phrases that you want to hide comments. If a customer comment contains comments that contain this keyword, they will be automatically hidden. In addition, you can also manually enter keywords and click the Add button or upload a File containing the list of sensitive keywords you want to hide.

Step 4: You click Save to complete the process of hiding comments.
3.3 Use software to hide comments on Facebook
Hide comments on Facebook by the above 2 methods safely and effectively, but it takes a lot of time and effort. For hiding Facebook comments manually, it will take you a lot of time to filter each customer's comments and not be able to do other work. If you hide comments with the Facebook page moderation feature, you can't list all the comments that will come and don't take care of all your customers.
=> Therefore, the solution for businesses and sellers right now is to use online sales management software with the function of hiding comments.
Fchat is currently a Facebook sales software that allows you to hide comments containing phone numbers, emails, or keywords in comments you want to hide effectively and quickly to avoid robbing customers from competitors. In addition, you can also use this software with other functions such as:
Campaign: Send a message to all customers who have inboxed the page.
LiveChat: Manage comments, inbox on 1 window, distribute sales automatically, evaluate the effectiveness of each sale. Sample message to help sales respond quickly.
Auto Reply: Automatically reply to comments.Automatically inbox guest comments.
Auto Inbox: Automatically send messages to customers inbox to Fanpage, click ads.
Keyword: Automatically reply to comments and messages by keywords.
Automated messaging: Automated customer service and Upsale messages. Automatically send Happy Birthday.
Order: Order form. Create and manage orders, connect shipping companies.
Therefore, using the Facebook Fanpage management software will help you save a lot of time, not having to worry about your competitors stealing your customers anymore. Use it HERE

Conclusion: In the above article, we have shared with readers how to hide comments on Facebook in the simplest and fastest way today. This is a necessary activity in online business on Facebook to avoid bad competition from competitors. Hope the information shared from this article will bring you useful information.
Good luck!