What are the steps to get Facebook Business Verification?
Go to Security Center, and click Start Verification in the Business Verification section.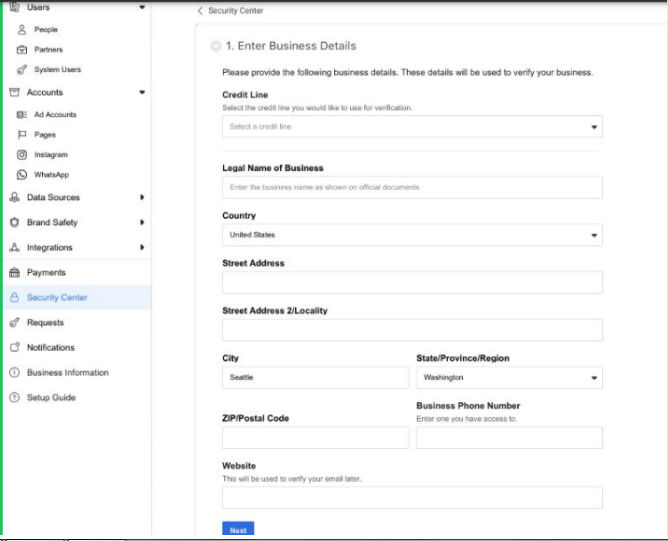 1. Enter Business Details
Enter your business details and click Next.
The business information you provide during the business verification process will become publicly visible if your Page has a large U.S. audience or runs ads about social issues, elections or politics in the U.S.
1.1 Automatic verification
Select the correct business from the list or select None of these matches if your business is not displayed.
If you select None of these matches, disregard steps 3-5 and learn how to Upload Official Documents to complete the verification process.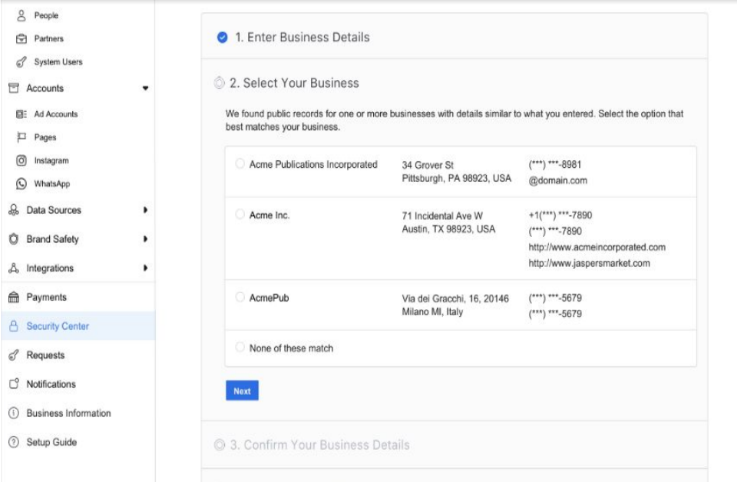 Confirm Your Business Details


Select a phone number that you have access to from the dropdown menu and click

Next

.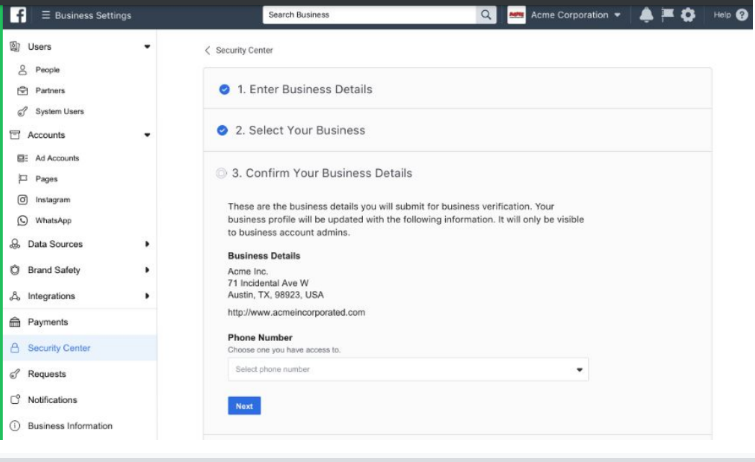 Get a Verification Code


Choose to receive the verification code on your business phone number via a text message or a phone call or via email. The phone number option may not be available in all countries.


Or verify your domain


If your domain is already verified, click Use Domain Verification. If not, complete the domain verification process then return to the Security Center and select Continue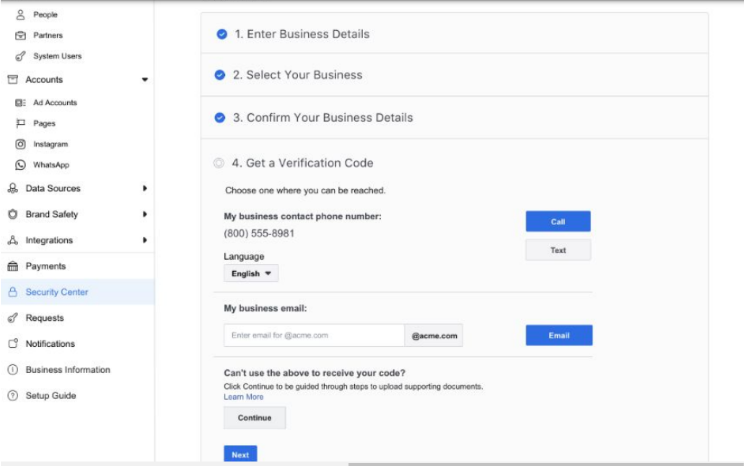 Enter Verification Code

(not applicable if you use domain verification)




Enter your verification code. Click

Submit

.
1.2 Manual verification
If no matching record is found in the third-party database for automatic verification, the business will have to go through manual verification. They will have to submit documents to prove their legal business name. You can find a list of legal documents accepted by country here.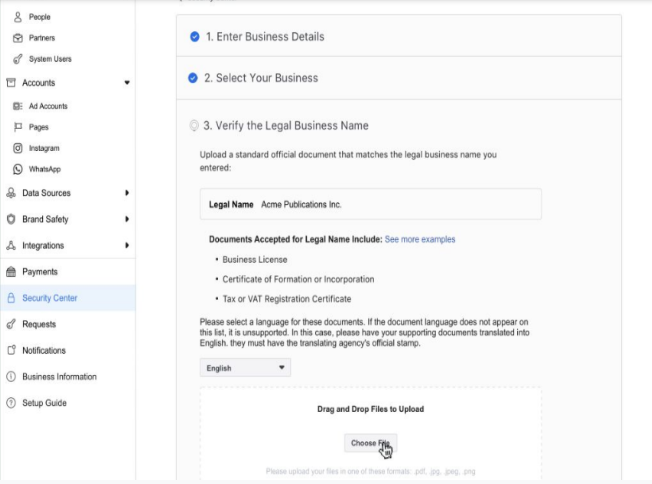 The business then has to upload additional documents showing both the legal name and the mailing address or phone number.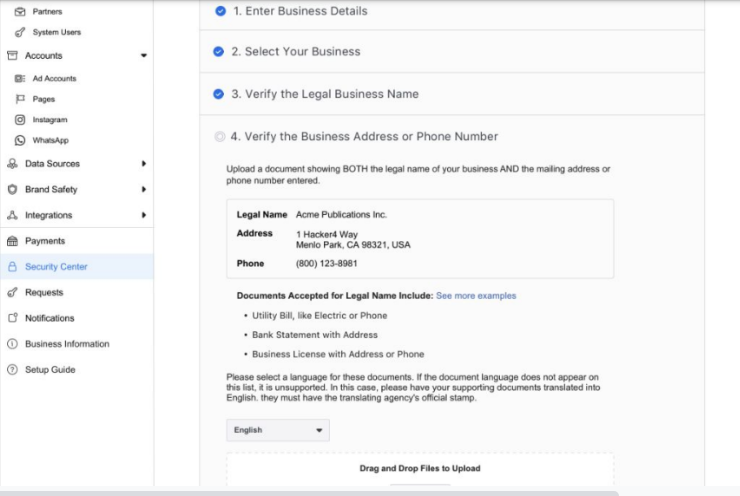 As with automatic verification, the business must then enter a phone number or email address where they can receive a verification code.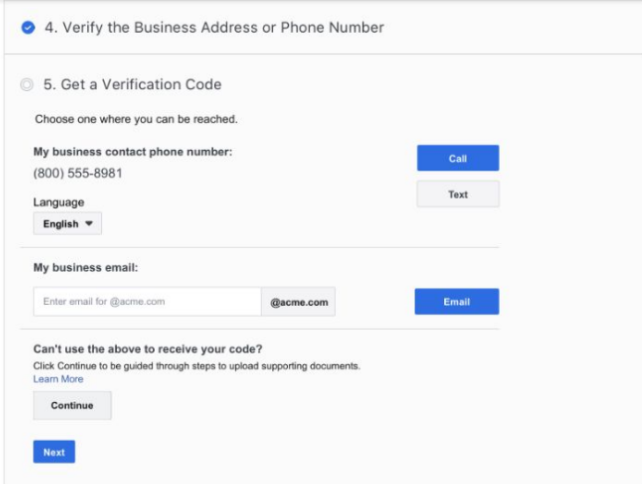 Once the verification code has been submitted, a manual task will be created to review the legal documents. Once the case has been reviewed, the business will receive a notification in the Security Center and Business Information sections of their Business Manager account, as well as an email notification.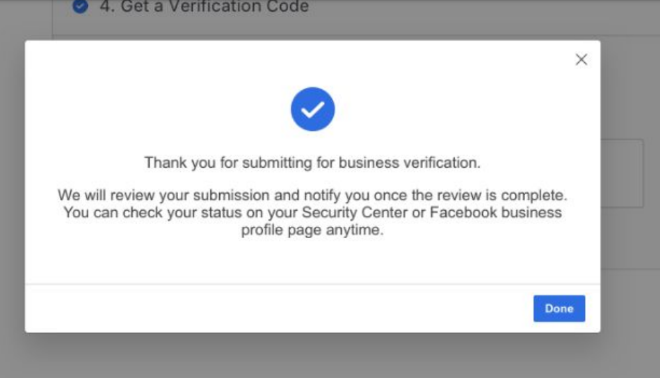 Good luck!